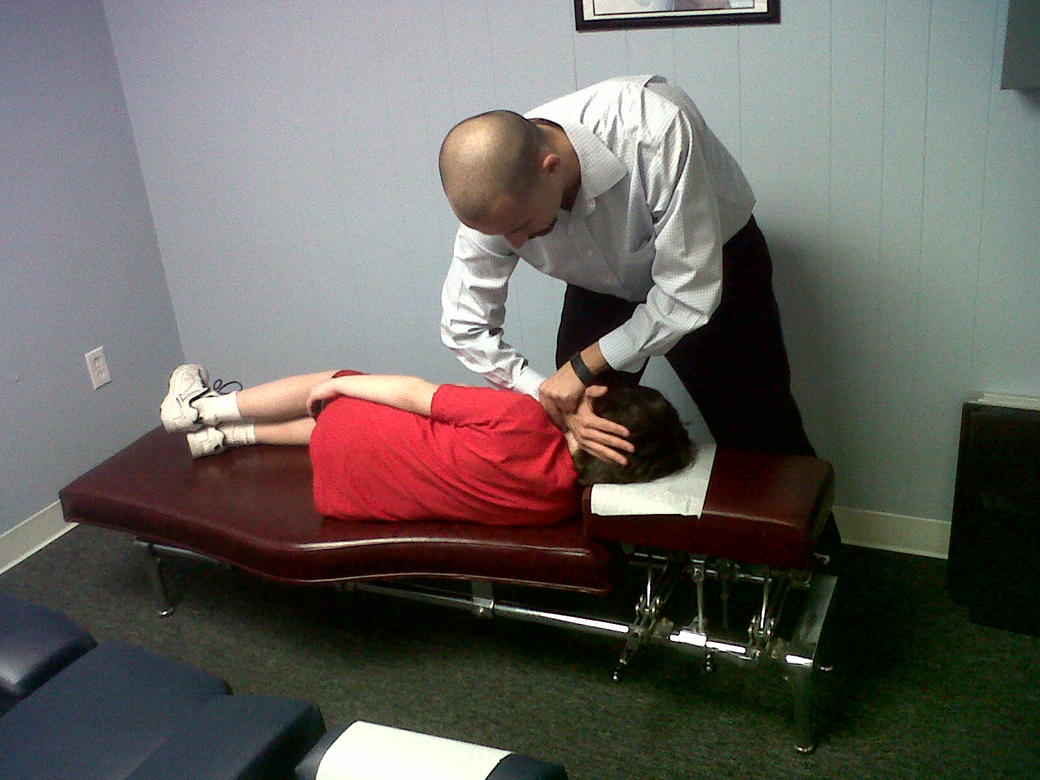 Dr. Bruce Steinberg of Queensbury Family Chiropractic participates in a special program that helps children with ADHD improve without the use of drugs.
By Barbara Brewer Lamere
Dr. Bruce Steinberg, chiropractor at Queensbury Family Chiropractic, 358 Quaker Road in Queensbury, has been a licensed chiropractor for six years.
He is in the process of completing certification requirements for a Special Help Integrating Neurological Experience (SHINE ) course, which focuses on identifying and helping patients with attention deficit hyperactivity disorder (ADHD).
Steinberg said he is so excited with the results he has seen from the SHINE program that he anticipates adding another chiropractor to his practice. There also may be a need to move the practice to larger office space in 2013.
According to Dr. Ned Hallowell, who developed the course, SHINE does not view ADHD as a malady requiring medication, but rather as a set of traits that offer great potential, but can manifest, in Hallowell's words, as something like "having a Ferrari brain with bicycle brakes."
SHINE seeks to find out where a patient with ADHD is functioning, remove interference from the nervous system that impairs its function, and improve the person's ability to function efficiently, experts explained.
SHINE combines three elements. The first is chiropractic adjustment, based on advanced testing and administered with a "vitalistic" approach that takes into consideration how blockages in the nervous system impact the life of the person, as opposed to a mechanistic approach that simply addresses there being a need to fix something physical, according to Hallowell.
Neuro-integrative exercises selected to improve brain balance and coordination of sensory information, taken in by sensory organs, but processed in the brain, form the second aspect of the program. The third element is guidance on good nutrition, combined with avoidance of foods and additives that negatively impact brain function, according to information from the SHINE developer.
Steinberg's focus as he implements the program will be on children. He will offer a non-drug way to address the issues of ADHD.
According to a study in the Journal of Marital & Family Therapy, up to eight million American children now take one or more psychotropic drugs. Science Daily claims that the likelihood of American children being prescribed medication is three times more than that of their European peers.
Steinberg said medications used to suppress some of the behaviors associated with ADHD are capable of causing other problems. Still, he said a report in the New York Times claimed there are school districts that expect children not even diagnosed with ADHD to be taking those medications to address challenging behaviors.
According to Steinberg, there was the case of a child who said that his favorite time of the year was summertime, not for reasons of sunshine and time to play, but simply because it was a time that he didn't have to be on medication.
He said the teacher of one of his patients, a student at an area elementary school, suggested that the child's mother consider consulting Queensbury Family Chiropractic for solutions to his multiple issues of below-grade reading levels, dyslexia, sleep apnea and ADHD. The mother followed through and the changes have been substantial, said Steinberg.
The local SHINE program offers free orientation classes on Mondays at 6 p.m. Those interested can call in advance to reserve a spot.
The program is implemented as a three-month intensive program. It includes a comprehensive one-on-one consultation with a SHINE-certified doctor, parental education, weekly chiropractic care, six workshops, weekly empowerment training, various products (nutritional supplements, books, exercise equipment,etc.) and a letter for the child's teachers about the child's participation in the program.
Steinberg can be e-mailed at drbruce@queensburychiropractic.com. The phone number is 798-1111.
The program's Facebook page is www.Facebook.com/shineADK.
A website is in the works and will be eventually be found at www.SHINEADK.com.