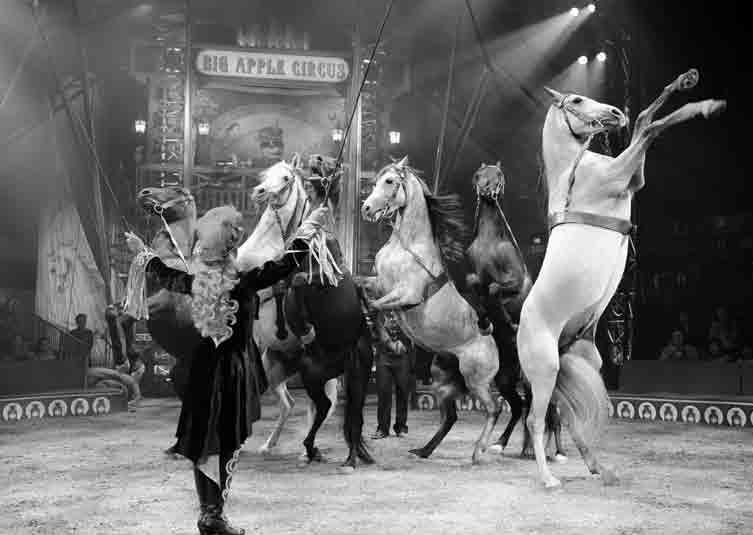 The Big Apple Circus is making its second
appearance in Lake George, presenting Legendarium,
from July 13-28 at Charles R. Wood
Park.
At Legendarium, people will experience the
nostalgic thrills of bygone big-top circus tents
and get a first-hand view of daredevils and
clowns from another era.
Circus officials said in the 35th anniversary
season production, no seat is more than 50 feet
from the performer.
"Travel back to when circus traditions were born and witness incredible acts that would have had the villagers chattering for days. The courageous mid-air flips and catches of a man on the trapeze … a swaying wire act of sure-footed strength and stability. The dizzying delights of a daring inventor in his tumbling, twirling hoop," officials said in a new release.
Performers from around the world create the Big Apple Circus under the artistic direction of Guillaume Dufresnoy for the 2012-13 season show Included in that group are:
• From the US, the Acrobuffos, the husbandand- wife clown team, bring laughter to the Big Apple Circus with their slapstick comedy.
• From Bulgaria, Andrey Mantchev takes to the skies in a solo trapeze act of mid-air flips and jaw-dropping catches.
• From China, the all-female Dalian Acrobatic Troupe performs perilous poses of superior synchronization on bicycles.
• From Canada, Daniel Cyr spirals and spins around the ring in a steel hoop of his own invention.
• From Russia, breathtaking duo Desire of Flight (Valeriy Sychev and Malvina Abakarova) defies gravity in soaring stunts on aerial straps.
• From Russia, Katerina is a lithe vision of grace wrapped and whirling in aerial silks.
• From Argentina, Elayne Kramer astounds with a backbone as flexible as an archer's bow.
• From France and the Netherlands, Emily and Menno van Dyke combine the dramatic passion of tango with rhythmic juggling for a dance of flawless coordination.
• From the U.S., Jenny Vidbel exudes pure pride with her handsome horses, prancing ponies, and perky pups.
• From the U.S., John Kennedy Kane is a debonair ringmaster.
• From Hungary, the Quinterion Troupe demonstrates power as sculpted men flip, throw, and catch a fearless maiden.
• From China, Zhang Fan faces the ultimate test of balance, performing stunts of sheer strength on a swaying slack wire.
In his Big Apple Circus directing début is West Hyler who, along with Matt Williams as assistant director, presents a show for all ages. John Lee Beatty, member of the Theater Hall of Fame, brings nearly four decades of New York experience as set designer.
With a career spanning theatre, film, resorts, and dance, Mirena Rada returns with her stunning costume designs. Tony Award-winner Howell Binkley brings extensive experience and expertise as lighting designer.
Five-time winner of the MAC Award for Technical Direction, JP Perreaux returns to the circus as sound designer. The Big Apple Circus Band utilizes the musical direction of maestro Rob Slowik.
Tickets for Legendarium start at $15 and are available at bigapplecircus.org or by calling (888) 541-3750.
The Circus Box Office, located in front of the Big Top at Charles R Wood Park, will open Friday, July 11. Hours are Tuesday to Friday, 10 a.m. to 8 p.m.; and Saturday through Monday, 10 a.m. to 6 p.m.
The Big Top is air conditioned in warm weather. The show runs for just over two hours, including a 15-minute intermission. For seating groups of 10 people or more, or for inquiries about wheelchair-accessible seating, or for any additional information, call the circus Ticket Info Line at (800) 922-3772.
Photo Courtesy of Bertrand Guay/Big Apple Circus