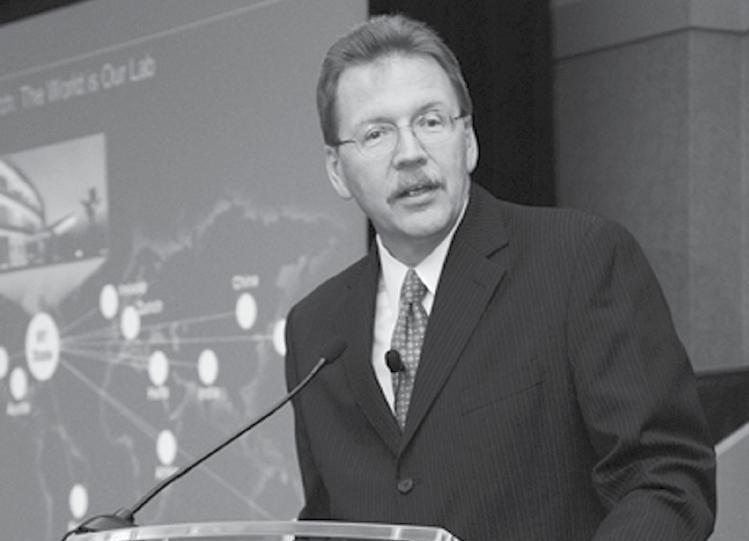 Collaboration was a central theme at the
Economic Development Corporation of Warren
County's annual luncheon in May at Great
Escape Lodge in Queensbury, attended by approximately
250 local business and non-profit
executives, county and municipal administrators,
school offi cials, and political leaders.
While updating the audience about EDC Warren
County's activities, EDC Board Chairman
Charles Barton, Chief Operating Officer of Barton
International, talked about the importance
of regional collaboration among various organizations
involved in economic development.
EDC is a public-private non-profit partnership focused on driving private-sector business investment in Warren County. Barton noted that EDC's search for a new president is ongoing and that the organization expects to make an announcement soon.
Keynote speaker Dr. John E. Kelly III, IBM senior vice president and director of research, spoke of collaborative opportunities for Warren County in the current era of computing, where the exponential growth of information results in a "Big Data" environment, providing myriad opportunities for "cognitive" computer systems that can learn.
A well-known example of such a system is Watson, the IBM computer system that beat two humans on the television game show "Jeopardy" a few years ago. Watson is now paired up with experts at leading cancer facilities around the country, consuming information about cancer and providing expert feedback to practitioners.
Kelly oversees the worldwide operations of IBM Research, with approximately 3,000 scientists and technical employees at 12 laboratories in 10 countries around the world. IBM's research labs regularly partner with governments and universities in these locations.
"Collaboration is the secret sauce," advised Kelly, as he reviewed a graphic showing collaborative efforts between the public and private sectors, and academia. He noted how IBM's worldwide research labs are involved in collaborative efforts to resolve location-specific problems, including reducing massive traffic snarls in Nairobi, Kenya; creating a flooding alert system in Brazil; and monitoring marine conditions in Ireland's Galway Bay.
IBM, now 102 years old, has led the world in U.S. patents for 20 consecutive years, generating more than 6,000 patents in 2012 and delivering approximately $1 billion annually in income related to its intellectual property.
In reviewing key locations in New York's Tech Valley, Kelly took the lunch attendees on a south-to-north tour, moving from the global headquarters of IBM Research in Yorktown Heights (Westchester County), up through IBM's Poughkeepsie/East Fishkill facilities in the Mid- Hudson region, to Albany Nanotech and RPI in the Capital District, and on to Malta in Saratoga County, site of the new GlobalFoundries facility.
In describing Warren County, where Kelly himself has a second home on Lake George, he said that Warren County enjoys a unique location, sitting on the northern edge of Tech Valley, and on the southern edge of the Adirondacks. With the Tech Valley region being second to none in the world for technology, talent, and computational ability, Kelly concluded his presentation by encouraging Warren County leaders to find collaborative ways to leverage the technology and talent of Tech Valley to understand and preserve the special Adirondack environment.