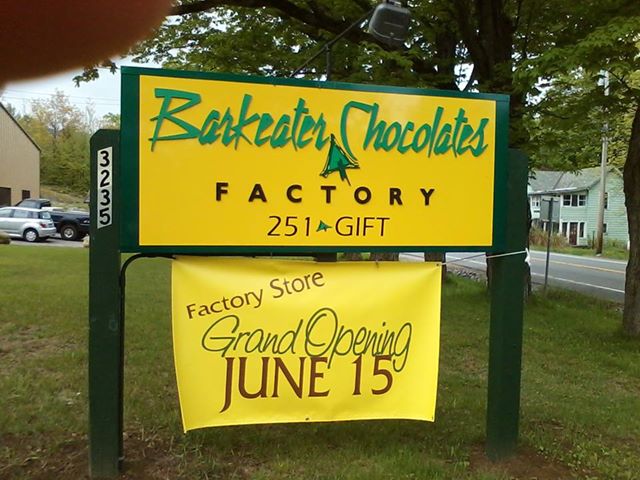 After celebrating its fifth anniversary as the Adirondacks' gourmet chocolate confections company, Barkeater Chocolates has changed location and opened a small factory store to complement its Web store.
The factory store, at 3235 Route 28 in North Creek, held a grand opening recently with festivities including live music, giveaways, prizes and of samples.
The store carries items currently found at barkeaterchocolates.com, along with many factory store exclusives.
"The reason for the move is that we needed more space for production, packaging and storage," said Deb Morris, co-founder. "When the opportunity presented itself, we made the leap."
Previously, Barkeater Chocolates' operated in the lower level of Café Sarah on Main Street in North Creek.
The idea of a factory store was conceived when Jim Morris, co-founder, did a walk-through of the prospective location.
"It's the third leg of the stool. We have a popular Web store, a brisk wholesale business, and now we can accommodate walk-in traffic as well," he said.
Offering confections that are not commonly found at local retailer outlets, or not in the same quantity or packaging, the factory store will be a launching pad for new flavor pairings, the owners said.
"We are not looking to compete with our retail partners, so we are focusing on our truffles and other confections in gift packs versus single impulse items that you would find in a store," said Deb Morris.
Jim added, "There's no better way to test a confection than to have our customers try a sample. Either we'll have a winner and work on marketing it to other retail outlets, or decide that it's a niche that is best offered to a smaller segment of our customers."
Exclusive confections will include the Caramel collection; a line of chocolate confections with house-made caramel and a variety of add-ins such as peanut butter, salted peanuts, coffee and smoked pepitas.
The store is open weekdays 9 a.m. to 3 p.m.; and weekends noon to 4 p.m.
For more information on Barkeater Chocolates, visit barkeaterchocolates.com or call 251-4438. The business can also be found on Facebook.