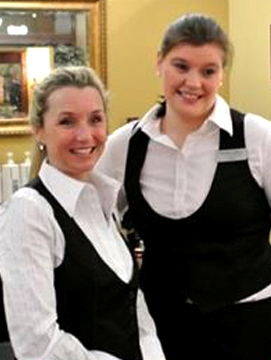 By Jill Nagy
For people planning a party who would
rather talk to guests than mix and serve
drinks, Mixaritas, a mobile bartending
service, may just be the answer.
The Mixaritas are Kelli Hatin and Jenn
Berry, two local women with many years of
bartending and catering experience.
They will arrive with a car, truck or
trailer loaded with mixers, garnishes,
equipment, tables, glassware, and whatever
else is needed–except the alcohol. That is
provided by the customer.
Hatin and Berry came up with the idea after hosting many events where they were too busy preparing and serving to enjoy the party.
"After everyone left, I realized that I hadn't really talked to anyone," Hatin recalled about one such event.
Neither woman was interested in food catering. Mixing and serving the drinks was more up their alley.
"We sat at my kitchen table for I don't know how many hours trying to find the right name. We wrote them down and, as soon as we saw that name [Mixaritas], we knew that was it," Hatin said. They made sure that the name was not taken and then registered it so that no one else could use it.
During the spring and summer, the company does two to four parties a week and almost as many during the winter holiday season. When winter sets in for real, they are usually down to one or two jobs a week.
When possible, they meet with customers before hand to ascertain their preferences and check out the venue. That is also the time to find out if there are any food allergies or sensitivities to be aware of. Hatin remembers one party where an important guest was allergic to maraschino cherries and those had to be removed from the menu.
They usually provide three specialty mixed drinks, chosen by the customer. Martini-based drinks have been particularly popular recently. For one party last summer, they came up with a 'smores martini, consisting of marshmallow and chocolate with graham cracker crumbs on the rim. For the winter holidays, red seems to be the theme, including peppermint cocktails, cosmopolitans, and cranberry-pomegranate smoothies.
They pay particular attention to garnishes and decorations, "really making the drink look nice," Hatin said.
There are a variety of packages available, beginning with their basic package that will accommodate 50 people and costs $250.
That will provide three specialty drinks of the customer's choice. They have done parties for as many as 275 guests. "Weddings have been very big for us," Hatin said, " We really didn't expect that."
It was a surprise because so many wedding venues provide food and drink service and clients are not free to bring in their own. They have catered parties as far north as Ticonderoga and as far south as the Kinderhook area in Columbia County.
The Mixaritas work with a number of different food caterers. Three they work with frequently and often recommend to clients are Sally's Kitchen, Maureen Monahan Chase, and Samantha's Cafe.
Both partners have full-time jobs aside from the bartending service. Hatin teaches marketing, management, and hospitality business courses at SUNY Adirondack. Berry is a travel agent with Liberty Travel at Crossgates Mall.
The bartending business is headquartered at Hatin's home in Queensbury. Berry lives in Amsterdam. They met in 2007 when Berry took some of Hatin's college classes.
Since starting the business, the two women have operated it without other employees.
They work well together, making an efficient team, Hatin said. In the future, perhaps five years or so down the road, they would like to bottle and sell some of the mixers they have developed. Even longer term, they may want to franchise, perhaps to more metropolitan areas where people could make a full-time career of mobile bartending.
The company also tries to give back to their communities, donating their services to charity events and fundraisers and providing gift certificates for some silent auctions.
The Mixaritas' website is mixaritas.com. Hatin can be reached at 225-5125 and Berry at 744-4927.
Photo Courtesy of Mixaritas