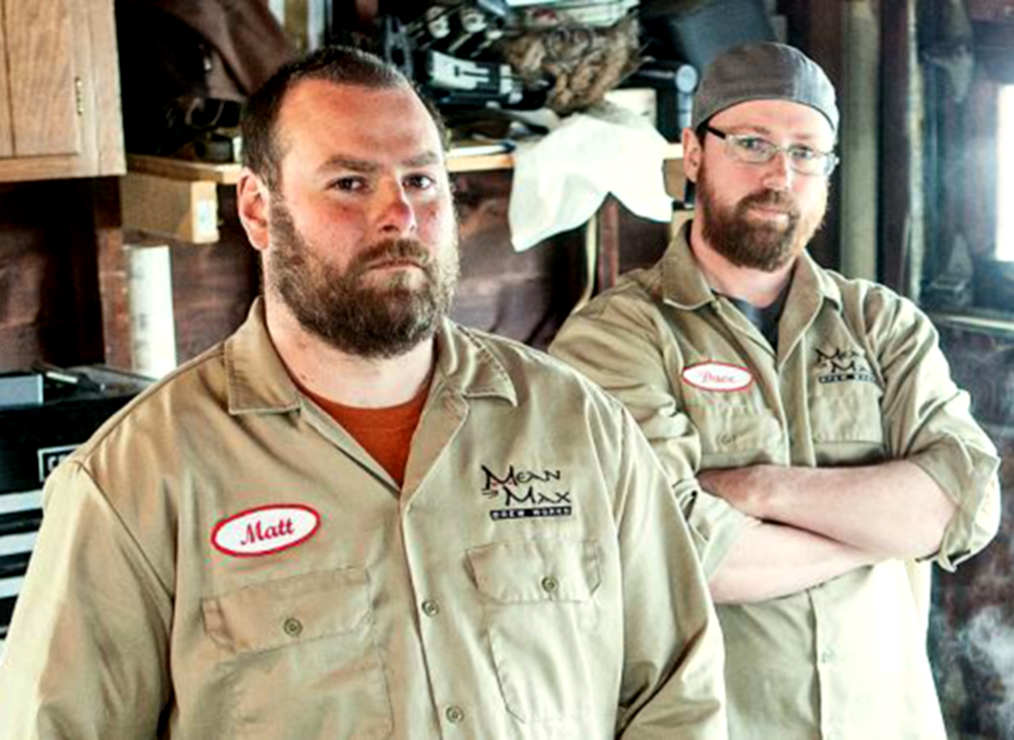 By Ali Munday
Mean Max Brew Works, a 'nano-brewery'
specializing in small, handcrafted batches
of ales and lager, will be coming to Glens
Falls in 2014.
Dave Walls and Matt Barry, brothers-inlaw
who became friends and brewing buddies,
have joined forces and are turning their
passion for distinctive beers into a business
plan. Leasing 2,100 square feet of first floor
space at 193 Glen St. in what used to be the
Spotlight dance club.
Both men have been enthusiastic home
brewers for several years, and hold down fulltime
jobs for the time being. Their idea came
together 18 months ago, and Mean Max Brew
Works LLC was officially formed in 2012.
According to the Colorado-based Brewer's Association the late 1980s and the 1990s heralded a growth period and greater acceptance of U.S. micro-breweries, and the numbers have continued to grow.
At Mean Max's, the customers will be encouraged to bring their own food, or order in, said the owners. Not serving food allows the brewers to concentrate on the business of making beers such as Charlie's Brown Ale, and Across the Pond pale ale, to name just two.
With room for 10 to 20 seats, the pub and sampling room will sell pints at the bar, or growlers to enjoy at home, the owners said. Wine will be offered by the glass, but there isn't a full bar, and liquor will not be available.
"We decided on downtown Glens Falls because we enjoy spending time here, and we've seen how the area is growing, with shops and restaurants" said Barry. "It was a perfect fit for our business model. People can come in, grab a pint and relax."
To please fellow-business owners, and appease hungry customers, local restaurants offering take-out will be invited to leave their menus on hand for the pub's customers to peruse, or beer enthusiasts can simply grab something at their favorite place and bring it in with them.
Applying for a New York state farm brewer's license brings with it certain requirements to use a minimum of New York state ingredients. Accordingly, the partners are sourcing as many local ingredients as possible including hops and malted barley, local fruit and other ingredients for specialty and seasonal beers.
"Our beers cover a wide array and we intend to offer a style for every palate. Currently, we're on an IPA kick. We have a few beers to offer right away, with more in development. We're excited to try out some recipes using an extended aging in oak barrels and seasonally matched brews," said Barry.
The brew-pubs kettles were built by Stout Tanks in Portland, Ore., and the rest of the equipment was designed by Barry and Walls, with parts obtained as locally as possible.
The duo is aiming for a spring 2014 opening but can't project a firm date yet. The length of the state permit and licensing process will determine that, and while it's admittedly a challenging process, everything's progressing as it should, they said.
The building owner, Chad Nims, is doing all of the work on the building to divide the former dance club into two retail spaces on the first floor, with Barry and Walls doing as much of the work within their own space as they can, with the help of family and friends.
Most of the major construction hurdles have been overcome, and they've built their own cold room/walk-in cooler, pouring a concrete floor in the brewing area and building structural walls in the basement to support it. Contractors have installed new plumbing and the electrical service. Once the building's facade renovations are completed, the two will begin installation of the new floor, bar and seating area. They hope to have construction completely wrapped up by the end of January.
"The City of Glens Falls has been very helpful and supportive of our plans and everyone we meet is excited about our ideas," said Barry.
Once the brew pub is up and running, they anticipate hiring a few employees as business begins to gather speed.
The brothers-in-law have largely funded the project themselves, but acknowledge the help of PEPE Productions and Gallery 9 North in launching a Kickstarter campaign (see www.kickstarter.com), at the beginning of August that ran through September, raising more than $27,000. Kickstarter is an online funding organizer. Basically, project creators set a goal and deadline. If people like and support the project, they pledge money to make it happen.
The owners are already planning a mugclub with some twists. The Beer Review Board (BRB) will be an annually renewable membership, offering the best value on purchases.
There will also be a time-limited offer for a Founders Level Beer Review Board (FLBRB) membership which includes all of the BRB benefits, plus extra rewards and a lifetime membership. Prices have not yet been set.
More information on Mean Max Brew Works, visit, www.meanmaxbrew.com, or call 232-5271.
Photo Courtesy Mean Max Brew Works