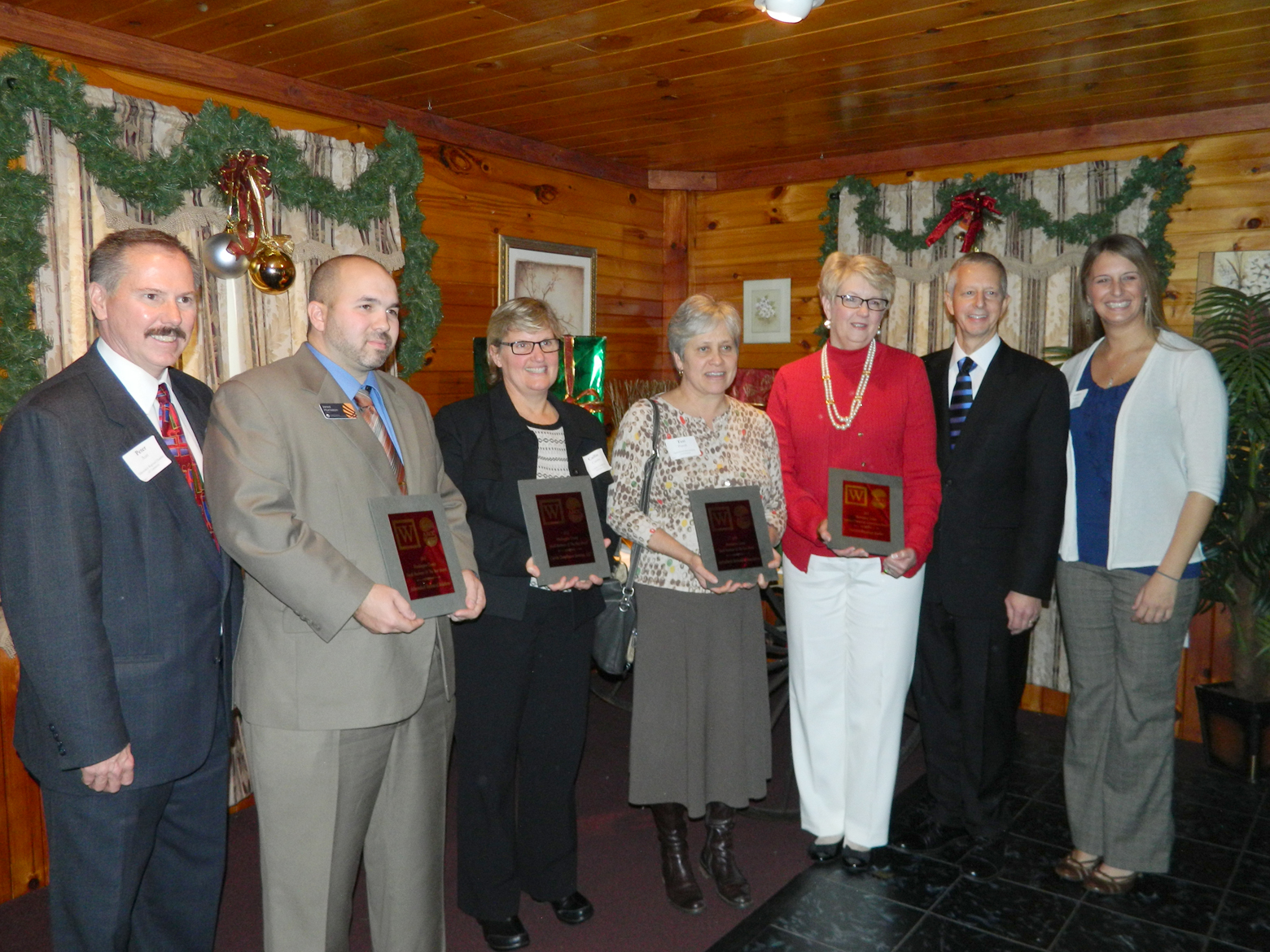 By Lisa Balschunat
Master of Ceremonies Tim Jansen, of
Wel-Dun Air and Water Systems in Argyle,
opened the 2013 Washington County Small Business
Awards luncheon with a statistic,noting
that 9.7 percent of Washington County businesses
are entrepreneurial compared to the
state average of 6.1 percent.
"We are self-starters in Washington County.
We are dedicated to our community and we are
on the move" he said.
Hosted by the Washington County Local Development
Corp. and the Adirondack Regional
Chamber of Commerce on Dec. 6 at Rainers
Gourmet Inspirations in Hudson Falls, the
ninth annual event recognized four businesses
for their vision, innovation and dedication to
the community.
Selected among 13 nominees, the award recipients were Adirondack Technical Solutions, the Agricultural Stewardship Association, Currin Compliance Service LLC, and Putori's Broadway Market received the Lifetime Community Commitment Award.
Adirondack Technical Solutions in Argyle, began with one employee and one client in 2005. Today, the technology services and security business employs eight and serves 200 clients providing server virtualization, managed services, structured security, mobility services and unified communications.
The company is one of the largest locally owned Microsoft partners in the region. President Jared Humiston said that growing up on a farm, like most Washington County residents, instilled "strong values to do what is right and what's honest," and helped mold his company. "I have transferred so many skills and life lessons from the farm into this technology business."
He thanked his staff for their dedication and for "working when most people don't — long days, late into the night and under pressure. If I am having a long day now, I think of the long days I had on the farm in the corn field soaking wet for ten hours in the rain and a long day in this business is just fine."
Executive Director Teri Ptacek accepted the award for the Agricultural Stewardship Association, a community-supported accredited land trust dedicated to protecting local farmland from encroaching development, based in Greenwich. Established in 1990, the association helps to conserve quality farm land.
"We rely on funding from the community and this community has been extremely supportive," she said. "I came to the realization recently that, yes, of course we are protecting our land, but [our efforts] are really all about people."
Ptacek said the ASA has protected over 15,000 acres of land in the county, and has a goal to secure 11,000 acres by 2019.
Currin Compliance Service LLC in Greenwich is a niche business providing compliance and regulatory consulting, and legal services for the life insurance industry. Callie Currin began her business as a sole proprietor in 2007 and now has a staff of 12.
"I opened my office thinking it would be just me at a desk, doing my thing," she said, "and, look were I am now."
As Greenwich Supervisor Sara Idleman pointed out "Callie's business is a life insurance and annuity producer. Her business could be anywhere – in a big city, on the west coast, anywhere – but she chose to be here."
Putori's Broadway Market in Whitehall was the recipient of the Lifetime Community Commitment Award. Francis "Fra" and Cheryl Putori received a standing ovation for their staying power in Whitehall and for their numerous community endeavors, particularly with the Whitehall Central School District.
Founded by Putori's grandmother in 1926, the family business is now operating under the third generation.
"Many young people learned to work at Putori's," said Whitehall Town Supervisor George Armstrong. "They learned to be presentable, to relate to customers, to handle money, to work in a sometimes hectic atmosphere and they gained a sense of self worth."
Putori's has employed many young workers over the past four decade and presently employs 10.
"Anyone who knows Fra knows he can be found near that high school stage encouraging young people in dramatic arts and music," Armstrong added. "And, you'll find him walking the parade right along side the kids."
The Putoris also have served the community as school board members and village trustees, and are supporters of the local program that helps young women get academic scholarships. Other businesses recognized as 2013 award nominees were: Ere Hometown Bakery & Sandwich Shoppe, Hudson Falls, DK Machine Inc., Fort Edward; Lake Lauderdale Campground, Cambridge; Bedlam Corners General Store, Salem; What's Cookin? Restaurant & Creative Catering, Hartford; Pole Valley Players Club, Hartford; Laura's Garden, Salem; O'Hearn's Pharmacy, Cambridge and Battenkill Valley Creamery, Salem.
Photo by Lisa Balschunat