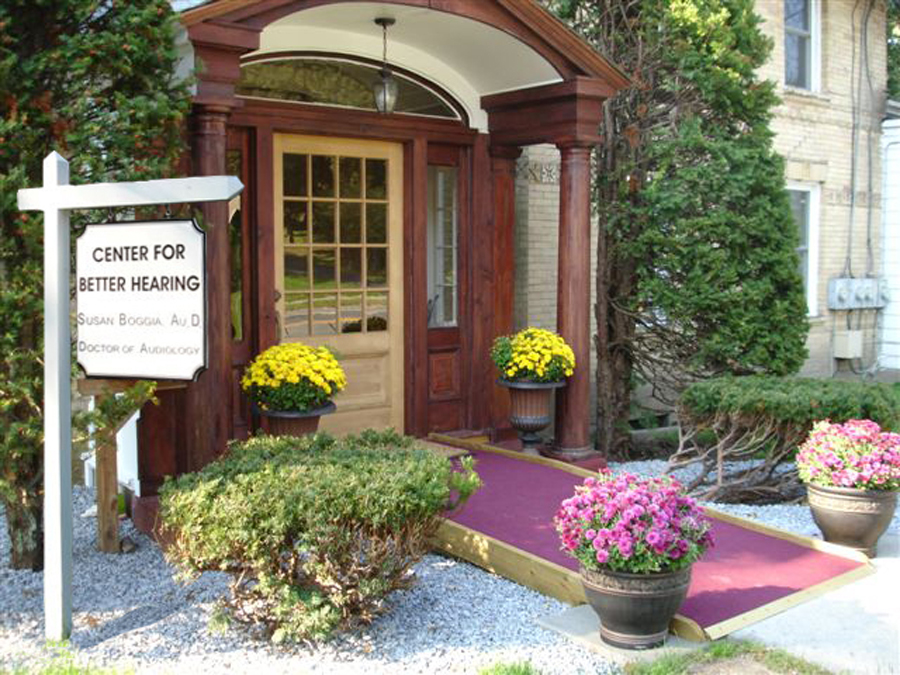 By Ali Munday
Susan Boggia, doctor of audiology and owner of the Center for Better Hearing always remembers the analogy a patient used in explaining how a hearing aid improved her quality of life.
"She said it was like wiping the fog from a window. With a foggy window you may be able to see, but it wasn't until you wiped the window off that you realized just what you were missing," said Boggia.
A Chestertown resident, she started her career in New York City and has practiced audiology for more than 30 years in physician's offices, nursing homes, schools, and hospitals throughout the region. Credentialed by the American Speech, Language, and Hearing Association, board certified, and a fellow of the American Academy of Audiology, she has owned and operated the Center for Better Hearing on Ridge Street in Glens Falls for the past seven years.
She selected the location at 318 Ridge St. for its easy in-town access, and its close proximity to the Northway. The building–set in a residential neighborhood–ensures services that are provided in a comfortable, home-like setting.
Cara Bedore, doctor of audiology and Michelle Christie, patient care coordinator, complete the center's staff of three. Bedore worked previously at the Stratton VA Center in Albany and in private practices in Troy and Saratoga. Proficient in diagnostic evaluations and rehabilitation of hearing loss from birth, through to the geriatric population, she has been a practicing clinical and dispensing audiologist for ten years. Christie, a former small-business owner, has extensive customer service experience and a broad business experience.
The center offers a range of services. A diagnostic hearing evaluation determines whether an individual has hearing loss, possible causes, the degree and type of loss, and best treatment options. For sufferers of tinnitus – an aggravating condition that causes constant ringing or buzzing in the ears – they provide evaluation and management.
Boggia and Bedore both have a keen interest in emerging hearing technology and new trends in the hearing health industry, and the practice offers state of the art advanced digital hearing aids, even some that incorporate Bluetooth technology. Other services and products include cerumen (wax) management, custom ear molds for iPods and sleep plugs, and musician's earplugs and monitors.
Boggia believes her team's strong emphasis on customer service, and on educating the clients and their families on the most current technology, is what sets them apart from other audiology practices. Her patient-base is mostly from the greater Glens Falls region, and as far north as Ticonderoga.
Boggia said often a long time can pass before a person seeks help. "Usually this can be attributed to the stigma that a hearing aid means they are old, to friends that have been unsuccessful with hearing aids, and also the cost factor. The loss is usually so gradual that many times individuals are not aware of what they haven't been hearing."
"Our goal is to provide our clients with information about their level of hearing loss, the many hearing assistance options available to them at various costs and to help them decide on the best option for them." She said many insurance companies don't offer coverage for hearing devices, but nonprofit organizations like the Lions Club may provide financial assistance. The center offers interest-free financing.
The center collaborates with the local Lions Club loan-out program for assistive hearing devices. The program provides individuals the opportunity to try amplified phones, TV assistive listening devices, and alerting devices, at no cost to them, to determine if such devices can assist them, or a family member.
"It's important for clients to be aware of what a hearing device can and cannot do," said Boggia. "It's also important for them to realize that they are not just buying a product but rather purchasing the services of the audiologist. The most important part of the hearing aid process is the audiologists' skill in programming the hearing aid and listening to the client's experiences with the devices so we can fine-tune them."
The center works with each patient well beyond the initial fitting, and follow-up care involves continued office visits to ensure the devices are working optimally.
Boggia said, "It's very rewarding be in such a client-focused profession where what we do significantly impacts not only our clients lives, but their relationships with their family and friends. It is always wonderful to hear our clients talk about being able to hear their grandchildren clearly, or enjoying the punch line of a joke. Hearing devices let you hear what you've been missing and enhance your quality of life."
The center can be reached at 638-4363 or online at www.hearingbest.com. Office hours are Monday to Friday from 9 a.m. to 5 p.m. Evening hours and Saturdays may be scheduled by appointment.