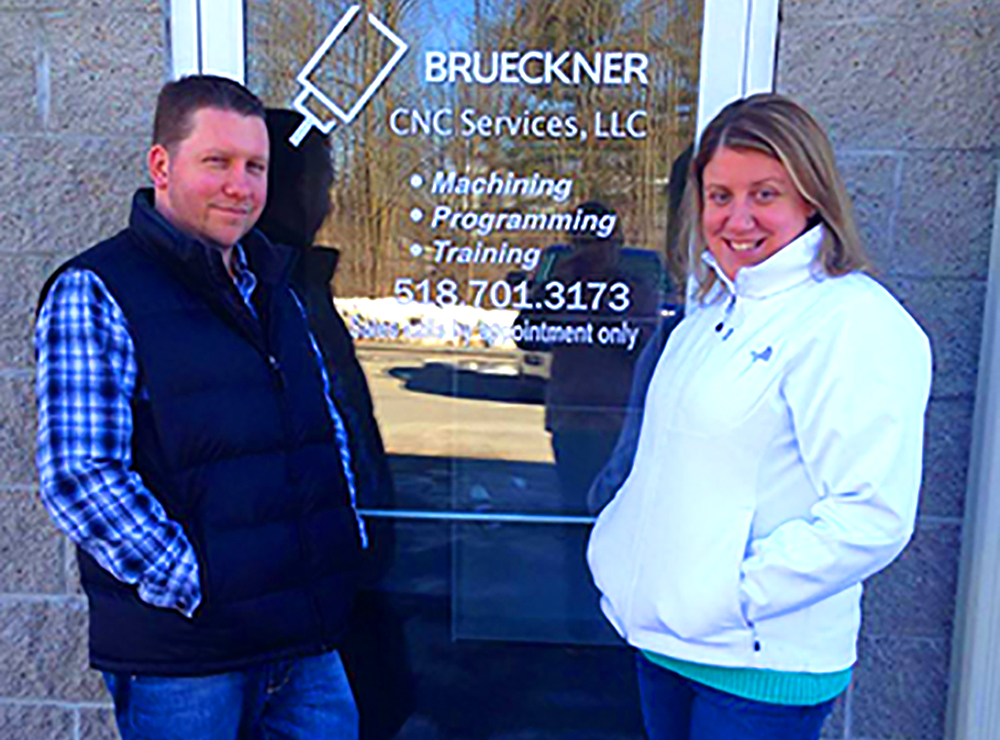 By Kat Fitzpatrick
Area machine shops needing complex
parts and in-depth training for their staff
can now turn to Brueckner CNC Services,
a new high-tech machining/training facility
in Queensbury.
The business is located at 536 Queensbury
Ave. near the Floyd Bennett Memorial Airport.
Opening the site was a logical next step
for the small company, said owner and
operator, Scott Brueckner, a native of the
area. With the motivational and logistical
support of his wife, Jennifer, he had been
consulting in the hands-on industry for
18 months when, in addition to providing
training and programming, he began to get
requests to make more complex parts. He
couldn't fill the demand without the space
and the equipment.
His business plan called for two brand new CNC machines that will fill production orders that include complex five-axis components for the power generation, defense, and commercial industries in the area and across the U.S. CNC is a well-known acronym in the industry and stands for Computer Numeric Control.
"It's basically the electronic control that's on the machine to make it do what you want it to do," said Brueckner. "The fact that I have one of these machines sets me apart from other companies," he added.
Brueckner sees the biggest challenge– and opportunity–in the field of machining to be a dearth of trained and qualified workers. This is his impetus for offering demonstrations and in-house training for up-and-coming machinists. He is especially suited to the job, as he started with welding in a VOTEC class in high school and continued to take classes along the way at different companies.
"I went full-time when I was 18. I started at the bottom sweeping the floor and worked my way up at five or six different shops," he said. "I have held basically every position that would exist in a machine shop or manufacturing facility. I have really had a knack for it every since I started."
This knack has kept him in the industry and inspired him to put his knowledge and experience to the best use possible.
"It's related to how younger people these days don't want to work in trades anymore," he said. "They want to go to college and do computer job or work in corporate America."
This trend began some time ago, Brueckner said. That might be changing, he added, but at this point in time there is a lack of leaders in the field.
"Now is when those people would be good machinists had they gone down that path," he said. "There might be young people getting into it but even if they get into their first shop they won't have an experienced person to show them the tricks. "So that's where I come in," he said.
Classes and demonstrations are slated to begin in May. Brueckner can be reached at scott@bruecknercnc.com, 701-3173 or by visiting www.bruecknercnc.com.
Photo Courtesy Brueckner CNC Services