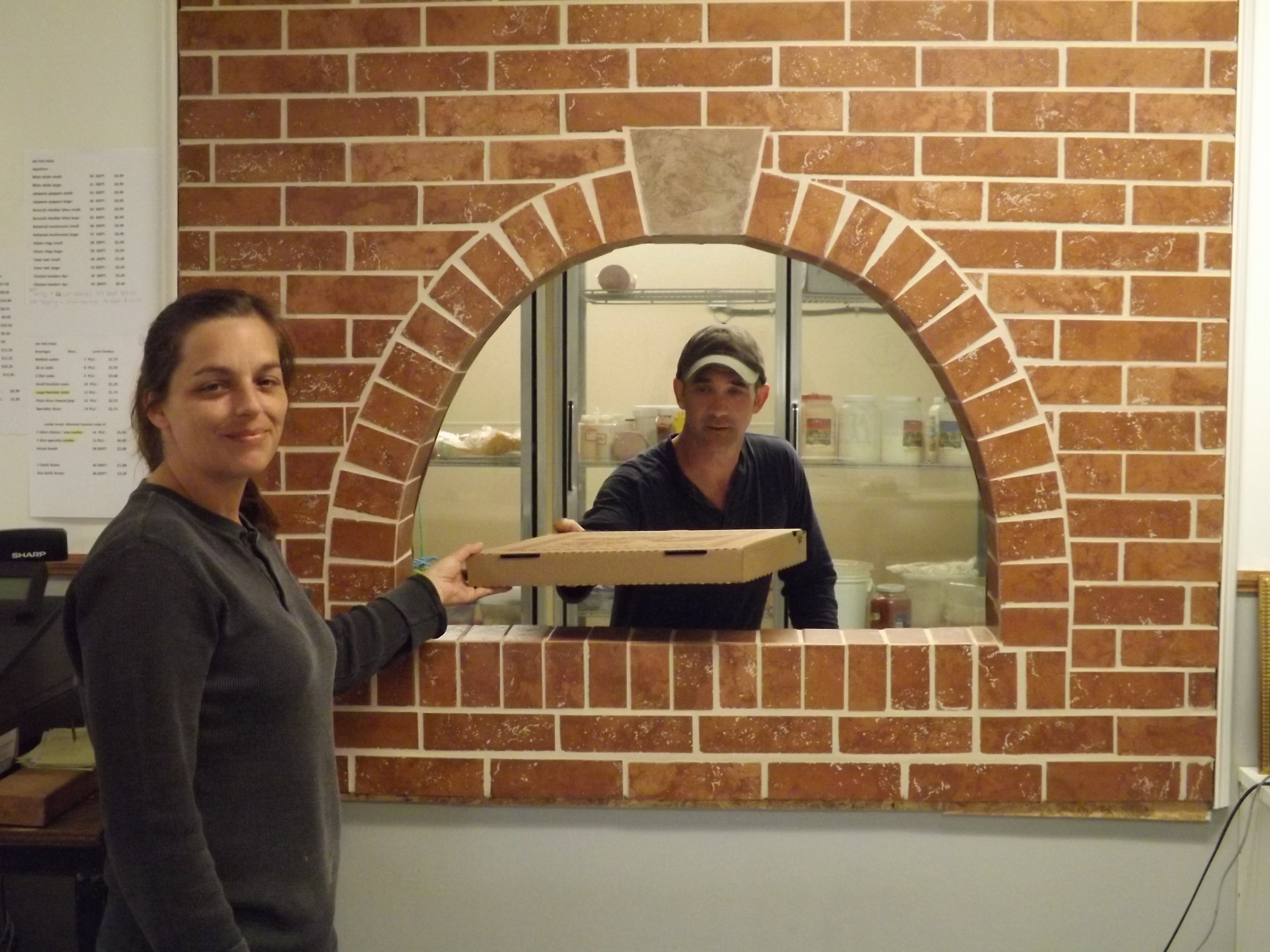 By R.J. DeLuke
Without any experience in food service, two
people opened a new pizzeria in Hudson Falls
and already pizzas are flying out the door, says
co-owner Rebecca Durham.
Becca's Pizza opened in March at 82 Boulevard,
Hudson Falls, in the building that
was once Eddie's Groceries, a fixture in the
community for many years.
Durham and partner Ron Marshall are
leasing the space, with an option to buy.
Renovation, inside and out — done mostly by
Marshall whose background is in welding and
building trades — took more than a year. It's
still not fully complete.
Becca's is currently running just pick-up and delivery service, but plans to open a full-service establishment with seating for perhaps as many as 50 people in the near future, Durham said.
They did all the work themselves, helped by family and friends.
She said the family of Eddie Sipowicz, who ran the grocery story but died in 2009, decided not to continue the store and leased the space. As soon as the owners could get approval, they opened the business pending completion of the restaurant area.
"Our biggest fear was nobody knowing that we're here," she said. Those fears quickly passed. "We were swamped" with business as soon as it opened. "It's going to be phenomenal when the seating is done."
She said during the long period when the work was going on, many people saw activity in the well-known building and would stop inside to inquire about what was happening. Between that word of mouth and a Facebook presence, business took off fast.
Neither owner has food service experience. Durham has a college degree and a background in sales. But a poor job market prompted them to think: "Why don't we just do something on our own?" she said.
They also hired knowledgeable cooks and people with experience in the field, and got good advice from friends and family with the appropriate experience. They also took classes and learned through the process of dealing with permitting officials sand the state Health Department to "ask questions," said Durham.
Durham said she is good at managing people and good in handling the books. The rest is coming together hiring "recommended cooks and staff that do know the business and are knowledgeable."
Becca's makes its own dough and is flexible in developing its menu. In addition to 12-, 14- and 16-inch pizzas, there are appetizers like mozzarella sticks and chicken wings, submarine sandwiches, salads and calzones "big enough to feed a family of three," and a variety of other items, said Durham.
Dinners will be added when the seating is ready. Burgers, lasagna, spaghetti will be some of the dinner selections.
Becca's is open Tuesdays 1-9 p.m.; Wednesdays and Thursdays 11 a.m. to 10 p.m.; Fridays and Saturdays 11 a.m. to midnight; and Sundays 11 a.m. to 10 p.m. Closed Mondays. They can be reached at 636-2111.