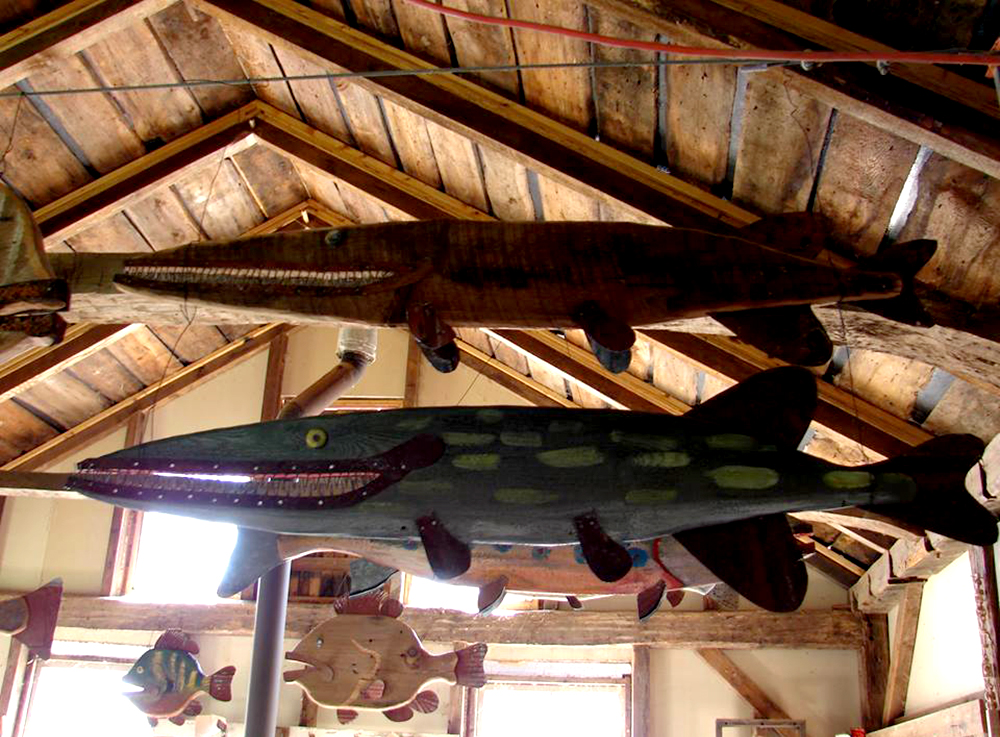 By Kat Fitzpatrick
There's something in the air at 166 Glen St.
When people walk into the store, passing
between two brightly lit trees that stand like
friendly sentinels, they enter a place with both an
otherworldly look and one instantly recognized as
authentic downtown Glens Falls. People can feel
at home. Which is just the way owner-operater
Tim Reed wants it, though he confesses it wasn't
by design.
"It's a nice place to come to work, I must say,"
said Reed. "One artist walked in and he just stood
and looked around and finally he said what a nice
space this is."
"I'd love to say it was a formula, but there was no
blueprint. And even if there had been, things don't
always end up that way you plan in the end," said
the former contractor. "It's always an evolution."
The contents of Reed's store — home decor, fine arts and jewelry — are the handiwork of local artists, little pieces of the community soul that are priced to move off the shelves and into a new and appreciative homes. Reed said that he wants the shop for people default who are looking for a gift but don't want to bring the banal bottle of wine or run-of-the mill appliance.
"I want to be the place that people think of when they are going to a wedding and they want something unique," he said.
"This is the same target group that would go to the farmer's market," he added, "because they care." It was his own genuine caring that brought about the current state of affairs, as unforeseen as it was.
He bought the building half a dozen years ago and when the former tenant, Authentic 9, vacated in April of 2013, he found that the sight of the blank windows were too much for him to bear.
"I had the building and it was vacant and it was killing us [he and his wife Suzanne]. It was spiritually painful to drive by and see it dark. I had put a lot of time into renovating it and then to see it vacant was devastating.
"Even putting up paper–the kind that people put up when they are getting a store ready to open –that was a relief even," he said.
The next step was to bring in items from his barn, antiques and his own hand-made creations, like his giant wooden fish sculptures.
Reed never considered himself an artist. He spent 35 years as a contractor doing restorations and barn houses and "things of that nature." It was this ingrained habit of looking at a structure and imagining the possibilities that became impetus for his approach to filling the store and opening the doors.
"I made things all the time but never to sell," he said. "It was a way to clear my mind. Instead of doing a serious project, I was doing something that was kind of ridiculous and fun. They have sold ridiculously well."
Once he began to fill the space with his own work, he was inspired to put out a call for more. "I called a couple of people that I knew, at least knew well enough to call," he said. "I called the local artist Betsy Krebs. I like her work and she works large and uses great colors. And then Bill Coffey. And then Jon Segan, who is an assemblage artist."
"Honestly, I thought it would take a long time to attract artists but it was almost instant," Reed said, adding that there's a need for a place for local artists to display their work for sale. "Then they can go home and do their art."
The response was both surprising and gratifying, he said. "There's literally a person a day bringing something in. Unfortunately, I have to turn some of them down due to space and the fact that we try to keep the price point low," he said.
Reed said that some of the consigners are full-time artists and furniture makers, but there are many who never sold an item until after they heard of 166 Glen. One such person is Peter Reed, the owner's brother.
"Peter does photography and leather and canvas totes," said Reed. "He's a bug about making things that don't fall apart. That's one of the real concepts behind all this: well-made, hand-made and as local as possible."
Some of his most prominent artists include Coffey, who creates much of the Adirondack furniture that makes the space feel homey.
Esmond Lyons is a painter whose Hudson River works can be found on the brick walls of the store. Danielle Lyons makes beaded jewelry that lends a New York City twist to the glass cases. Krebs' art can also bee found on the walls. Segan's assemblage art adds an intricate dimension to the space.
Marcel Juillerat who used to work exclusively for Tiffany's. "He can't help making it" Reed said of Jullierat. "He is an extremely creative person."
Reed is a native of Glens Falls and has lived in Saratoga area since 1978. Having a handle on both the areas has him contemplating how to get more Saratoga people to discover Glens Falls.
He said his mission this summer, with help from Paul Parker and Michael Belanger who opened the Rare Earth Wine Bar next door, "is to get people to come up from Saratoga. It's not far and Glens Falls feels a lot like Saratoga Springs felt about 20 years ago.
"I think it's really an exciting time. If downtown added a grocery story and a movie theater and just a few things like that … then the sky's the limit. We just need to add a little more to the core of things. "On a busy weekend and you can park anywhere in Glens Falls and not walk as far as you would at the mall. The biggest struggle for the downtown merchants is changing the perception. People will say, 'I didn't know you were here, but now I'm so glad to know.' People want to shop downtown."