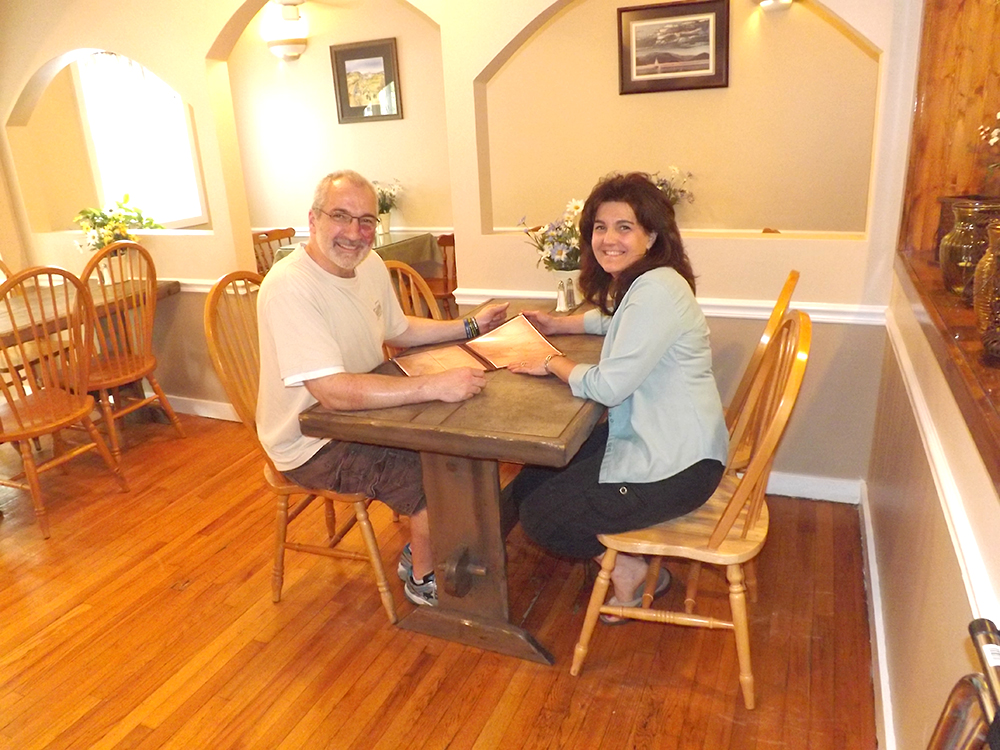 By Kat Fitzpatrick
Tony Chiaravalle wasn't looking for another restaurant opportunity.
But he got involved with one, with Corner Stone Pizza Cafe at 122 Bay St. in Glens Falls.
"I had left the family business last summer," said the second generation Italian who's been involved in restaurants his entire life. "I was hoping for a change of careers."
He said he was looking for a lifestyle without the stresses and pressures of running an eatery, one that would afford him more family time. Then Alfredo and Donato Calderoni, owners of the building and proprietors of its former iteration, Antonio's, contacted him.
Chiaravalle said there is a connection between the families that dates
back to the 1970s in Lake George. His father, also an Italian immigrant,
hired Alfredo to help renovate what was then La Roma restaurant that
the Chiaravalles owned "and that was the beginning of the family
connection," he said.
When the Calderonis called upon him to occupy the old family restaurant,
Chiaravalle considered staying true to his commitment to changing his
career. But they called again.
"When it came up the final time, we took a look at it," he said, including his wife in the decision. They decided to undertake the venture.
"The first thing I like about this opportunity is it places me right in the middle of the community," he said. His previous experience in Lake George, with Gino and Tony's (formerly La Roma), relied heavily on the tourist trade which is different from relationships that develop in a neighborhood setting, he said.
The menu includes wraps and salads as well as traditional Italian and pizza dishes. Delivery is available.
"I like that shift," said Chiaravalle. "I have loved having the older generation coming in and telling me about the history of the store and of the area."
He is also greatly interested in the future of Glens Falls.
"I've loved to watch the growth of the downtown and like many people in the area I have hoped and prayed that that's really what is happening, that it really is growing. Glens Falls has a sense of pride," he said, citing the plethora of popular fundraisers in particular. "We've already been active in a couple of them and look forward to more."
The Chiaravalle's are members of and support New Hope Community Church. But they're open to helping out others.
"We want to reach out to the churches. Some don't have kitchens, so we can help them with any outreach, especially with senior citizens. We have really come with a mentality of service and helping."
He said they also hope to create a sort of community center for young people.
"We are thinking of modifying the inside," Chiaravalle said of the restaurant. "There is a room in the back that's kind of a catch-all room. It could be a place for kids to come and hang out if we put in couches, TV, wi-fi. We have a great youth ministry at our church and this could be a place for them to go. But it would be open to anyone."
Corner Stone is open 11 a.m. to 9 p.m. daily. The phone number is 793-5522.