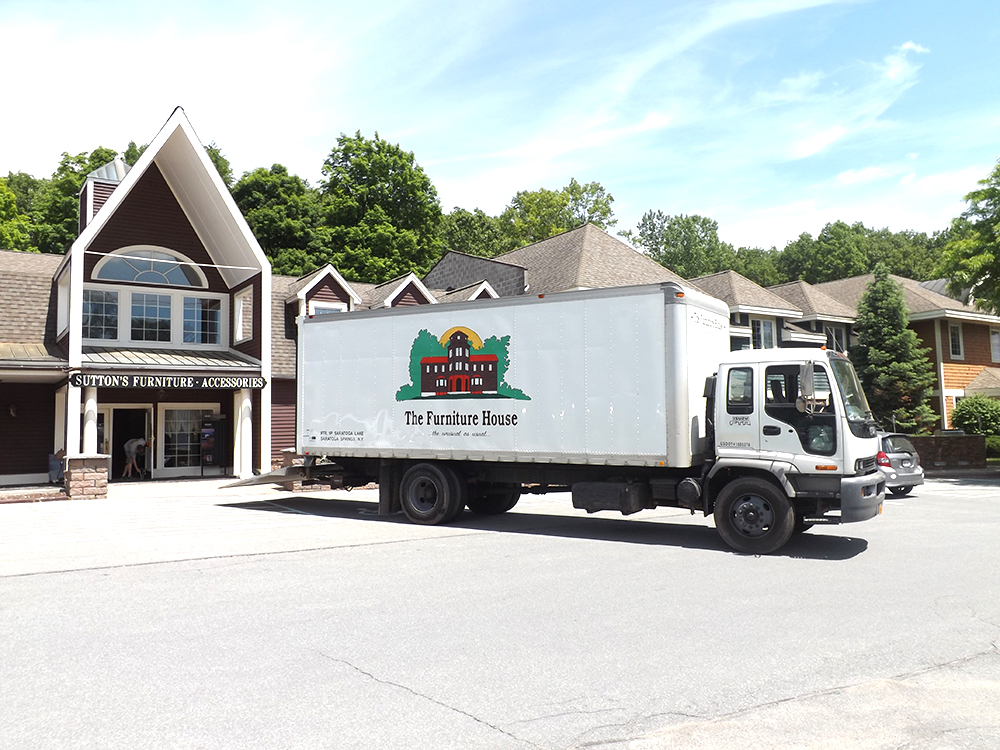 By Liz Witbeck
Sutton's Furniture, 1066 Route 9, Queensbury was sold to the owners of The Furniture House in Saratoga Lake.
Donna Sutton operates Sutton's Marketplace that is in a plaza that, in addition to the furniture store, consists of Sutton's Gifts and Clothing, Sutton's Market and Café, and Louis Jewelers.
Sutton started the furniture store 23 years ago with her late husband, Steve. Since his death, she has been looking to sell the businesses.
Her daughter, Jane Holycross, works at the family-owned operation, along
with her husband, Jered. "We decided this past spring to retire from
the furniture business" said Jane Holycross.
Over the past several years, the Suttons have had at least five
companies come to them wanting to purchase their furniture business.
"It was never the right fit" explained Jered Holycross. "They were all lower-end companies" and did not fit the model of Sutton's high-quality furniture.
Finally Mario and Diane DiSiena, owners of The Furniture House in Saratoga Lake, made an offer.
"They are a perfect fit" Holycross said. "We know Mario and Diane. They carry the same lines of furniture as we do, plus quite a few others. They started in the furniture business right around the same time as our family did. They are family owned. Everything is unique, upper-end furniture."
The DiSienas have owned The Furniture House since 1980. With more than 30,000 square feet of showroom space, the store focuses on high-quality, American-made furniture. Several pieces are Amish and Mennonite crafted. Some of the lines carried include Old Hickory, Hancock & Moore, Stanley Furniture and American Leather.
Sutton's Furniture will become The Furniture House at Sutton's Marketplace. The new owners plan on making the Queensbury site their flagship location.
Mario DiSiena is passionate about furniture. He travels to furniture shows around the United States, finding the best furniture to sell in his stores.
"There's enough places out there that sell mediocre (product). We don't do mediocre" said DiSiena. "We're high-end, quality furniture. We have exclusive designs and products you won't find anywhere else."
"We're not a museum. We're here to sell furniture" said DiSiena. "You'll enjoy coming here because we are real people. We'll show you how to design your home. We will not sell you wrong."
The DiSiena family has no relation to the DiSiena Furniture store in Mechanicville. The Sutton family will refocus their energy into the other sections of the marketplace, including their café and gift shop.
"We're revitalizing everything, freshening it up back to what it was" said Jered. "We want to put a 25-square-foot garden in to use for the café."
Sutton's Market and Café will focus on using local, fresh ingredients.
Other plans at Sutton's Marketplace include updating the driveway and increasing their high-end toy line for the gift boutique.
Sutton's Furniture is currently having a tent sale to liquidate all of the remaining furniture they have in stock. Holycross said they have seen an overwhelmingly positive response from customers, with most of their furniture being sold within the first few days.
The DiSienas have several plans for their new store as well.
"We have everything that Sutton's sells, plus other lines" said DiSiena. "Our store is going to be more upscale, contemporary, traditional and transitional pieces. The variety will be spectacular. If you are interested in unusual, high-quality furniture that you can't find anywhere else, you want to come here."
"This is definitely a positive thing" said Holycross. "I think it'll bring customers who have never been here before to Sutton's Marketplace. At the same time, I think some of our customers will see what Mario has to offer. One hand washes the other."
Everybody is excited about the lineup of stores in Sutton's Marketplace.
"We have Louis Jewelers who are passionate about jewelry. We have Mario who is passionate about high-quality furniture, and then we have the market and café" Jered said. "We're just a bunch of people who are really passionate about what we do." "We're really looking forward to expanding our business and serving the Saratoga, Queensbury, and Adirondack markets" said DiSiena.
There is no official closing date, but The Furniture House hoped to be moved into the new location by the middle of June.