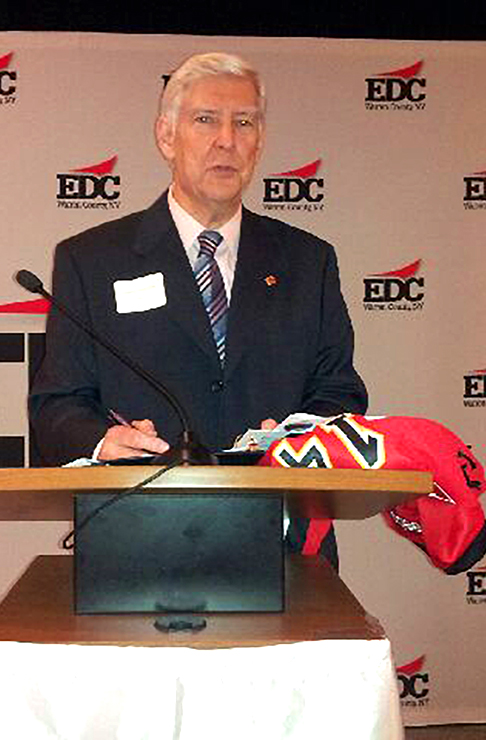 By R.J. DeLuke
The paper and lumber industry, and all the associated businesses from logging down to distribution, has a rich history in the Glens Falls region. It is one of the economic drivers for the area's economy, but is not without challenges today.
The importance of that industry was emphasized at the EDC Warren County annual luncheon in May at Great Escape Lodge. Ed Bartholomew, EDC president, organized a program for the luncheon with the theme "Where would we be without wood?"
"From foresters, timber harvesters and sawmills to virtually every type of paper product manufacturer and the equipment manufacturers, fabrication shops and industrial contractors who help keep the facilities running, no industry has made a more widespread or enduring economic contribution to our region than the forest products industry," said Bartholomew.
Keynote speaker was Deba Mukherjee, president and CEO of Finch Paper LLC, which 600-plus employees in Warren, Saratoga and Washington counties. The large gathering also heard from representatives in other businesses that rely on the forestry industry.
Started as a sawmill in Glens Falls in 1865, Finch today manufactures 250,000 tons of uncoated papers for the digital and traditional paper markets per year and, according to EDC, has an economic impact to the region estimated at $373 million per year.
Among the challenges, said Mukherjee, is that there are fewer and fewer loggers; not enough to support the region. Additionally New York state continues to add lands to the state Forest Preserve, which makes them off limits for logging.
"While Finch has not been immune to those changes, we are building a strategy that is both innovative and executable, one that's built to last," said Mukherjee.
He urged banks and financial institutions to give loggers the funding needed for equipment, and schools to provide training and encourage young people to enter the industry.
Mukherjee said Finch has a creative three-year modernization plan to improve the mill infrastructure. He said he is optimistic about the future, noting that over the last nine months, 40 new customers were added, and the mill has added 20-plus new products to its line of offerings.
An "entrepreneurial, can-do spirit" at Finch is behind the progress being made, he said. Elizabeth Miller, president of Miller Mechanical Services in Glens Falls, which specializes in building and servicing equipment for the paper industry, said her business has expanded over the years because of the paper industry. She has 30 employees in Glens Falls and 150 "in the field."
"We're one of many businesses that call pulp and paper our bread and butter," she said. Steve Scarselletta, president of Local 18 United Steelworkers, which represents 300 workers at Finch, also expressed confidence that the industry would face and meet the challenges.
From a family that worked in the industry, including a father who rode logs down the Hudson River when that was how hewn trees were delivered for processing, Scarselletta said most of the meals he had growing up "came in one form or another from the mill. I'm very proud of that."
He said the industry is dealing with global competition, so the workforce has to be well trained and have the best technology at its disposal. The workers stand ready to meet the challenges, even though "there's not a lot of kids who are going to jump on a logging truck today … It's hard work."
Heather Briccetti, president and chief executive officer of The Business Council of New York State, Inc., said manufacturing "is repatriating itself to the United States" and said Warren County has out-performed most other areas in New York when it comes to expanding manufacturing. "It's an attractive place to do business."
She noted that the 2014 state budget deal includes a 20 percent real property tax credit for manufacturers who own or lease property. The tax rate on income for all manufacturers is being lowered from the current 5.9 percent to zero in 2014 and thereafter.
That kind of action makes it "one of the best years we've seen for manufacturers," she said.
Photo Courtesy Of EDC Warren County