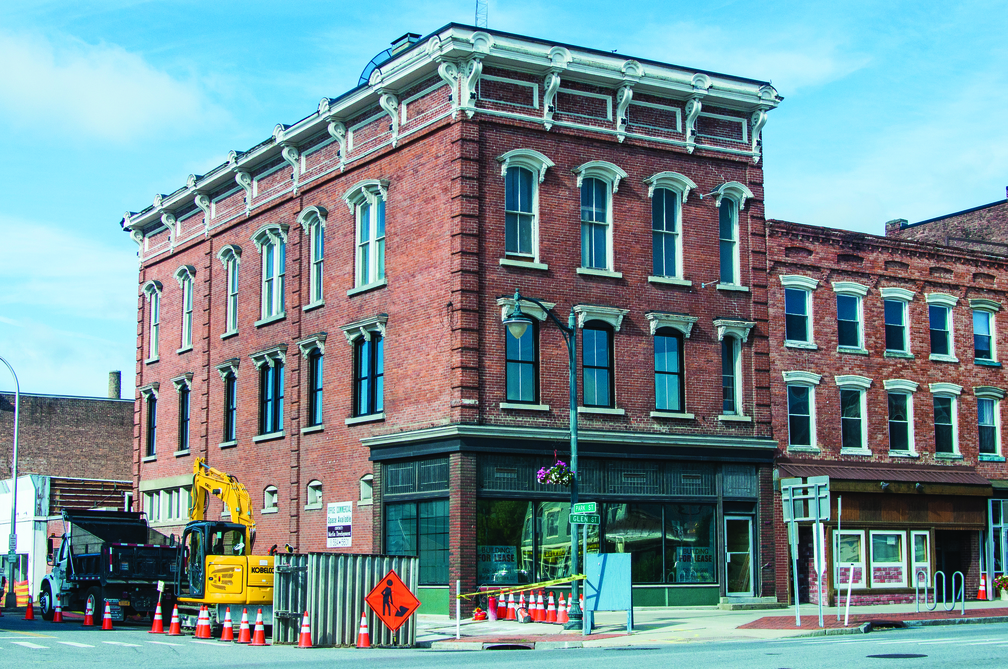 By Barbara Pinckney
Local Developer Bruce Levinsky has purchased
126 Glen St., the former home of LookTV,
and plans to redevelop the three-story building
one floor at a time.
First up is the second floor, which will house
The Hub @ 126 Glen, an incubator for small
businesses in need of office space, an occasional
conference room, or a mailbox, said Brittany
Trojanek, who works with Levinsky and will
run The Hub.
Next will be the first floor, the former television
studio, which is being eyed for a restaurant
or retail space. Trojanek said Levinsky, owner
of Saratoga Springs-based Merlin Development
Co., has been speaking with potential tenants.
"It has great frontage, kitty-corner to the
convention center with a corner window," she
said. "So it will be a great location for someone
to go into."
No definite decisions have been made about the third floor, a former dance studio, but Trojanek
said possibilities include additional Hub space,
office space, event space, and apartments.
"We are leaving the third floor open to see
what the need is before developing it, rather
than develop it and find out the need is different
than that," she said.
The building, which is 10 years old, is about
13,700 square feet and was listed for sale by
LookTV at $695,000. The independent television
station moved to Saratoga Springs last
summer.
Levinsky also owns the 221 Glen Street
Professional Building and Monument Plaza at
333 Glen St., as well as a small office building
at 24 Elm St.
The development of the second floor of 126
Glen is already underway, and Trojanek said The
Hub should begin operating by mid-October,
although an official grand opening is not likely
until next spring.
It will be similar to The Hub @ 63 Putnam,
which Levinsky opened in Saratoga Springs in
May, and the unaffiliated Beahive in Albany.
"We noticed that this type of space is nonexistent
[in Glens Falls], completely not an
option," Trojanek said. "[The concept] is just
starting to take off in the Albany and Saratoga
region and we hope to be at the forefront of it."
While some business incubators are industry
specific, The Hub is not. Any new business may
become a member. There are various membership
levels, ranging from low monthly rates for
phone or mail service–for home-based businesses
that want a professional address or voice
on the phone–to the price of an executive suite
or office space for up to four people. Trojanek
said there should be 10 to 15 offices available
when construction is complete.
The offices are designed for people who are
just starting out and want to avoid the hassle
and expense of setting up their own space.
"When you are opening a business or moving
to an area, you have to sign up for a five-year
lease for your storefront, sign up for your wifi, lease all your equipment, set up your phone–
we do all of that for you," Trojanek said. "So you
don't deal with all of that and you pay one bill
instead of 12 bills."
A Hub employee will be on hand 9-to-5
most days, answering phones–in the name
of the member business–and collecting and
distribute mail.
There will also be conference rooms available
for members to use, even if they do not have
office space in building.
"Say you work from home, maybe as a graphic
designer, and you need a place to do client consultations,"
Trojanek said. "You don't want to do
it at your dining room table, you want to look
professional. So you use our conference space."
While The Hub space is being constructed,
Trojanek is busy meeting with economic development
organizations, chambers, colleges and
anyone else who may be of assistance to the
Hub's future members.
"There isn't a group that I have not teamed
up with, because that will expedite the process
for those business owners who come in–the
connections that they need, the insurance, etc."
she said. "I will hopefully have that resource
to give to them."
The first member of The Hub is already
known. Levinksy's wife, Lucette Levinsky,
owns Reynolds Real Estate in Greenwich and
will be using The Hub as her Glens Falls base.
Trojanek, who is licensed in commercial real
estate, will be working with her as well as running
the Hub.
"She and I are opening up a brokerage out of
The Hub office," Trojanek said. "Reynolds will
be a member of the hub and will offer services
to the other members. If they need commercial
real estate we will be in-house and will be able
to handle those types of transactions."
Members also will have off-street parking.
Trojanek said Levinsky purchased property to
expand the lot behind the Glens Falls Chamber
of Commerce, at 136 Glen St. and The Coffee
Planet at 140 Glen St.
Photo by Jake Van Ness