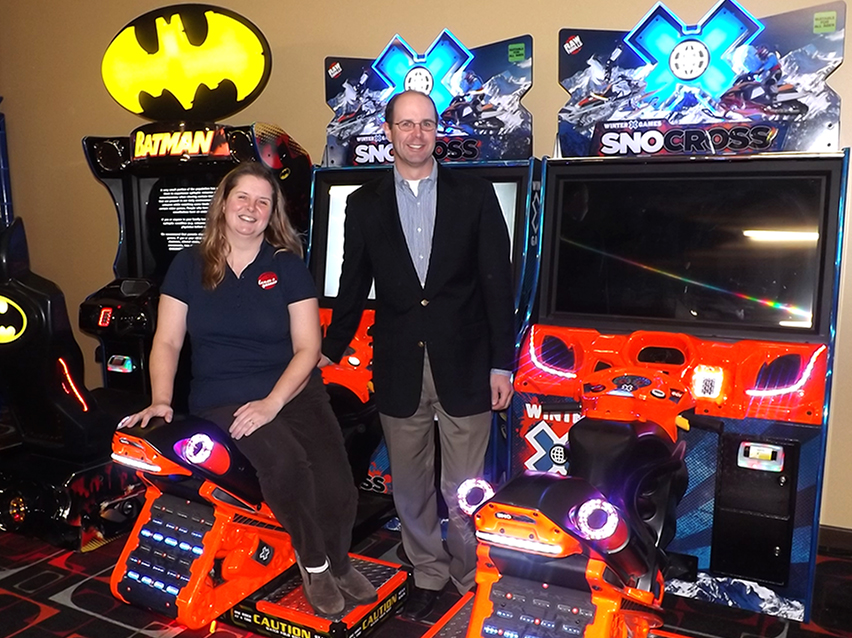 BY KAT FITZPATRICK
Lake George has a new fun and entertainment
center for the whole family. While bowling
has always been a family-friendly pastime,
the new Lake George Lanes and Games center
offers an expanded wealth of entertainment
and activity.
The property, formerly Spare Time Family
Fun Center run by Bowl New England, was
purchased by the family-partners David Kenny
Sr., David Kenny Jr. and Laura Kohl.
"We are all equal partners," said David
Kenny Jr.
"We're all members of the LLC," Kohl said. "David Sr. was really responsible for all the
construction. David Jr. was responsible for
developing the programs and games and getting
the operations set up, and I'm in charge of the
administrative and financial functions. We are
all in it together."
Together they have envisioned a place that
can be more than just a bowling alley, more
than just a place for games. Their vision is really
about community and connection.
The renovated facility includes 24 lanes for
bowling, the multi-level Adirondack-themed
laser tag arena and a two-level playground
structure suitable for all ages.
"It appeals to the six-year old set," said Kohl,
"but it's fun for most but any age."
Of special interest, said Kohl, is the redemption
arcade which is outfitted with brand new
games and a high-tech ticket system.
"You earn points to redeem for prizes like
any other arcade," said Kohl, but "ours is different
from any arcade in the area. We have a
cutting-edge state-of-the-art technology. That
is, the we load a card with credit to play games
and anything you win goes right onto the card."
"The big thing is we are open for the community,
this is a year-round place to go," said David Jr.
"We are starting to book different kinds of
holiday parties for staff, extended staff and
employees, " said Kohl. "And they are reasonably
priced. There are lots of opportunities for
corporates to come in and have a lot of different
activities.
"It's not just birthday parties and corporate
events but we help groups host these things
that really benefits the community," she said.
For instance, the Lake George High School
Jr. Honor Society held an evening event and
with an agreement for 50-50 profit split, said
Kohl.
With the advent of year-round activities,
Lake George Lanes and Games is also offering
expanded employment opportunities.
"We are always looking for good year-round
help," said Kohl. "We will be hiring a second
birthday party coordinator in the very near
future."
As for summer season events, she encouraged
interested parties to apply by the end of
April and first week in May.
"We really are really busy already," said David
Jr. "We have a function soon for 100-125 people.
We are renting out the whole place."
He said that the facility is designed to accommodate
events of both modest size and for
entire company outings.
"We can do 10-person functions or a small
group of team members and bigger functions," he said. "We can cater from anything to a small
putting or a bigger group thing. The laser tag is
a great corporate team building activity."
He is promoting laser tag as a way to improve
corporate relations. According to his research,
businesses who used laser tag in the morning
had far more effective planning meetings
later on.
"I am excited," he said. "I think it's going to
be a great facility … a good place for the community
to gather," he said. "We tried to do it right
and not cut corners. It is a really good place."
The new system eliminates the need for
keeping track of cash and tokens to play games
as well as the long strands of tickets. "And even
better, we log the players' name and points.
So even if they lose the card, we can still find
the information in the computer and they still
have it.
The only part of the facility that is not up
and running is the eatery which is still in the
planning stages as a sports-themed restaurant.
"Our friends at the Inn at Erlowest have
helped us with the menu and with recipes,"
said Kohl. "The head chef came down here and
helped us reinvent the menu and now we have
four different kinds of wings."
The facility is wheelchair accessible. Winter
hours are Sunday through Thursday 10 a.m. to
10 p.m. and Friday and Saturday, 10 a.m. to 1
a.m. (for Galactic Bowl). For more information
or to book an event call 668-5741.