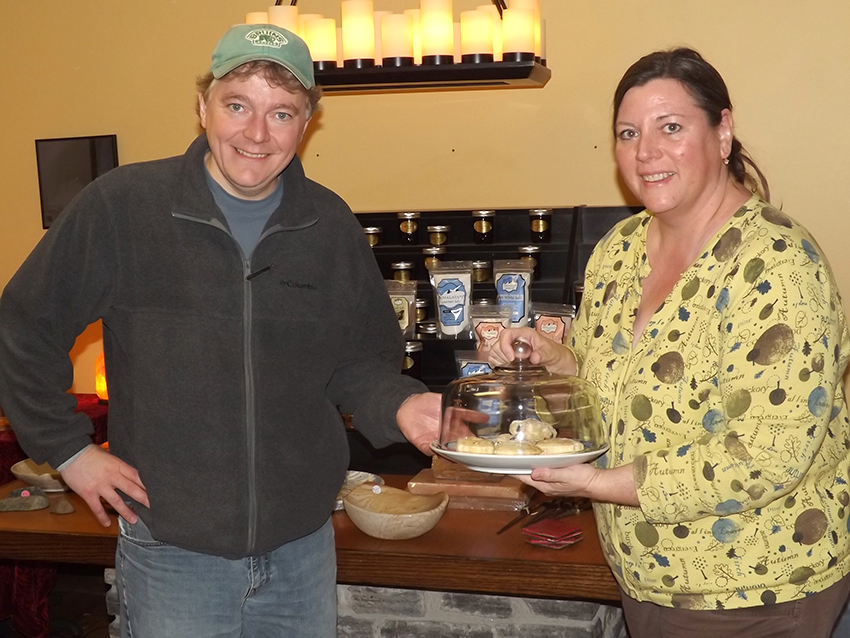 BY JILL NAGY
"Grab and go" or stay and eat are both
options at Bella's, Jon and Tamberlyn Dickinson's
new restaurant at 16 Exchange St. in
downtown Glens Falls.
The couple also owns Dickinson's Delights
in the Shirt factory and Healing Arts Center.
Bella's menu includes fresh crepes and
some farmers' market items, as well as soups,
salads, sandwiches, and baked goods.
So far, business has been "very good, nice
and steady each and every day," said Jon
Dickinson two weeks after the new place
opened.
He said the business was reaching its
"target clients," which includes residents
of The Mill condominiums nearby, and the growing number of downtown office workers
and shoppers.
Some regulars from Dickinson's
Delights at the Shirt Factory have also
come by to check out the new spot but, on
the whole, Dickinson has not seen a decrease
in business at Dickinsons' Delights, he said.
People who don't make it to the farmers'
market can get their fix of Battenkill Creamery
chocolate milk at Bellas's, along with a
selection of market fruits and vegetables and
regular milk. The popular new attraction is
crepes, along with cakes, pies, brownies,
breads and other baked goods.
Bella's is open 8 a.m. to 6 p.m. Tuesday
through Friday, and 10 a.m. to 4 p.m. Saturday.
It is closed Sunday and Monday. The
telephone number is 307-6239.