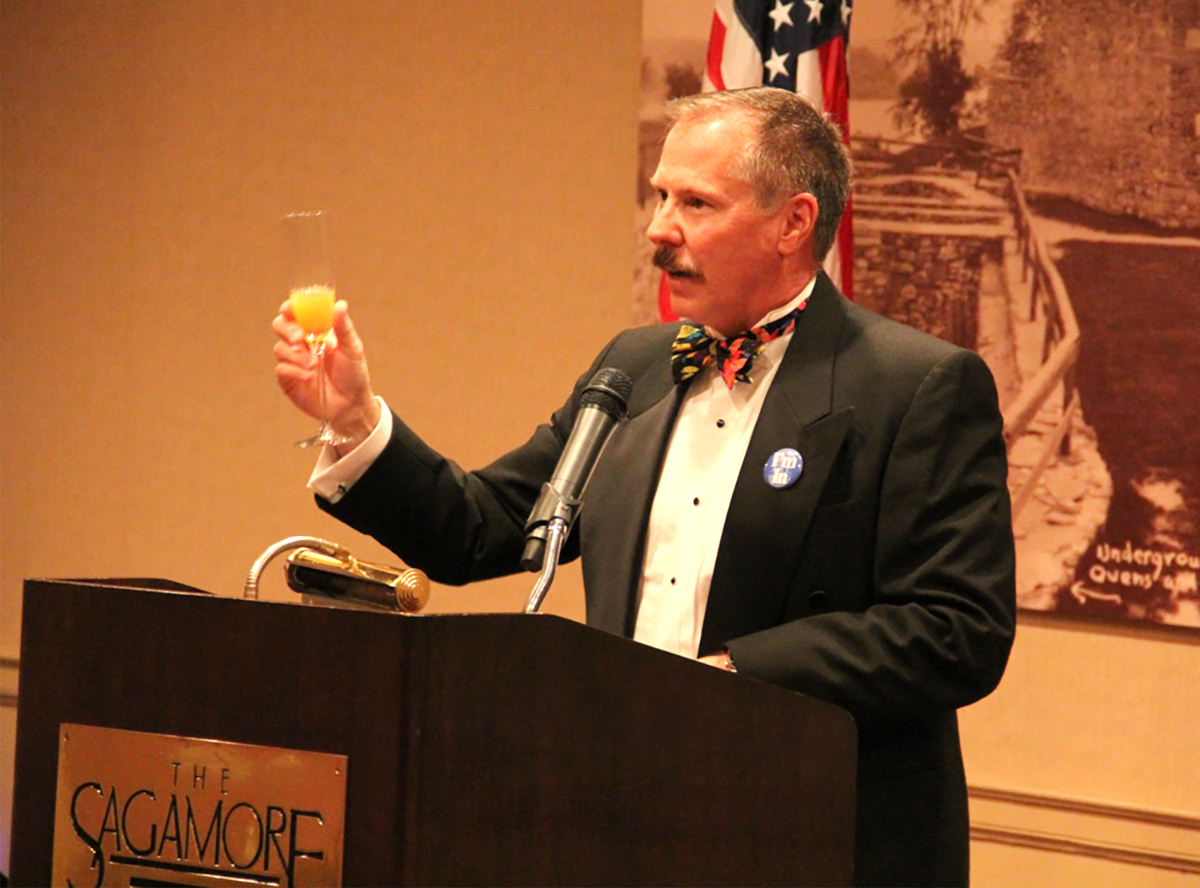 The Adirondack Regional Chamber of
Commerce Centennial Gala was held Nov.
1 at the Sagamore Resort, as nearly 400
people celebrated the 100th anniversary of
the organization at the Sagamore Resort in
Bolton Landing.
The evening started off with a champagne
toast for sponsors of the event and
then people moved to the conference center,
where people had already arrived and
were making their way through all the gala
had to offer.
"We are thrilled that would could cap off
our year of Celebrating the Century of being
the voice on business in the region in such
a fantastic way," said Peter Aust, President
and CEO of the ARCC.
A highlight of the evening were speeches
from dignitaries in attendance, including
state Assemblyman Dan Stec, state Sen.
Betty Little and Deputy Secretary of State Dede Scozzafava. There were also letters
from state Sen. Kathleen Marchione and
Gov. Andrew Cuomo congratulating the
Chamber on 100 years of service in the
community.
The Chamber's anniversary featured four
different rooms of live entertainment. A
signature specialty drink, designed by the
professionals at the Sagamore, was offered
in each room.
Throughout the evening, there was a
continuous video presentation depicting
the Chamber's journey through the century,
including historic photos and quotes from
past presidents and chairpersons of the
board of directors.
"We want to thank everyone that came
out to support the Chamber at the gala,
and especially want to thank all the support
throughout the 100 years," said Aust. "We
have so much in store for the future of the
Chamber that we know we will be around
for at least another 100 years."
Founded in 1914, ARCC is a 1,000-member
strong organization representing in
excess of 23,000 people predominantly in
Washington, Warren and northern Saratoga
counties.
ARCC is a nonprofit corporation governed
by a 27-member volunteer board of directors
and does not receive any funding from local,
county or state governments. All employer
contributions to ARCC are tax-deductible
as a business expense.
The ARCC vision is to be the voice of
business in the region and to provide exceptional
value to its members. Its mission is
to help local companies succeed, grow and
thrive and expand economic opportunity
throughout the region.
ARCC also manages the Central Business
Improvement District, which was created
in May 2005 with the stated purpose of
promoting the development and preservation
of the downtown business area of
Glens Falls and to do things necessary to
make such area more attractive and accessible.
The management association works
to enhance the public perception of the
downtown area.
Photo Courtesy 726 Photography