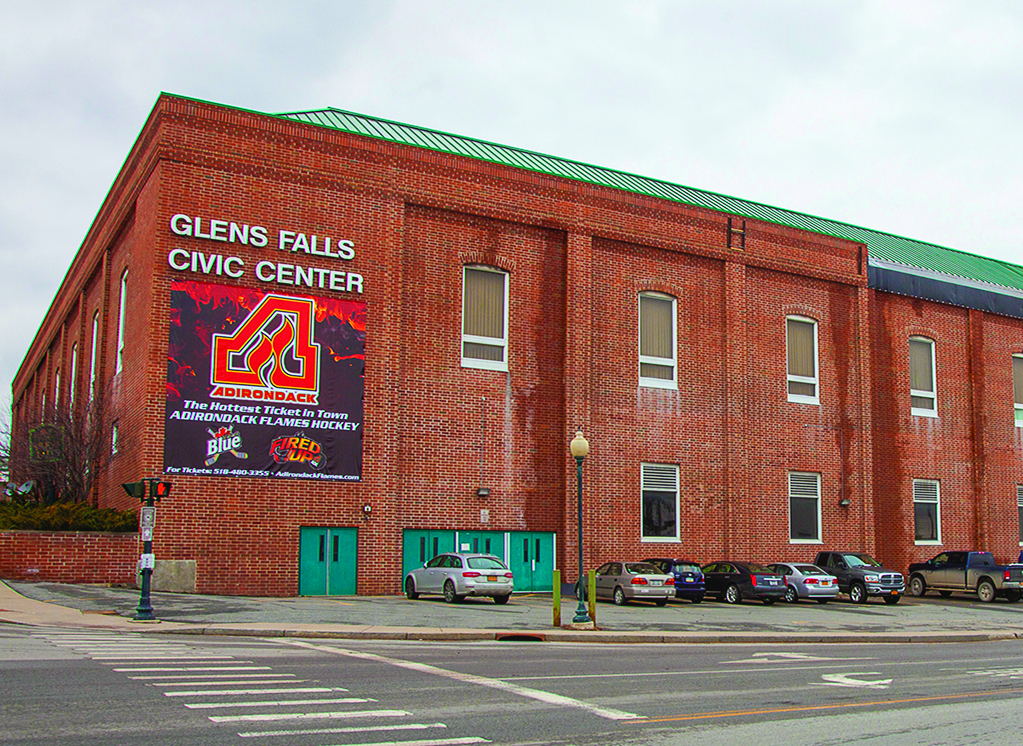 BY BARBARA PINCKNEY
The new general manager of the Glens
Falls Civic Center wants the community to
know he has an open door policy.
"Anyone who has any ideas they think
would enhance our operations here, they
can find me somewhere around the arena
and I certainly would love to listen to what
they have to say," Jack Walter said.
Walter, who is 75, is an independent business
consultant whose resume includes construction,
manufacturing, pharmaceuticals
and oversight of the facilities and events of
Las Vegas casinos. Prior to moving to Glens
Falls seven years ago, he lived in Binghamton,
where he worked with NBT Bank. When
he relocated to Glens Falls, to be with his
daughter and her family, he began working
with NBT's local officials–including
regional president Dan Burke–overseeing
area construction projects.
Burke also is president of the Adirondack
Civic Center Coalition, a group of business
and civic leaders who took over operation
of the center from the city on Jan. 1. When
the coalition decided it needed to trim costs
by replacing management company Global
Spectrum with an individual, Burke turned
to Walter.
"He needed someone with my background,
so he said he would like me to take
this over and make sure everything was
going well–which it is, now," Walter said.
Burke said Walter was the "logical
choice," at least for the short term. He said
how long the arrangement will last is "up
in the air–probably six months to a year,
maybe a little bit longer."
The agreement with Global Spectrum
was scheduled to expire in April 2016, but
the coalition bought out the contract so it
ended March 31. Walter had already been
on the job for a few weeks, to make for a
smooth transition.
Jeremy Huesling, who had managed the
Civic Center for Global Spectrum for about
two years, had already announced he was
moving to St. Louis to take a position with
the company's arena there.
Burke said the coalition, which has a
$650,000 lease-purchase agreement with
the city for the arena, had no quarrel with
the way Global Spectrum was doing its job.
"But as we were looking at the contract,
the financial model of the civic center was
not sustainable, which is the major reason
the city wanted to get out of the business,"
he said. "So we are in there trying to figure
out how to make it sustainable."
The center has been operating with a loss
of between $500,000 and $600,000 a year.
Burke said compensation numbers are
confidential, but with Walter in charge
instead of Global Spectrum "the financial
model certainly changed."
The mission, which Walter will spearhead,
now is to find other ways to improve
the arena's financial condition, both by
reducing costs and improving revenue.
Ideas include attracting more area organizations–
like the Lower Adirondack
Regional Arts Council, which already announced
plans to have its fall festival at
the center–to host events there. Another
possibility involves opening the ice rink
during the summer.
"This is a community venue," Walter said.
"It is here to provide things for the community
to use and certainly that is the plan, to
continue that and to bring in more diverse
types of events. That's what we're looking
at doing in the future."
He said the arena is currently operating
with a bare bones staff while it puts
new processes in place. Jobs left vacant by
Global Spectrum's departure will be filled
as needed.
Walter also is working with the arena's
suppliers to improve operations. For example,
he has asked Ovations Food Service,
the arena's preferred caterer, to use their
experience with venues throughout the
country to come up with ways to enhance
the center's revenue.
The coalition also is looking at giving the
35-year-old arena a facelift, in time.
While there is much to be done, Walter is
pleased with how it is all going.
"We're very, very happy, we are operating
very well–and all we're doing is setting the
ground work for what is going to be coming,"
he said. "There has been a tremendous response
from everybody, they are all thrilled
we are going to be doing all these wonderful
things here and everybody is looking
forward to it."
Photo by Todd Bissonette Photography