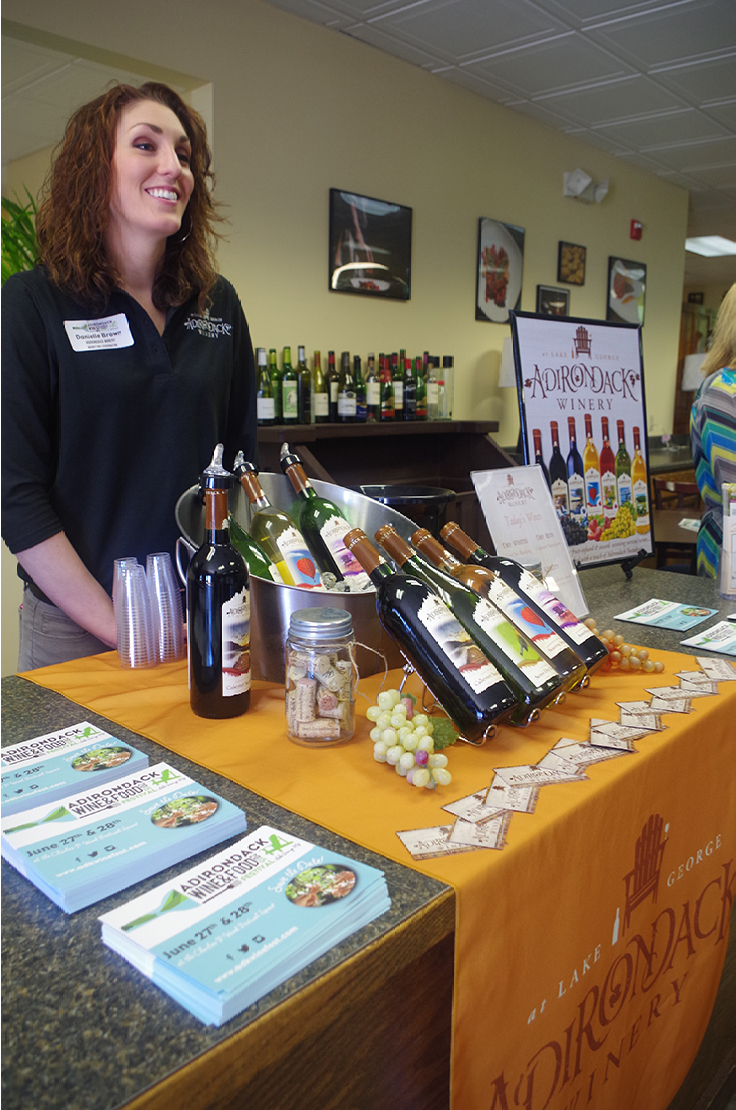 BY R.J. DELUKE
Organizers of the first Adirondack Wine &
Food Festival are hoping some 3,000 people attend
the event in Lake George and have further
aspirations that it will grow into one of the best
tourist events each year for the region.
At an April 29 news conference at SUNY Adirondack's
Culinary Arts Building in Queensbury,
the event was formally announced. Sasha Pardy,
co-owner of Adirondack Winery and developer
of the two-day event said some 30 wineries and specialty food vendors will participate.
The event will celebrate craft beverages
and locally made foods that the Lake George/
Adirondack region has to offer. It is slated for
noon to 6 p.m. Saturday, June 27, and noon to 5
p.m. Sunday, June 28, at Charles R. Wood Park,
Westbrook Road, Lake George.
"Take your taste buds on an unforgettable
journey as you are introduced to over 30 New
York State craft beverage producers and food
vendors, with the beauty of Lake George as your backdrop," said Pardy.
Stephanie Ottino, the festival coordinator
(also events manager at Adirondack Winery),
said the vendor list "is growing every single day"
and the excitement is high.
Peter Aust, president and CEO Adirondack
Regional Chamber of Commerce, said his organization
was proud to be assisting with the
event and referred to an "explosion" of the craft
brewery/distillery/winery industry in the region
that the festival will put under the spotlight.
Pardy said she and her husband, Michael
Pardy, long dreamed about developing a
wine culture in Lake George, starting with
Adirondack Winery on Canada Street, which
they opened seven years ago.
"People don't commonly associate our area
with wine, as it is not considered an established
grape-growing region. However, over the past
several years, Adirondack Winery has cultivated
its local and visiting customers into an ever-growing base of passionate wine lovers,"
she said.
"In addition, numerous wineries, breweries,
distilleries and cideries have opened their
doors," Pardy added. "Now, our area is home to
a Wine Trail boasting 14 members and a Craft
Beverage Trail with more than 20 members.
What better place to showcase the amazing
hand-crafted products of these businesses than
Lake George?"
She said craft beverage producers will gain
exposure to local residents, plus the thousands
of tourists Lake George draws from all over the
northeast at the event. She hopes the festival
will draw new and important customers to the
Lake George business community.
Ottino said the festival will be outdoors,
rain or shine. There will be tents set up where
vendors will serve samples of their products,
giving attendees the opportunity to "try before
they buy."
A ticket ($25 at the door, $20 pre-sale) gets
the attendee access to the event for one day and
a commemorative festival glass to be used to
sample the hundreds of hand-crafted products
available to try that day, plus take the glass
home with them.
"For the past two years, I have traveled New
York representing Adirondack Winery at similar
festivals. From this experience, we have handpicked
all the best elements that we know it
takes to put on an excellent wine festival and
are topping that off with a location in the heart
of one of the most vibrant vacation destinations
in the Northeast," said Ottino.
The Warren County Occupancy Tax Committee
and the village and town of Lake George
awarded $13,500 in funding for the event.
"We have been working closely with Black
Dog Designs (website & branding), Mannix
Marketing (online marketing), Adirondack
Broadcasting (radio) and Liberty Graphics
(print marketing) to deliver a strong marketing
campaign for this event, which we are
confident will result in the attendance the local
government and business community desires," said Pardy.
She said the occupancy tax support is essential
to launch the event in its first year, "so that
we can grow this event year after year to come."
A portion of the proceeds will go to the SUNY
Adirondack Foundation. Jill Vogel, foundation
director, said she foresees the festival becoming
"the next great destination event for the
Adirondack region."
"We wanted the festival to be connected to a
great, local cause that was also related to Wine
and Food," said Ottino. "What better group to
work with than SUNY Adirondack, which has a
growing culinary arts program. We are proud
to be donating a portion of every ticket sold to
the SUNY Adirondack Foundation," she added.
SUNY Adirondack Culinary Arts Program
Faculty and Students will be present at the
festival showcasing their skills with cooking
demonstrations under a special tent throughout
the festival. They will also be raising money by
making and serving food for attendees to enjoy.
Pardy and Ottino can be reached at 668-9463
ext. 15.
Photo Courtesy Adirondack Regional Chamber of Commerce