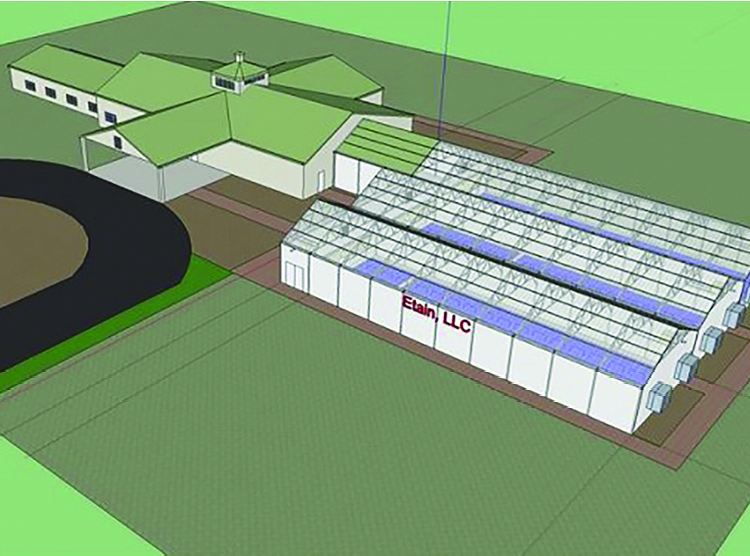 A Katonah-based group will grow medicinal
marijuana in Warren County after
being selected in late July as one of five
companies to be awarded a license by the
state Department of Health.
Etain LLC plans to grow marijuana at
a 17-acre site in the town of Chester and
estimates creating 60 to 85 jobs.
The state selected five organizations
to be issued registrations to manufacture
and dispense medical marijuana under the
state Medical Marijuana Program. There
were 43 applicants.
Not receiving a license was Ted Berndt,
who wanted to have a growing facility in the Washington County town of Jackson–
north of Cambridge and east of Greenwich–
on Plains Road. Douglas Butdorf of
North Country Roots in Plattsburgh, who
wanted to place one of its dispensaries in
Halfmoon, Saratoga County, also did not
receive a license.
For Etain, the $4 million renovation of
a horse barn, which will include addition
of greenhouses, has already started. Etain
will dispense in Albany, Westchester, Ulster
and Onondaga counties.
Etain is led by Amy Peckham, chief
executive officer, and her two daughters- Hillary Peckham, chief operations officer,
and Keeley Peckham, chief horticulture
officer. Amy Peckham is married to John
Peckham, the CEO of the White Plainsbased
construction company Peckham
Industries.
Its website states it is a "women-owned
family business interested in healthy and
safe agricultural solutions for medical
patients … whose mission is to optimize
the quality of life of our patients by giving
them access to medical cannabis."
The selection of the five registered
organizations is a key step forward in the
accelerated timetable to implement the
Medical Marijuana Program by January
2016. The state is working to implement
the program and begin providing care to
patients faster than any other state has
previously done.
State Health Commissioner Dr. Howard
Zucker said he hopes to have the program
up and running within 18 months.
"I am proud that we are on course to
provide certified patients with access to
medical marijuana more quickly than any
other state in the nation," he said. "The
five organizations selected for registration
today showed, through a rigorous and
comprehensive evaluation process, they are
best suited to produce and provide quality
medical marijuana to eligible New Yorkers
in need, and to comply with New York's
strict program requirements."
Each licensee will have five dispensaries
where the medicinal product will be sold.
None are in Saratoga, Washington or Warren
counties.
DOH will carefully monitor patient demand
to ensure all New Yorkers who meet
the requirements of the Compassionate
Care Act have access to the program.
As set forth in the Program's implementing
statute, each registered organization
will initially be permitted to produce up
to five types of medical marijuana products
in forms approved by the commissioner.
Approved forms include liquids and oils
for vaporization, oromucosal or sublingual
administration, or administration per tube
as well as capsules to take orally.
Independent laboratory testing of the
final products is required, to test for contaminants
and ensure product consistency.
Further, DOH must approve product pricing
and any advertising.
State has adopted regulations which
provide a comprehensive framework to
govern all aspects of the program. Registered
organizations must adhere to rigorous
security requirements. DOH also retains
the authority to revoke registrations of
registered organizations that are found to
have failed to meet and satisfy the regulatory
requirements.
For more information about the program,
visit www.health.ny.gov/regulations/medical_marijuana/.
Photo Courtesy Etain