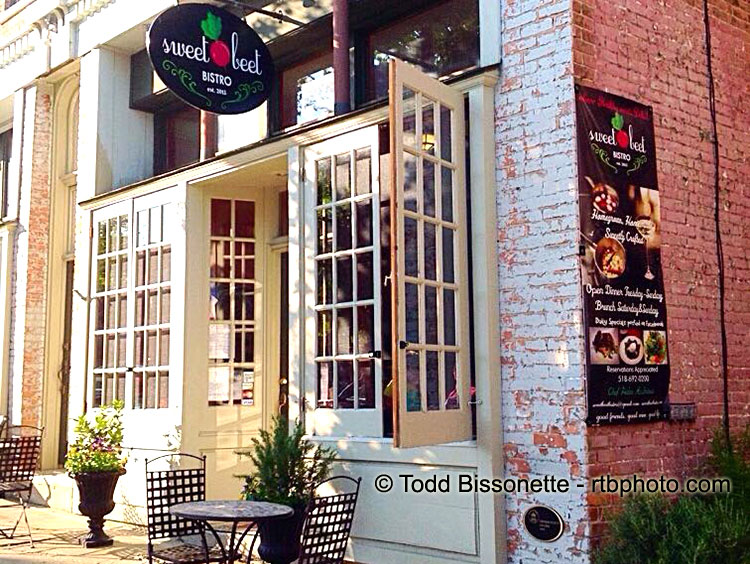 BY JILL NAGY
Why call a restaurant Sweet Beet Bistro?
"Well," recalls executive chef Helen McIntosh,
"We were standing around in the kitchen eating
beet salad [made from sweet local beets] and
the deadline was approaching for creating a
new name."
After rejecting dozens of other possibilities,
that one just sounded right. So, in February, the
restaurant formerly known as Dish became the
Sweet Beet Bistro.
Aside from the name, the changeover occurred
the previous November with a new owner,
who prefers to remain anonymous, and McIntosh
in charge of the kitchen.
The restaurant, located at 93 Main St. in the
heart of Greenwich is, McIntosh said, "one of the
only places in Washington County serving local
produce, meat and chicken."
Most of the ingredients come from the
Greenwich and Cambridge farmers' markets,
farmers contacted through those markets, and
the bistro's own garden, he said. The Greenwich
market is especially convenient, "only 50 steps
away" and open year round.
The menu is eclectic and includes both vegetarian
and gluten-free selections. Prices are
moderate. The most expensive regular entree
is priced at $25 and other entrees are priced as
low as $13.
McIntosh said she tries to keep the menu
interesting, "accessible to everyone," and "sophisticated
but not fancy."
Dishes include a Reuben sandwich made
with beef brisket, the bistro's own sauerkraut
and bread from Murray Hollow bakery's brick
ovens. Other popular items include a Thai
red curry with shrimp, a Persian-influenced
"golden chicken," and the beef brisket braised
with beer and served with sweet potatoes and
summer squash. There is a vegetable risotto
and a vegetable ravioli, a variety of salads and
several non-meat appetizers that can serve as
main dishes.
Desserts are "always changing" but usually
include a pot de creme, often chocolate with
homemade caramel sauce, and a pavlova, a meringue
with fruit and whipped cream, she said.
The wine list includes local selections. Sweet
Beet also serves locally brewed Argyle beers.
There is seating for 25, including outdoor seating.
The staff of eight people is about equally divided
between serving staff and kitchen workers.
The bistro is open Tuesday through Sunday
(closed Mondays). Dinner is served from 5 p.m.
to 9 p.m. On weekends, there is a "happy hour"
from 3 p.m. to 5 p.m. with drinks, cold appetizers,
some sandwiches and homemade pickles.
McIntosh describes herself as local but
Seattle-trained. She grew up in Cambridge and
developed her taste for good locally sourced food
eating the products of the family's garden and
resident cow.
Until six years ago, she worked as a gardener
in Seattle. Then, she gave that up for culinary
school at the Seattle Culinary Academy, "a really
awesome school right in the middle of the city."
Two years ago, she returned to Cambridge and
worked for the previous owner of her current
restaurant and for a catering company before
taking on the job at Sweet Beet Bistro.
Further information and the complete menu
are on the restaurant's webpage, www.sweetbeetbistro.
com. The telephone number is 692-0200.