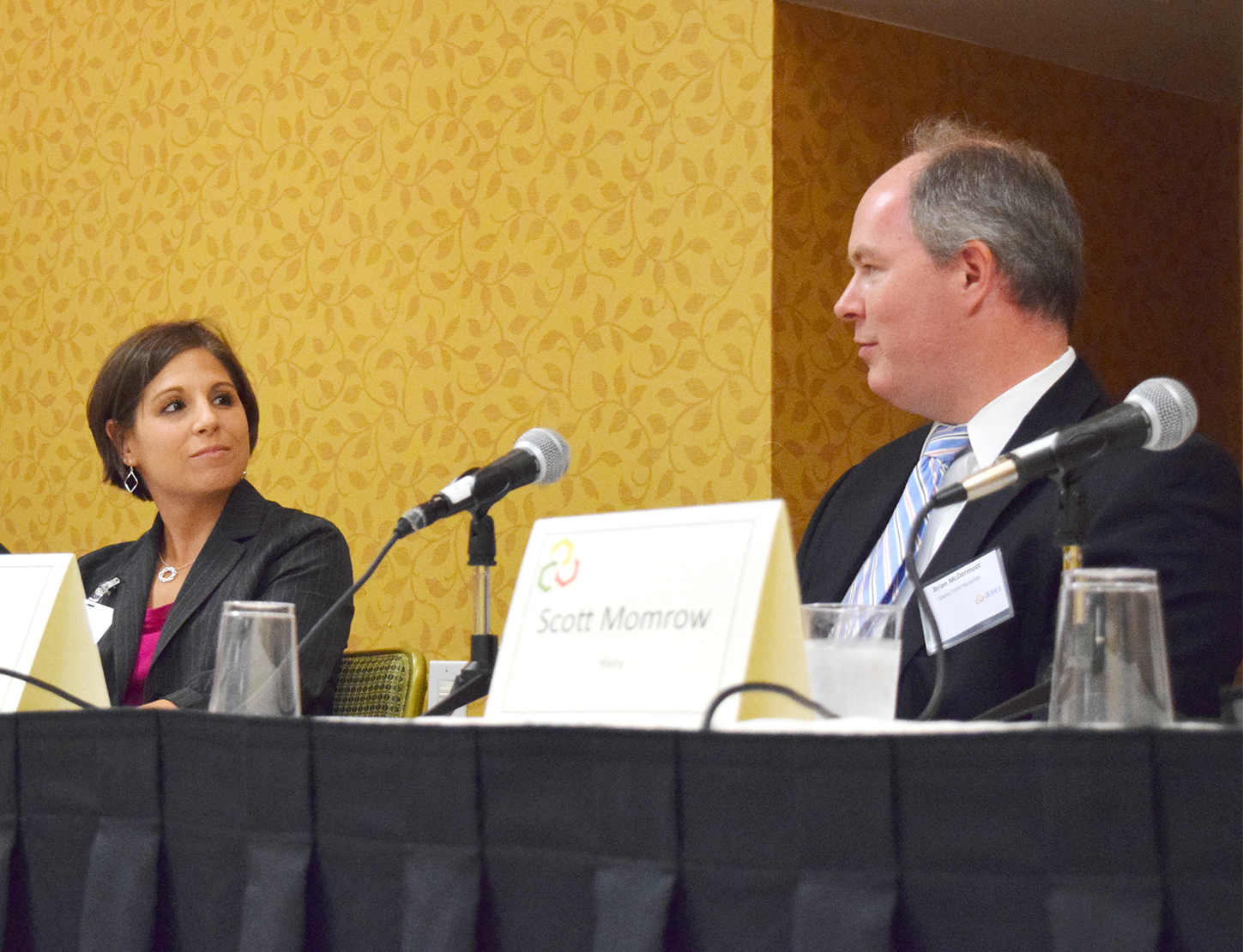 Regional health care professionals, community
leaders, and a panel of local experts, explored
the challenges and approaches associated with
transforming the Adirondack/North Country region
into a high-performing integrated health
system at Adirondack Health Institute's recently held
annual summit.
More than 200 individuals attended
Integrating Health Care in the Adirondacks,
Sept. 24 in Lake Placid.
Creating an integrated health care delivery
system centered on evidence-based medicine
and population health management across the
Adirondack region was the focus of the event.
A diverse and dynamic group of panelists shared
insights, best practices, and recommendations
for transforming the region's health care system.
They were:
Karen Ashline, Adirondacks ACO; Annette
Parisi, AHI; Dr. Brian McDermott, Glens Falls
Hospital; Scott Momrow, Hixny; and Peter Trout,
Clinton County Mental Health & Addiction
Services, Moderator Hope Plavin, Innovation
Center, state Department of Health.
Health care providers, administrators,
business, government and association
representatives, and other key stakeholders
from nine North Country counties — Clinton,
Essex, Franklin, Fulton, Hamilton, Saratoga, St.
Lawrence, Warren and Washington – attended
the event.
Panelists emphasized a more patient-centered
approach.
"At the end of the day it's about the patient.
We try to measure the system, but should focus
on the needs and successes of the patient," said
McDermott.
Ashline added that caregivers shouldn't solely
focus on individuals who enter the health care
system.
"We can track the patients who come to the
ED (emergency department). It's the individuals
that we don't know about who fall through
the cracks," she said. "We need to identify and
support those individuals before they become
chronically ill."
"The health care landscape is ever-changing
and new challenges for providing quality, easily accessible
and affordable care arise every day.
The North Country is no exception and faces
perhaps even more difficult care provision
challenges because it is so vast and remote," said
Cathy Homkey, CEO of AHI. "It's important AHI
coordinates forums such as our summit, because
it allows those involved in the process to hear
from experts in order to collectively formulate
a vision and game plan for insuring a healthy
future for our region."
Other topics explored at the event included:
Dr. Jacob Reider, chief strategy officer, Kyron,
Inc., an expert in health information technology
policy, innovation, and strategy, discussed the
rural impact of HIT in a morning keynote
presentation.
Gloria Kupferman, vice president, DataGen,
discussed patient-centered analytics to support
care redesign and new payment models in an
afternoon keynote presentation.
The summit is one of the many community
services provided by AHI (Adirondack Health
Institute). For more than 25 years, we have used
our relationships, resources, expertise, and
capacity to provide technical assistance and
value-added services.
Photo Courtesy AHI