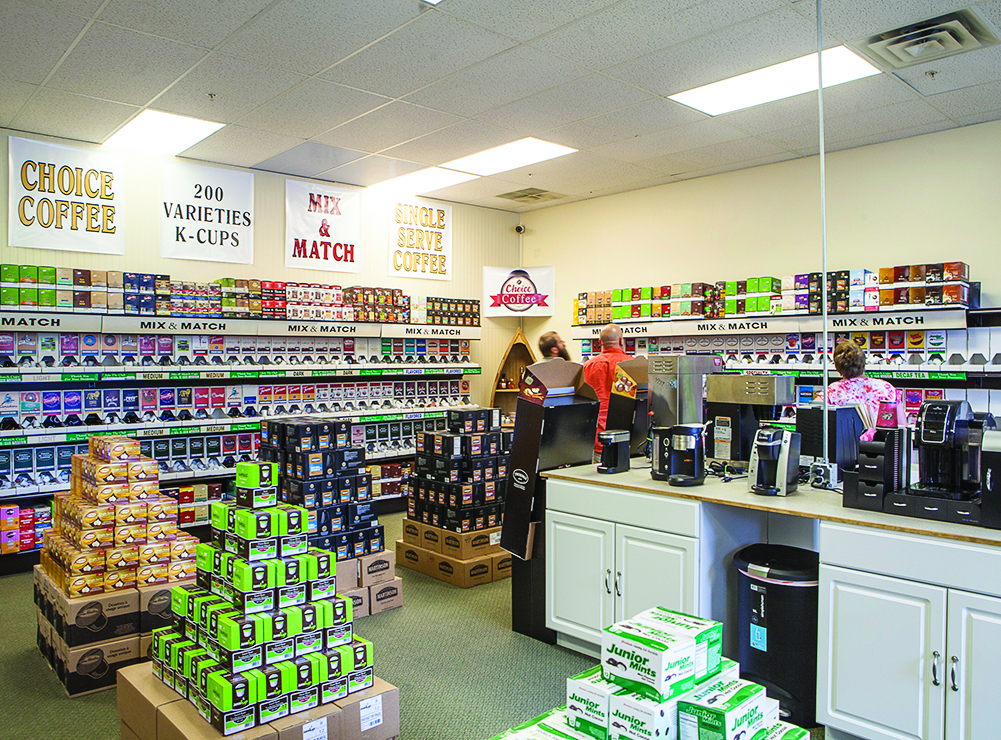 BY LIZ WITBECK
There's a new coffee store in town that owners
say is putting the choice back into the hands
of its customers.
Choice Coffee opened in September at 959
Route 9, Queensbury. It is the second location
for the business. The first is in Plattsburgh.
Owners Jeff Prescott, Doug Lyon, and Larry
Smith opened the first Choice Coffee six years
ago. After years of renovating and expanding
the original building, it was decided a second
location was needed.
Scott Maynard manages the Queensbury
location. His previous experience comes from
working as a sales representative for Valley
Vending, the sister company of Choice Coffee.
"When the opportunity came to manage this
location, it was a no-brainer. It felt like the right
choice," he said.
What makes Choice Coffee is unusual is
that when customers walk inside, they are
surrounded by shelves with rows of single serve
coffee cups (often called K cups). There
are more than 200 coffees to choose from.
Customers grab a bucket and choose as many
different coffees as they would like. They pay
per dozen cups.
"It started with customers coming in and
saying 'We want to try this coffee, but we
don't want to commit to the whole box.' So
we thought about a way to just have people
buy one. And it was a home run up in our
Plattsburgh store," said Maynard.
The choice, truly, is in the hands of the
customer.
For those who are environmentally conscious
and don't like the idea of throwing away
a single-serve cup every time they brew coffee,
there is a section of the store called the "green
corner" with eco-friendly, single-serve coffee
cups that are biodegradable and not made
from plastic.
"We also sell whole bean coffee for people
who can't seem to get behind all of this technology,"
said Maynard.
Choice Coffee features their own coffee club.
When people make a purchase at the store,
they get a certain number of points. They
receive free coffee once they have reached
enough points on their club membership.
Besides the coffee retail part of the business,
Choice Coffee also does business-to-business
sales. They will do coffee and coffee related
sales for large and small businesses. Recently
Choice Coffee just entered into a contract with
Gore Mountain.
"Business has been doing extremely well,"
said Maynard. The store had their grand opening
ceremony on Oct. 16.
Choice Coffee is open Monday through
Wednesday from 9 a.m. to 6 p.m.; Thursday
through Friday from 10 a.m. to 7 p.m.; Saturday
from 10 a.m. to 5 p.m.; Sunday from 10
a.m. to 4 p.m. For more information, call 741-
0301 or visit www.choicecoffeeny.com