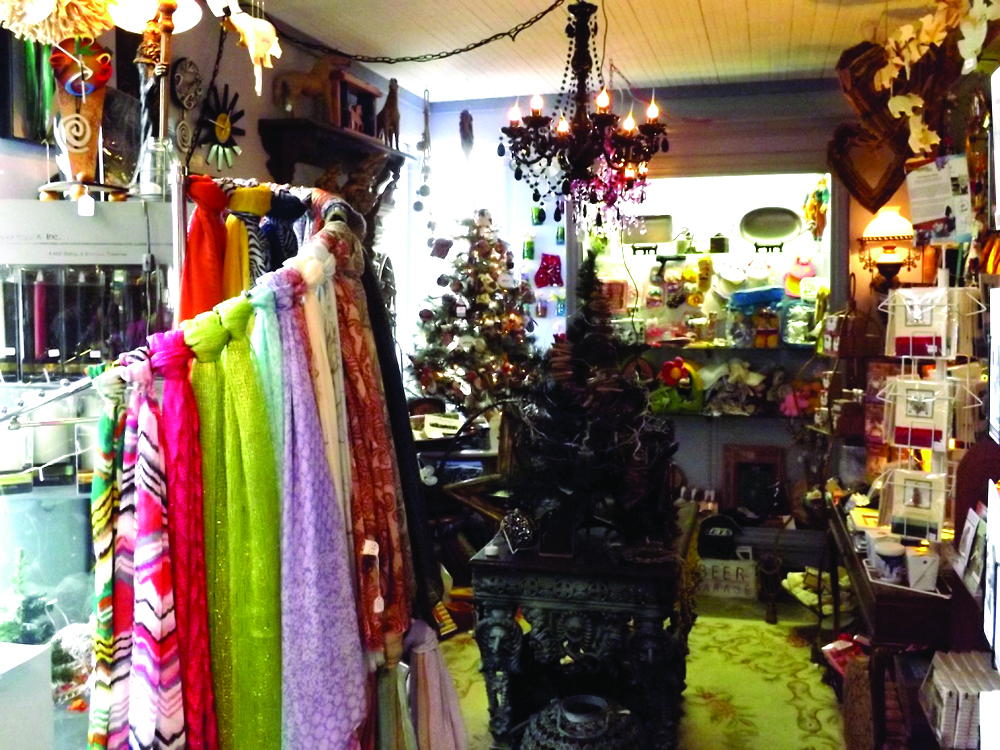 BY MAUREEN WERTHER
For those who want to avoid the post-Thanksgiving
retail mayhem that is holiday shopping
season and want to find gifts that will mean
something to loved ones, there are different places
in the area to find arts and crafts, jewelry, timeless
antiques, re-purposed furniture and more.
Some of these shops and studios have been part
of the North Country community for years, while
others are new to the retail scene.
The Lazy Moose Garden Market, 6499 Route 8
in Brant Lake, has garnered attention and awards.
Nominated as a 2015 "Rookie Business of the
Year" by the Adirondack Regional Chamber of
Commerce, Lazy Moose is gearing up for a busy
holiday shopping season.
Beginning the weekend following Thanksgiving,
it will be stocked with locally grown fir trees,
custom designed wreaths, and garlands in an array
of Adirondack styles and a range of sizes. In addition
to purchasing holiday decorations on the spot,
customers can order custom decorated wreaths
and garlands to give as gifts or to beautify a home.
Lazy Moose also has a gift and gourmet food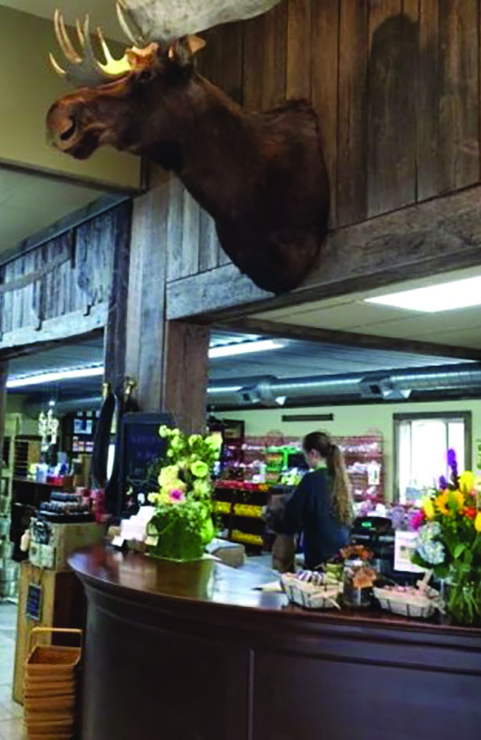 shop. Customers can stroll around and sample
food from local producers, as well as items from
across the country. The same is true for the
selection of artisan gifts and crafts, including
Adirondack-style furniture, birdhouses, hand
painted glass lanterns and lighted vases.
On Dec. 12 and 13 the business will hold a "shop
outside the box" weekend-long open house. For
information about hours and upcoming events,
visit www.thelazymoosegardenmarket.com or
call 494-4039.
Glenwood Manor Antiques & More, in business
since 1983, finds new ways to sell old treasures.
There are some 35 dealers in the grandiose building
displaying antique furniture, glassware and
other items.
If furniture isn't on a gift list, Glenwood Manor
in Glens Falls has an exclusive gift shop -Aurea's
Unique Gifts – featuring an assortment of repurposed
and fair trade items, including a line
of stationery called "Mr. Ellie Pooh," made from
recycled elephant dung. A percentage of the
proceeds of sales from the greeting cards, "pooh"
pads, scrapbooks, and more go to help stop the
poaching and killing of elephants in Sri Lanka.
Other fair trade items include ladies' purses
and cell phone carriers made of pop tops from
Brazil, woolen scarves made from re-purposed
sweaters, and a stuffed animal and accompanying
storybook named Mr. Jingles, about a real life
rescue dog. A percentage of proceeds from these
sales go to help worthy causes like anti-pollution
efforts and animal rescue.
For more information about Glenwood Manor
Antiques & More, visit them on Facebook or call
798-4747.
For those looking for clothing and accessories,
Finders Keepers Consignments in Glens Falls is
a possibility. Owner Kyleen Wade calls her shop
a "timeless cornucopia of style, fashion, and flair."
Customers can expect to find high-end fashion
labels in clothing, shoes, purses and vintage items.
Finders Keepers recently relocated to a
"grander" location to accommodate its expanding
selection of items, and shoppers can now find
them at 103 Warren St. in Glens Falls. To get the
latest news on holiday hours, specials and more,
visit www.kyleensfinderskeeper.com.
People can visit many stores in a single setting,
but without encountering "big box" items, at the
Shirt Factory Arts and Healing Center, home to
more than 70 businesses offering classes, services,
products and more. Located on the corner of Cooper
and Lawrence streets in Glens Falls, the busy
marketplace may appeal to shoppers interested in
more artistic, eclectic or healthy options.
Inside the Shirt Factory, SensibiliTeas on the
first floor carries over 500 different kinds of teas,
as well as teapots, teaware, and tasty treats. They
also have information about tea preparation and
healthy ways of using tea for things such as soothing
skin and eye treatments.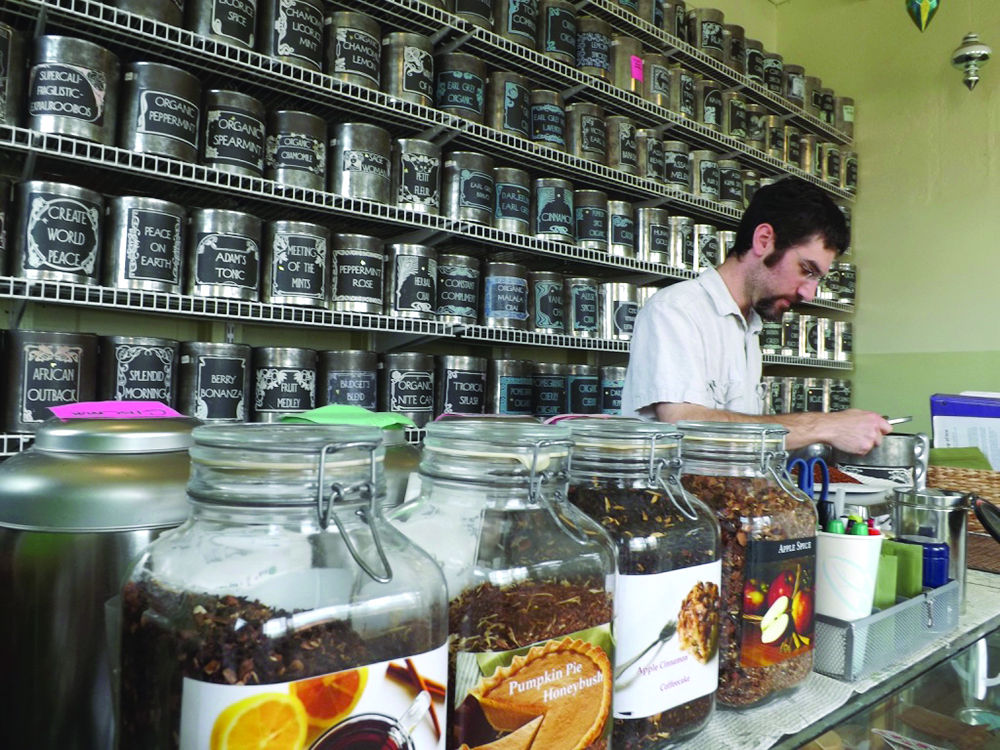 SensibiliTeas also has gift certificates and gift
baskets, featuring their own holiday blends and
accessories, as well as pottery and other items
from neighboring Shirt Factory shops and studios.
Their website is www.sensibiliteasonline.com and
its phone number is 824-1290.
Nearby Dickinson's Delights recently welcomed
a new addition, Cheesecakes Like No
Others, into its bakery. A new business to the area,
owner Bob Benda said he has received a warm
welcome since relocating from Texas and opening
in March. Customers can purchase his cheesecakes
when they stop at Dickinson's for brownies,
pies and party platters. They can contact Benda
online at www.cclno.com or by phone at 309-8511.
Another newcomer to the retail scene at the
Shirt Factory is Vivienne's Marquette, a self-proclaimed
"modern vintage" boutique. Vivienne's
opened in June and owner Melissa O'Sick has been
busy ever since.
Vivienne's Marquette focuses mainly on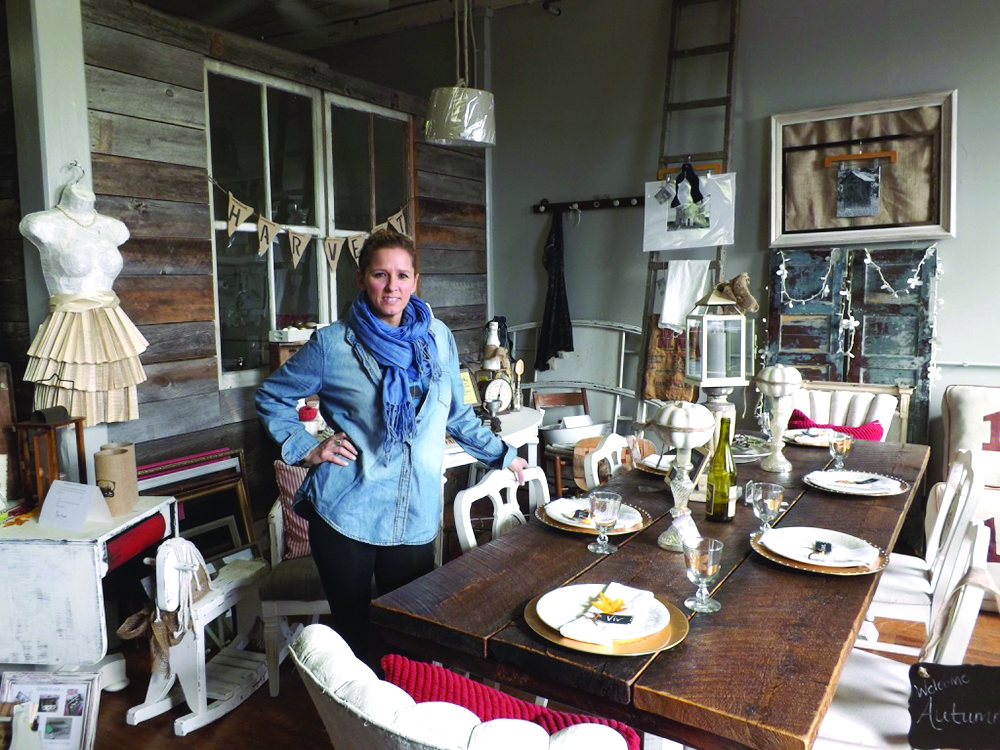 vintage, antique, and re-purposed furniture and
home décor. O'Sick loves finding ways to breathe
new life into old furniture and discarded antiques.
She also features two local artists who salvage
barn wood, turning it into beautiful tables and
other unique pieces.
Vivienne's Marquette will offer holiday gift
certificates that can be used for a range of services,
including home design and décor consultation, as
well as ready to purchase store items. Its website
is www.vivsmarquette.com.
If art is on a shopping list, Laura Neadle's creations
can be found in the Shirt Factory. Neadle is
a multi-media artist and her craft includes painting,
needlework and refurbishing small furniture.
One of her most popular items are "obi-sacs,"
one-of-a-kind women's purses.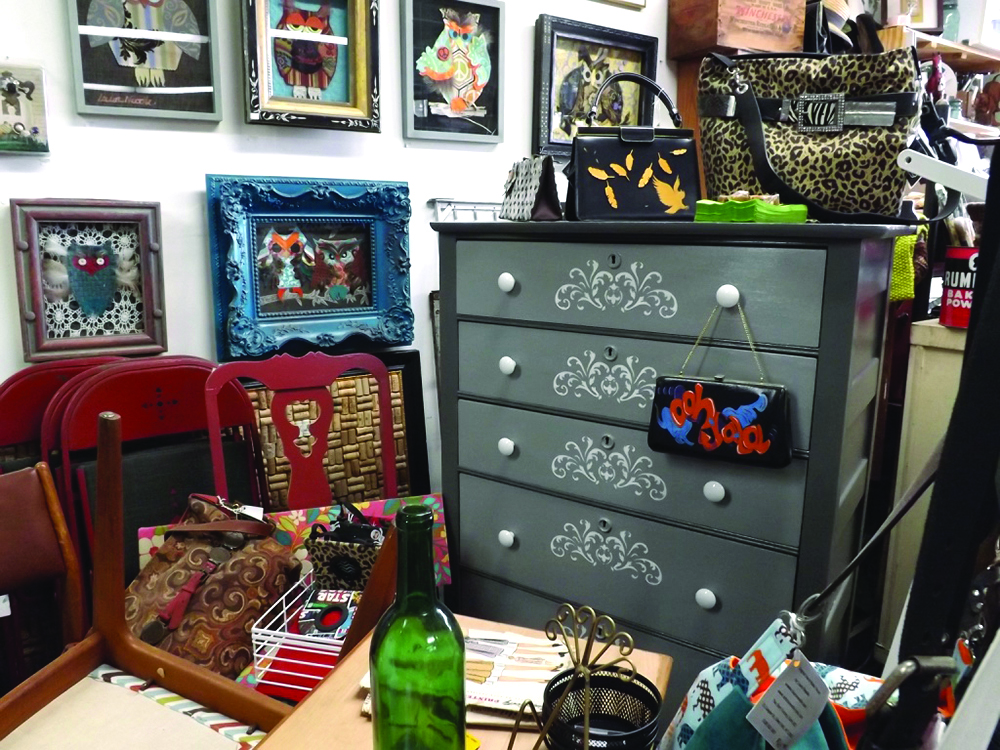 Neadle does a lot of commissioned work,
particularly pet portraits and paintings of private
homes, which can be a gift for a hard-to-buy-for
person. She also offers holiday gift certificates
that can be used for gift items, as well as for
future commissioned work. Her website is www.
lauraneadle.com.
All of the studios and businesses located in
the Shirt Factory Arts and Healing Center will be
participating in the Holiday Open House Weekend
from 10 a.m. to 5 p.m. on Nov. 27. In addition to
the permanent residents of the building, vendors
from around the Adirondacks will be on hand
with handmade items for sale, including pottery,
fiber arts, metal, woodworking, gourmet food,
photography, and more.