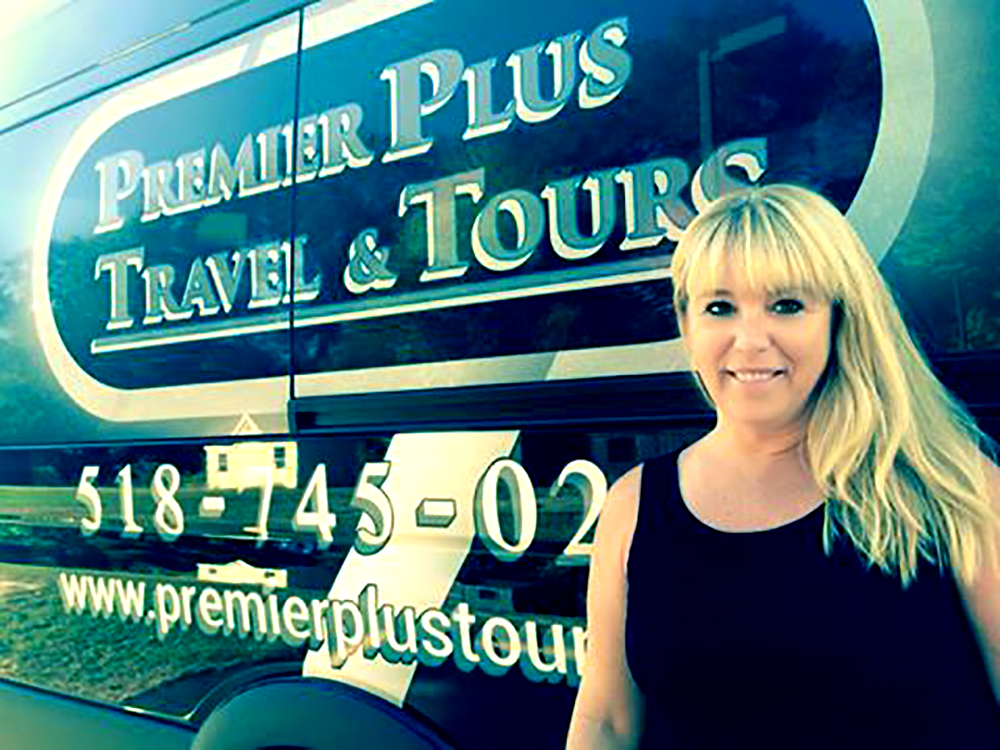 BY ANDREA PALMER
The mother-son team of Dawn Biddiscombe
and Matthew Colucci are the owners and operators
of Premier Plus Travel.
The Queensbury business uses a large executive style
Mercedes tour van to get customers to their
destinations.
"Travel has been my hobby for the last 10 years.
I've always been the one to organize events for my
friends and family–destination weddings, vacations,
group travel. I love to travel and I've always
done it a few times a year," said Biddiscombe.
"What I found with my friends as I have organized
travel for them, is that there are not a lot
of options out there for large-group vehicles. You
want to get to the event safely, have a few glasses
of wine and have a safe ride home. You also need
reliable group transportation to the airport when
flying out together. So I started brainstorming," said
Biddiscombe.
"I saw a need out there for airport transportation
and for group events. It's so much more practical and
economical to drive one large vehicle, as opposed to
five or six separate vehicles, when you are all driving
to the same airport or venue," she said.
Tours being developed include New York City
shopping trips, casino trips, bachelorette parties,
birthday parties and proms.
Future plans include adding an additional vehicle
to the fleet. The vehicle would be an executive style
similar to the one the company already uses, the dif-
ference being the limo-style seating inside; she said.
Premier Plus is developing transportation options
for both SPAC and the Saratoga Racetrack
for the busy summer seasons. Winter plans in development
include contracts with Killington, Gore
Mountain and other ski resorts.
"We are hoping by next summer to have saturated
the markets we are aiming for," said Biddiscombe.
Wedding transportation is also in development.
The Premier Plus vehicle has a similar floor plan
as a limousine, but is tall enough for an adult to
stand up in. Brides and their bridal parties are able
to ride from their lodging to the wedding venue
without having to cram their dresses into a low-ceilinged
limo.
"We work with brides on the package they want,
at a good price," said Biddiscombe.
Colucci is sales manager for the business. Biddiscombe's
husband helps as needed.
"We want to fill in weekdays with airport
transportation and Turning Stone packages," Biddiscombe
said. "On the weekends, we are focused
on developing wine tours and other group events."
Biddiscombe also works full time as a paralegal
for AngioDynamics.
"We've gotten excellent feedback. People want to
do things and have trustworthy transportation for
group events. Our intent is to go above and beyond
to make the experience really exceptional," said
Biddiscombe.
The company can be reached at 745-0202.