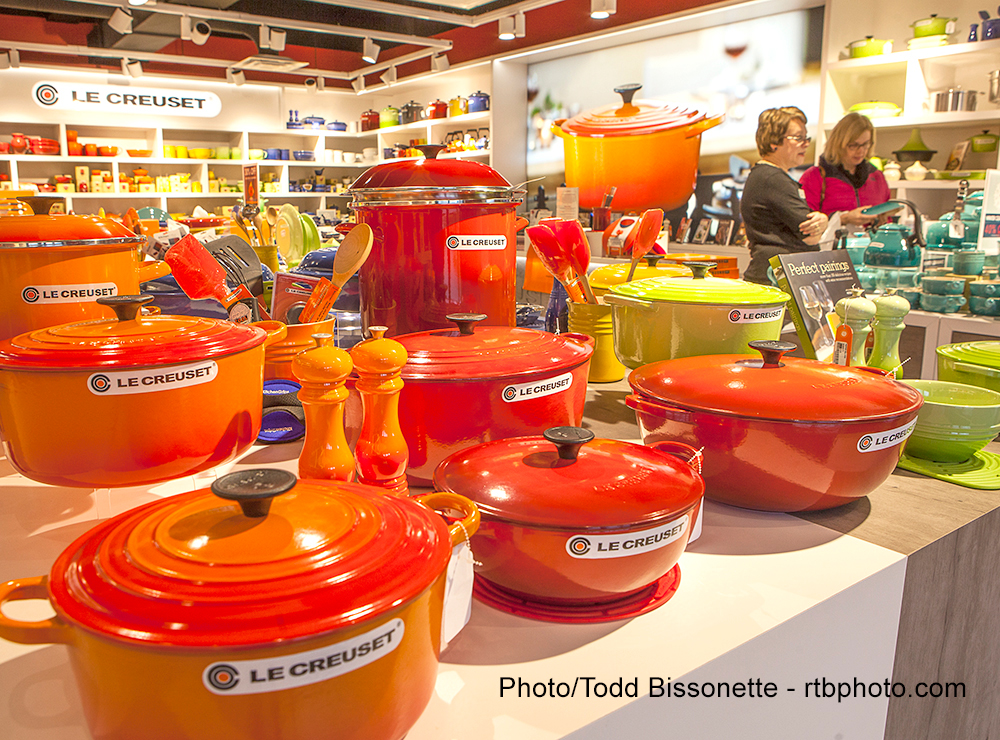 BY LIZ WITBECK
Le Creuset is the latest outlet store to open at the Log Jam Outlets, at 1476 Route 9, Lake George.
Le Creuset is a high-end cookware company established in France, known for its cast iron cooking supplies. It opened in December.
Manager Emily Mulholland has been with the company since November. Previously she worked as a sales manager for Verizon Wireless.
"I've always had cooking as a hobby," said Mulholland. "I was excited to learn about this opportunity in this area. I have lots of love for my job. It's a perfect fit for me."
The need for a Le Creuset in the region came from several online sales that were being purchased in the Glens Falls area. Le Creuset is best known for their cast iron cookware. They sell a wide variety of Dutch ovens, pots and pans. The pieces come in an assortment of colors. The cookware has a lifetime guarantee.
"You can will it to your grandchildren," said Mulholland about the quality of the cookware.
Aside from the signature cast iron pieces, Le Creuset also features stainless steel, dinnerware, stoneware, kitchen utensils, wine glasses, bar tools, and more.
Customers have reacted very favorably to the new outlet store. "We've had a great response. We've been blowing away our sales goals," she said.
Many customers have gone as far as bringing in the dishes they have baked in their new Le Creuset cookware for the employees to try, as a way to show their appreciation.
Demonstrations will be held regularly at the new outlet location. Customers can also set up an in-house registry for occasions such as weddings.
Le Creuset offers a 25 percent trade discount to all realtors, restaurant owners, and hotel owners, so that they may use the products in their business. Currently, the store is having a winter clearance sale, where select items are up to 50 percent off.
"We want to inspire people and make joy through cooking," said Mulholland.
Store hours are Sunday through Thursday, 10 a.m. to 6 p.m., and Friday through Saturday, 10 a.m. to 9 p.m. For more information, call 792- 0275 or visit www.lecreuset.com.