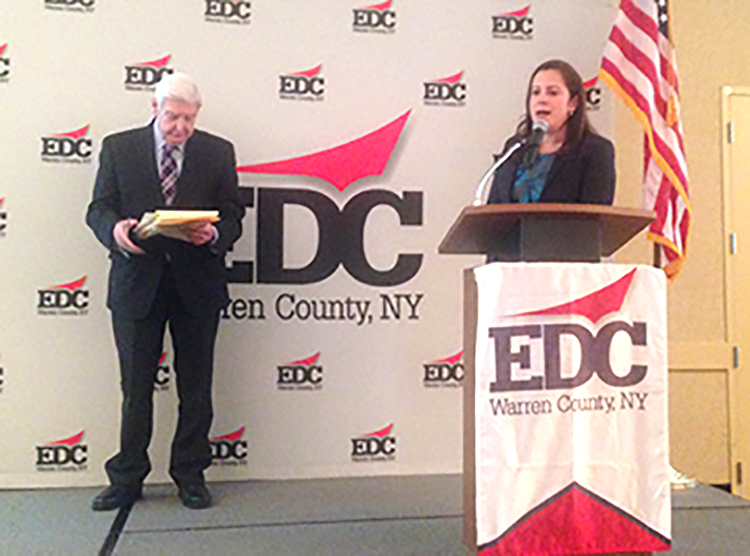 BY R.J. DELUKE
Concerns about a the race for the state Senate in November were among the issues discussed at the 2016 Economic Outlook breakfast hosted in January by Economic Development Corp. Warren County at the Great Escape Lodge in Queensbury.
"The only place where people upstate have a seat in the Senate," said Heather Briccetti, president and chief executive officer of the Business Council of New York State.
She was one of two guest speakers, along with U.S. Rep. Elise Stefanik.
Briccetti said only four senate Democrats are from upstate. If Democrats win control, its leader will most likely be from metropolitan New York. Of the state Assembly, "there's no shot" of upstate representatives having clout, she said. "There is no chance control is going to change there."
'If we don't get heard, policy will be directed in a way that is not necessarily good for jobs and employers" in the upstate region.
Regarding the state budget, she said costs have been reigned in over the last few years on the state level. There has been 2 percent budget growth, which means if there is an economic downtown in the coming years–and she said such downtowns are just about inevitable — "it won't be so bad" for New York state.
"Having controlled spending is good," she said of state government.
Increasing the state's minimum wage to $15 an hour, as Gov. Andrew Cuomo has proposed, will lead to a reduction in unskilled jobs, making competition for those positions even tougher, said Briccetti, head of the state's largest business lobbying organization.
"The minimum wage proposal is the one (issue) we are most concerned about," she said. Countering it is a challenge because increasing the minimum wage is popular with the general public, she said.
"Minimum wage polls at 80 percent (favorable). It's a nice idea," Briccetti said.
Supporters of increasing the minimum wage say it will provide workers with more money to spend, which will stimulate the economy and will reduce dependence on government social programs, which in turn will decrease taxes.
A $15 minimum wage would cost employers an additional $13,413 per person, she said.
"If you are a small business and have four employees somebody is going to lose a job," Briccetti said.
There are many vacant jobs in the $11-per hour range with benefits, but many people now living in poverty can't fill them because they don't have the necessary skills, said Briccetti. The focus should be on training those people. Increasing the wage rate won't help them find work.
"This will cut out and eliminate jobs," Briccetti said. "It will make it harder for them to get out of poverty."
Briccetti said 60 percent of those in poverty in New York state do not work, and will not benefit from an increase in the minimum wage. Instead of increasing the minimum wage, the state should focus on training workers for STEM jobs, she said.
But Briccetti said most job growth the past few years has been in the education, healthcare and leisure industries, which pay less than manufacturing, whose employment levels have declined the most.
"The sectors where we've experienced growth are much lower paying than the sectors where we've lost jobs," she said.
On the national front, Briccetti said economic uncertainty is a problem. "We have to stop governing from crisis to crisis."
For example, the three-to-six-month highway bill "doesn't provide the certainty we need." A better solution is a five-year program that creates jobs and gives "the needed flexibility to improve our roads."
Another thing she is pushing for is to improve broadband internet capacity for rural areas like Warren and Washington counties so businesses in those ares are "able to compete in the 21st century economy."
An opponent of the Affordable Health Care Act, Stefanik said she sponsored legislation, which became law, to repeal the automatic health insurance enrollment rule, which was the "largest fix" to the law.
Employers were required to automatically enroll employees in a health care plan if the employees did not take action on their own within a set time frame.
Stefanik said House Republicans will continue to discuss health care reform this year, but she does not expect any major action until a new president takes office
"Keep in mind the model for New York City does not represent the needs of the communities I represent," she said.