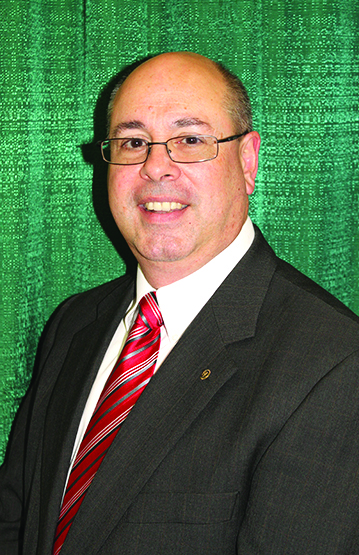 Longtime Glens Falls-area business leader and community volunteer George Ferone was appointed in late January as interim president of the Adirondack Regional Chamber of Commerce.
Ferone, who retired last year after 44 years with Tribune Media Co., served most recently as executive director of Tribune company Gracenote in Queensbury (formerly Tribune Media Services). He served 14 years on the Chamber's board of directors, including two terms as chairman.
The ARCC board of directors announced earlier in January that President and CEO Peter L. Aust tendered his resignation after five years of service to pursue new career opportunities. The board said it would launch a nationwide search for Aust's successor.
Robert Davey, regional vice president at TD Bank, is volunteer chairman of the search committee.
With the naming of Ferone, board Chairman Thomas G. Albrecht Sr., president and CEO of Hilltop Construction Co., gives up day-to-day operations of the Chamber.
"George's experience as an executive and his deep ties to the Adirondack Region and the ARCC will ensure a smooth leadership transition at the Chamber," said Albrecht. "On behalf of the board and the ARCC staff, I want to thank George for making this commitment to the Chamber, its mission, and most importantly, our 1,000 members."
"This is an exciting time for the Chamber and our region's business community as ARCC searches for its next leader," Ferone said. "I will be working closely with the staff and board to carry on the mission of the Chamber. Our programs and services will continue uninterrupted. And with the legislative session in Albany underway, we are moving ahead with our advocacy efforts, focusing on the issues that will affect our local business community and quality of life."
"Our search will, no doubt, turn up many exciting, qualified candidates," Albrecht said. "We are looking forward to hearing their ideas and seeing what they can do to propel the Chamber and serve our members as we move into the future."
"Peter's love for the Adirondack region and his commitment to the growth and vitality of our business community were evident in every endeavor he undertook at the ARCC," Albrecht said. "We thank him for his dedication to the chamber and our members, and wish him the very best in the next chapter of his career."
Said Aust, "The ARCC is my hometown chamber and I'm thrilled to have played a role in its proud history, particularly leading the celebration of its 100th anniversary in 2014. At this point I have accomplished much of what I set out to do when I took the job five years ago, and I'm ready for some new challenges.
"The Chamber will always be close to my heart, and I look forward to watching the organization continue to grow and evolve and make our region a great place to live, work and play for generations to come."
Ferone has a long history of service to the region and state. He serves on the board of governors of Glens Falls Hospital, the board of directors of the Adirondack Civic Center Coalition, and is a member of the Planning Board in Queensbury. He previously served on the boards of the Tri-County United Way, United Way of New York State, and the Prospect Child and Family Center.
Aust was named president and CEO of the ARCC in December 2010 after nearly 10 years in that capacity with The Chamber of Southern Saratoga County. He also served as vice president of membership development for the ARCC earlier in his career.
In addition to the 100th anniversary celebration and a proposed Legacy Project to establish a new "pocket park" in Downtown Glens Falls, Aust's noteworthy achievements as ARCC leader include establishment of the Adirondack Craft Beverage Trail, creation of the Adirondack Nonprofit Business Council, Adirondack Health & Wellness Council, and successful collaborative efforts with the Adirondack Civic Center Coalition to privatize the management of the Glens Falls Civic Center, and with the Lake George Association and the Fund for Lake George to combat invasive species and other threats to the lake.
Aust was also responsible for enhancing Leadership Adirondack, the highly respected program designed to build our future community leaders.
ARCC serves more than 1,000 members, predominantly in Warren, Washington and northern Saratoga counties. It is a leading advocate for regional businesses on a wide range of public policy issues and provides its members with a wide variety of business education, development and networking programs.