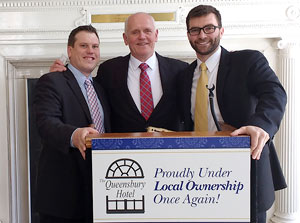 The Queensbury Hotel, a downtown Glens Falls landmark for some 90 years, is back under local ownership with plans to upgrade the facility.
Ed Moore, who owns the French Mountain Commons and the Log Jam outlet shopping centers on Route 9 in Queensbury, bought the building. "Downtown's 'Queen' is back where she should be — under local ownership," in a news release.
At a news conference on March 30 in the lobby of the hotel, it was made known that Zack Moore, the developer's son, and Tyler Herrick, former assistant general manager of The Sagamore resort in Bolton Landing, will manage the hotel, located at 88 Ridge St.
Spruce Hospitality LLC is the company through which they will manage it.
Photo: From left, Zach Moore, Ed Moore and Tyler Herrick pose in the Queensbury
Hotel, where future plans were announced. Ed Moore bought the building.
His son and Herrick will manage it.
The podium used for speakers to address the large crowd bore the sign, "Proud Under Local Ownership Once Again!"
Herrick most recently served as assistant general manager of the Sagamore Resort in Bolton Landing, and will serve as general manager of the
Queensbury Hotel
.
Moore purchased the hotel from Queensbury Hotel LLC, a Connecticut-based investment group that has owned and operated it since 2001. It has 125 rooms. Mark Levack of Levack Realty, brokered the sale.
An 18-month upgrade plan will be undertaken.
In January, Moore purchased the J.E. Sawyer & Co. building at 64 Glen St. in Glens Falls, across from the Glens Falls Civic Center. The J.E. Sawyer business is still in operation in the building, though they were purchased recently by V.P. Supply Corp. based in Rochester.
The local company is functioning as a division of V.P. Supply Corp.
Moore has invested large amounts of money and time into community organizations, including serving on the board of the Charles R. Wood Theater in Glens Falls and the Seagle Music Colony in Schroon Lake. He is a founding member of the Adirondack Civic Center Coalition, formed last year to purchase the Glens Falls Civic Center.