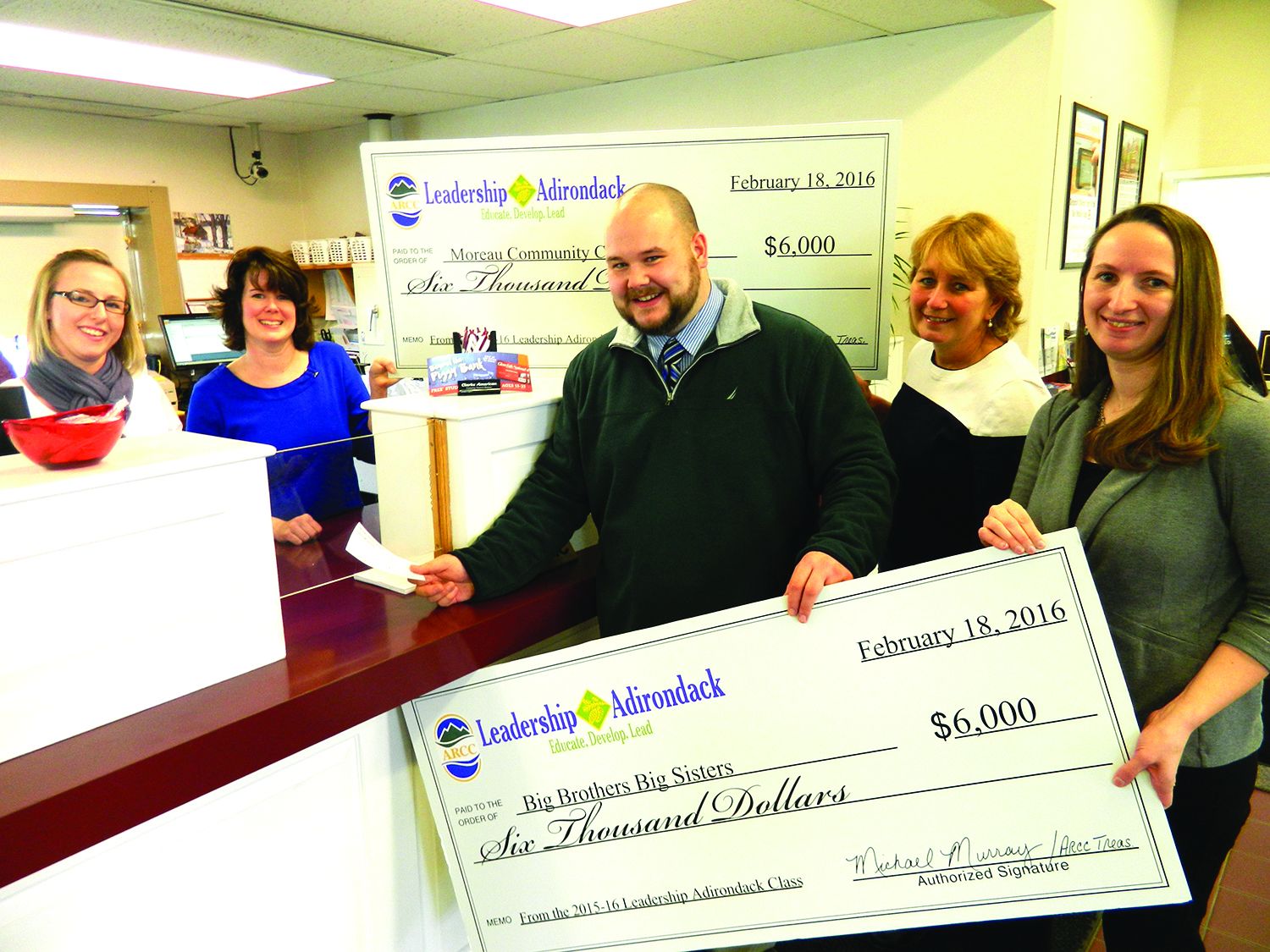 By Lisa Balschunat
For 26 years, the Adirondack Regional Chamber of Commerce has offered its Leadership Adirondack program to introduce new professionals to the movers and the shakers who drive the economy in the region.
Participants take on a commitment similar to a 200-level college course, complete with syllabus and high expectations.
Coordinated by an advisory board including ARCC Director of Finance and Administration Carrie Sullivan, Leadership Adirondack has graduated more than 400 community-minded leaders, with about 90 percent remaining in the region.
Sullivan said the five- to six-month program includes a weekly 8-hour day that introduces participants, as a group, to all facets of commerce in the region. The program launches with a two-day retreat, that sparks collaboration; then, builds in intensity, commitment and action.
During the course participants visited manufacturing plants in Warren County, farms in Washington County and meet with key elected and economic leaders in the region including Assemblyman Daniel Stec, Irving Tissue Consumer Products, Argyle Cheese Farmer, area media leaders and nonprofit representatives.
Some 48-hours into the course, the group selected Big Brothers Big Sisters of the Southern Adirondacks and the Moreau Community Center to raise funds, generating in-kind services and creating awareness about two keystone programs.
The class raised a total of $12,000 for the two agencies to split.
ARCC board President Tom Albrecht, shared his enthusiasm for the program with the 110 chamber members and Leadership Adirondack alumni in attendance at Six Flags Great Escape Lodge in February.
The graduating class of 2016 are Carley Chapman, NBT Bank; Bates Childress, Glens Falls Hospital; Jeremy Deason, Associates of Glens Falls; Michael Gerarde, Keena; Derrick Hammond, the Sagamore Resort; Candice Healy, Glens Falls National Bank; Jennifer Hearn, Gracenote; David Johnson, Six Flags Great Escape.
Victoria LaMarque, town of Queensbury; Allison Levin, Cost Control Associates, Inc.; Karen McDonald, Hudson Headwaters Health Network; Jeff Mead, Glens Falls Civic Center; Bill Moon, Big Brothers Big Sisters of the Southern Adirondacks; Christopher Music, Starr & Associates; Joyce Porter; Adirondack Health Institute; Nicole Scribner; Berkshire Bank; Kim Weatherwax, National Grid; and Patrick Winne, Irving Consumer Products, Inc.
Keynote speaker Dr. Kristine Duffy, president of SUNY Adirondack, reminded the graduates to surround themselves with good people and to recognize the difference between management and leadership.
"Management is all about daily tasks and taking a keen focus on a particular function," she said. "But, leadership is about setting vision, delegating appropriately, living the vision, focusing on the big picture … delivering on promises."
ARCC's Leadership program is dedicated to the development of leaders who will service their communities now and in the future.
"Many graduates have been appointed to the most senior position in their organizations or to commissions or boards of directors in the region," Sullivan said. "Their voices are among the most influential in our region."
To be accepted to the program, the applicant must submit their application for admission to the Leadership Adirondack Advisory Council. The council completes an in-depth review of the candidate and only 24 applicants are chosen each year.
Since 1991, Leadership Adirondack has supported 27 non-profit projects or programs, collectively providing $150,000 to the non-profit sector. Past recipients include: Mental Health Association, Kensington Elementary School, the Glens Falls YMCA, Glens Falls Area Youth Center, Adopt a Highway, Double H Ranch, Youth Leadership Program, Glen Street Clock Renovation, Fun Center at Glens Falls Hospital, Catholic Charities, Hudson Falls Teen Suicide Prevention Assembly, The Open Door, Heat and Eat Food Pantry, Junior Achievement, Warren & Washington County CARE Center and Amanda's House.
For more details about Leadership Adirondack, go to www.adirondackchamber.org, or call Sullivan, 798-1761.