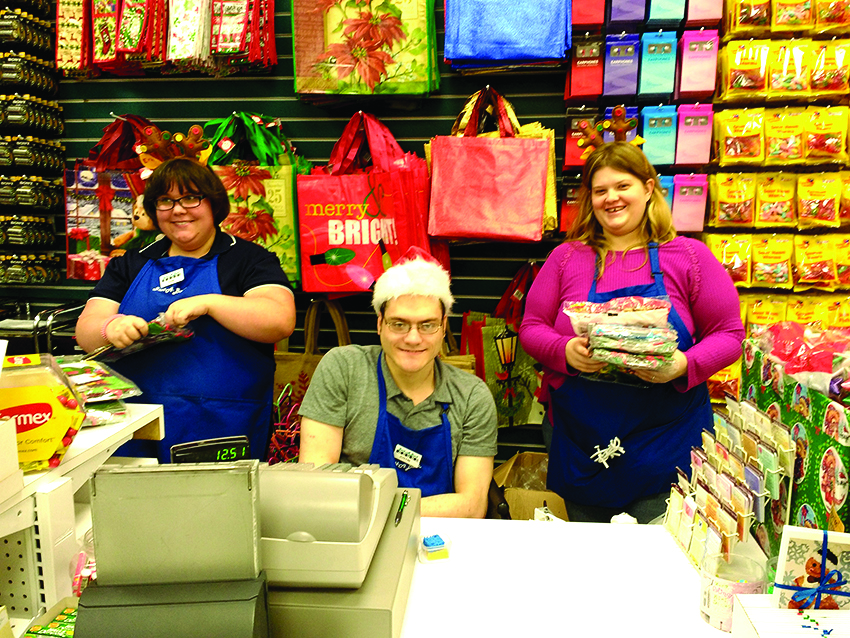 By Liz Witbeck
Most people familiar with the dollar stores that are available in local communities where a person can find things they need for only a single dollar bill. But there is something special happening at Just-A-Buck, a new such store in Queensbury.
Just-A-Buck opened in October at 756 Upper Glen St. in the Queensbury Plaza.
The store is nonprofit entity run by Community, Work & Independence (CWI). CWI exists to help individuals with disabilities participate within their community, being active and living their lives to their fullest potential.
Mark Donohue, CEO at CWI, is passionate about the idea for Just-A-Buck. For the past three years, he has been in discussions with the Just-A-Buck Corp., trying to formulate a business partnership between the two.
The local store is the seventh organization in the United States to open a mission-driven dollar store under the Just-A-Buck model.
Allison Adames is manager of the store. Previously she co-managed a Walmart for 15 years.
Employees at the store have a variety of physical and mental disabilities. Their duties include stocking inventory, cleaning and operating the cash register.
"We give them the chance to grow in society," said Adames. "They might not get that opportunity if they applied somewhere else."
Just-A-Buck has many items under one roof: cleaning supplies, household organizational items, pet supplies, health and beauty items, food, holiday decorations, toys, school supplies and more.
Adames said one of the things that makes Just-A-Buck stand out are its closeout specials. Recently, they receive a limited supply of certain items, which are typically gone within a few days, she said. There are brand name items that many people like to shop for.
"When those items are gone, we never get them back," said Adames.
Customers coming into Just-A-Buck often comment about how clean the store is and how well-organized and how easy it is to find items they need, Adames said.
But what is the most important is the mission of the store?
"Our goal is to help [employees] be a part of society," she said. "They enjoy their job. They are happy to come to work each day."
Each Tuesday during the month of December, Just-A-Buck is holding a Ladies Night. Guests can come in and learn how to make holiday baskets and other festive crafts. Refreshments are served. The fun begins at 6:30 p.m.
On Saturday, Dec. 17, Just-A-Buck will host a meet-and-greet with Santa Claus. Guests can come in and have a free picture taken. The event starts at 1 p.m.
The staff at CWI hopes Just-A-Buck store can help promote their mission of fully integrating people with disabilities into society and helping them live up to their fullest potential.
Just-A-Buck is open Monday through Saturday from 9 a.m. to 9 p.m., and on Sunday from 10 a.m. to 6 p.m.