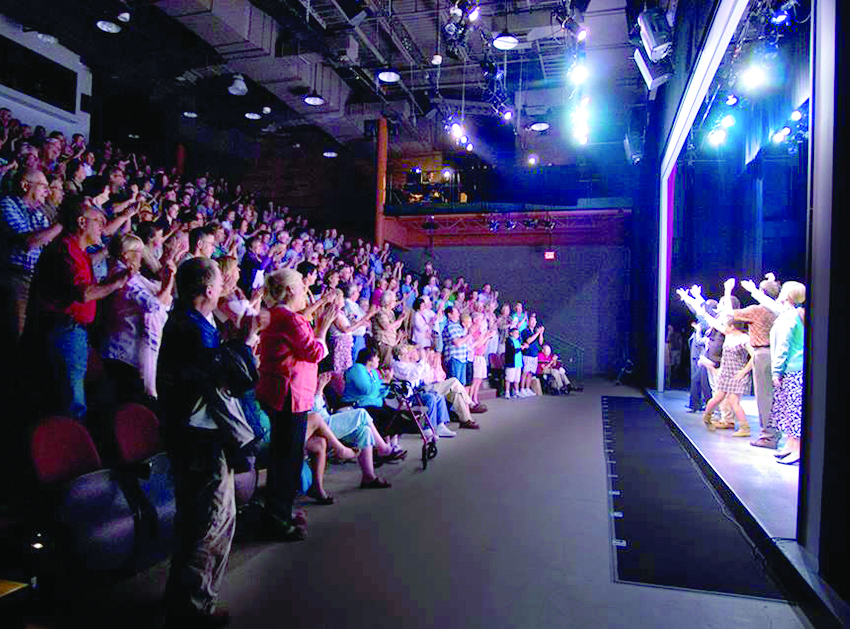 By Lisa BAlschunat
Still looking for gift ideas this holiday season? Think local entertainment, sports, museums and recreation.
Give the gift of ringing in the New Year with the kids. The Charles R. Wood Theater, 207 Glen St., Glens Falls, is presenting A New Year's Extravaganza, featuring the musical group of the Zucchini Brothers, with Magician and Ventriloquist Steve Charney. The show is from 3 to 5 p.m. on Dec. 31.
Hailing from Saratoga Springs, the Zucchini Brothers are known as The Beatles of kids' music. Charney brings 30 years of imagination to his act with his ventriloquist dummy, Harry. Tickets are $10.
The theater is 501(c)3 nonprofit year-round performing arts center. It has a 294-seat auditorium with fully professional and updated technical systems. The theater also houses a large rehearsal space, office space, technical set building space and fully ADA compliant dressing rooms. There are many events where tickets could become holiday gifts. Nearly 350 events happen at the Wood Theater each year including theater performances, musicals, concerts, dance performances, meetings, parties, weddings, rehearsals, auditions and educational classes.
The New York Rat Pack and Friends show will be at the Wood Theater on March 5 featuring the music of Dean Martin, Sammy Davis Jr., and Frank Sinatra performed by award winning impersonators Angelo Barbaro, Frank Cirelli, Larry Hines and Broadway veteran Erika Smith as Marilyn Monroe. Two shows are scheduled at 1 p.m. and 6 p.m. Tickets are $35.
For more information, visit www.woodtheater.org.
Shoppers can plan to share the enjoyment of the Adirondack Theater Festival, where Contemporary plays, musicals & cabaret shows are staged by professionals during this summer series. Gift certificates can be purchased for any dollar amount and can be used toward tickets to any 2017 performance, subscription package or the Adirondack Film Festival in October. Shows range from $25 to $50.
ATF strives to challenge, entertain, and nourish its audience through the development and production of new and contemporary musicals and plays. This relationship engages the community as audience members and participants in workshops, discussions, and educational programming.
Subscription packages of three shows or more range from $66 to $150 per person. Gift certificates are available at the Wood Theater box office or by calling 480-4878. More information is on the website at www.atfestival.org.
Creative shopper can also give the gift of the outdoors at West Mountain in Queensbury. The ski resort has day passes, season passes, tubing passes, downhill ski lesson programs and snowboarding classes. West also offers Monday and Tuesday night lift-ticket specials on the mountain and at its East Slope Bar & Eatery.
West Mountain is conveniently located only three miles off Northway Exit 18. Its West Mountain Sports shop, located across the courtyard from our Main Lodge, offers quality rentals, tuning and retail items.
With grand views of the Hudson River and the Adirondacks, West Mountain has been a popular setting for family winter outing for over 50 years. Currently there are 30 trails and over 126 acres, ranging from easy, gentle learning slopes to challenging, expert terrain.
Its website is www.westmtn.net. For more details call 636-3699.
Holiday gifts can come in the form of tickets to indoor professional sports, in particular hockey tickets to the Adirondack Thunder games. The team plays home games through April, available at the Glens Falls Civic Center box office in downtown Glens Falls.
The team is in its second season of ECHL play, following an inaugural season that saw it advance to the second round of the Kelly Cup playoffs. The Thunder is affiliate of the NHL's Calgary Flames.
The center will also host the ECHL All Star game on Jan. 17 and there will be several activities at the site revolving around the game.
Another kind of sport comes to the center in February when the world-famous Harlem Globetrotters bring their ball handling wizardry, basketball artistry, and family entertainment to Glens Falls. The Globetrotters combine athleticism with comedy and have been thrilling fans of all ages for 90 years.
The team will be at the Civic Center on Feb. 9 at 7 p.m. Tickets range from $18 to $85.
The gift of a membership to the Hyde Museum, World Awareness Children's Museum (WACM) or the Chapman Historical Museum can engage people in interactive art and history. Recipients can enjoy the arts, culture and history by getting an annual gift membership.
Individual membership at the Hyde, 161 Warren St., Glens Falls, is $60, family membership is $95. Membership levels at WACM, 89 Warren St., Glens Falls, are $59, $79 and $99.
The Hyde Collection is a historic house and art museum complex with a distinguished collection consisting of works by American and European artists. The museum provides changing exhibitions in two gallery spaces, lectures, concerts, family activities and school programming. Its website is www.hydecollection.org.
WACM is an interactive, hands-on museum chartered by the state Education Department and Board of Regents. It is designed for children and their families with a mission to bring a diverse world to children. Its website is www.worldchildrensmuseum.org.
The Chapman Museum, 348 Glen St., Glens Falls, features the history of Glens Falls, Queensbury and the Southern Adirondacks through photography, maps, historical artifacts and unique exhibits. It features the restored Victorian home of the DeLong family, the 19th century Adirondack photographs of Seneca Ray Stoddard, exhibits about the history of the Glens Falls area, a research archive and gift shop.
The museum has family activities, adult programs and pother events throughout the year. An individual membership is $40, for senior citizens it is $25. A family membership is $50 and a supporting membership is $100. Its website is www.chapmanmuseum.org.