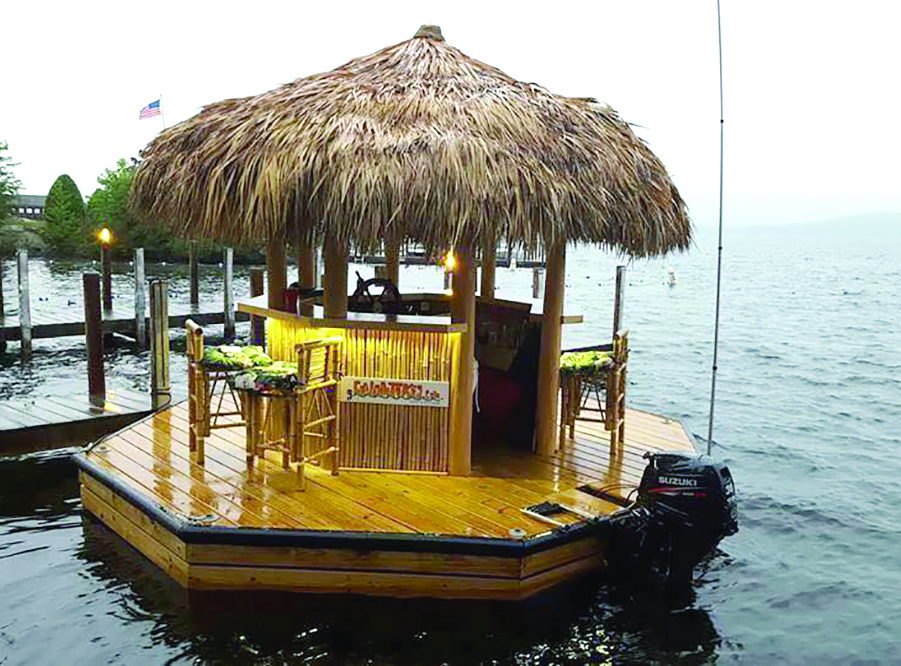 By Jill Nagy
Tiki Tours is a new boat touring business on Lake George.
Greg Teresi, an owner of the company, said he and his staff were spending an hour or two a day in early June fielding inquires and booking tours. The first tour went off June 8.
He anticipates running two tours a day, each Thursday through Sunday in June, and expanding to a seven-day-a-week service in July.
The boat, decorated like a small Tiki lounge, measure 15.5 feet and by 16.5 feet and is powered by a 30-horsepower, outboard engine. The boat has an octagonal frame,  a thatched roof and bar stools and is built with 20 55-gallon drums underneath.
A boat can accommodate six passengers. It is manned by a captain and a deckhand.
There are few amenities: an ice chest and ice, a portable toilet with a privacy shield, and a radio equipped with blue tooth technology, Teresi said.
It is a slow cruise, moving at about 5 miles per hour. Cruises leave from the Lake George Village Dock at 13 Beach Road and last 90 minutes. The fare is $300. Passengers determine where to go and whether to make stops on the way, said Teresi.
Teresi's boat was built by Greg Darby in Pompano Beach, Fla. However, a local franchisee, Tiki Boatworks in Colonie, is fabricating the boats locally. According to Teresi, the Colonie company has sold boats for use on Saratoga Lake, Lake George and a lake in New Hampshire and has orders for several more. They sell at about $31,000.
Teresi said government approvals were a problem, mainly because the boat is somewhat unusual. The state reviewed its safety and the details of operating them. There were also some concerns about alcohol consumption on the lake.
Teresi said it is a safe way to get on the lake, since the passengers do not operate the boat. There is a state-licensed captain as well as a deckhand to keep things under control.
Teresi has several partners in the endeavor, "a solid team of business professionals," he said. They include Bob Wolfgang, a former Albany police chief, and his son Brian Wolfgang, an Albany fireman; Anthony Ali, who is also involved in another Teresi enterprise, Troy-based Capital City Cycle Tours; Larry Davis, also a partner in the boat building company; and Frank Gasino, Tiki Tours general manager, responsible for day-to-day operations.
For Teresi, cycle tours and Tiki Tours are sidelines, for the time being. He is a trial attorney who has practiced in Albany for 10 years and recently opened a satellite office in Lake George about a year ago.
Tiki Tours can be reached online at www.thetikitours.com, or by phone at (800) 691-0770.