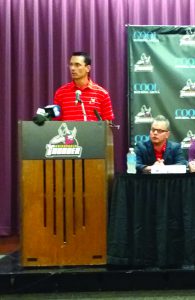 The Adirondack Thunder entered into a one-year affiliation agreement with the New Jersey Devils and Binghamton Devils to become the team's new NHL and AHL affiliate for the 2017-18 season.
The Thunder also named Brad Tapper as the team's head coach. The announcements were made Aug. 8 at Cool Insuring Arena in Glens Falls.
The Devils will be the Thunder's second NHL affiliate, following the Calgary Flames, which owned and operated the team from 2015-2017. The Thunder had an "informal working agreement" with the New Jersey Devils and Albany Devils over the past two seasons, which saw several players play for both the Thunder and the Devils over that span, team officials said.
Tapper becomes the second head coach in franchise history, following Cail MacLean, who left after accepting a position with the Stockton Heat of the AHL.
Tapper, 39, has eight years of coaching experience at the AHL, ECHL and junior levels. He previously spent time as an assistant coach with the Rochester Americans, Chicago Wolves, Orlando Solar Bears and Florida Everblades, as well as head coach of the North York Rangers of the CCHL.
The Scarborough, Ontario, native qualified for post season play in five of his seven seasons in the professional ranks and was a part of the Kelly Cup Championship Florida Everblades in 2012 as the team's top assistant.
The Thunder will hit the ice again in October as they kick off the 2017-18 ECHL season, their third as a member of the league. Season tickets are on sale now at $13 per ticket and include a complimentary ticket to a New Jersey Devils game during the 2017-18 season.
Call 518-480-3355 ext. 1 or visit ECHLThunder.com for more information.
The Adirondack Thunder reported that it had 101,883 fans at the Glens Falls Civic Center—now renamed Cool Insuring Arena—during the 2016-17 regular season, some 13,253 more fans than the 2015-16 season.
According to the organization, Adirondack was one of 11 ECHL teams to see attendance increase from 2015-16 to 2016-17. The team's 15 percent attendance increase was the largest in the ECHL last season.
The Thunder saw an average of 368 more fans on a per game basis during the 2016-17 season, bolstered by three sellouts, up from one last season, officials said. The team had two crowds of greater than 5,000 fans, including a franchise record 5,135 fans on Feb. 25.