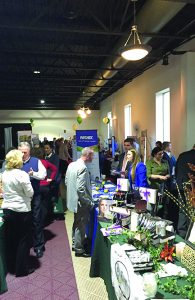 The Adirondack Regional Chamber of Commerce (ARCC) will hold its annual Business Expo on Thursday, Sept. 21, at the Queensbury Hotel, 88 Ridge St., Glens Falls.
"This has truly become the annual business expo of the Adirondack foothills region. The introductions, re-acquainting and catching up on what is happening now, in the many pockets of our region, are second to none," said Tori Riley, ARCC president and CEO.
"Whether a business wants to showcase, promote, offer their 'specialty' sampling, or just plans to send their team as guests, this is the place to be between 4 p.m. and 7 p.m. on Sept. 21."
Three hours include opportunities for dynamic networking, information gathering and making connections with more than 80 exhibitors, and  hundreds of fellow ARCC supporters as well as  regional community and business leaders.
There will be complimentary food samples as people network and socialize with their peers. "Door prizes and drink specials will round out your ARCC EXPOnential experience," said Riley.
Officials said spaces are going quickly and those interested in exhibit space should visit the ARCC's website, www.adkchamber.org, for an exhibitor form. They can also  call 518-798-1761 and ask for Tricia Rogers, or email her at trogers@adirondackchamber.org.
Sponsorship opportunities are also available.
ARCC officials said the event timeline is: 1-3 p.m., exhibit setup; 3-4 p.m., vendor networking; and 4-7 p.m., the business show itself, a open to the business community.
ARCC serves more than 1,000 members, predominantly in Warren, Washington and northern Saratoga counties.