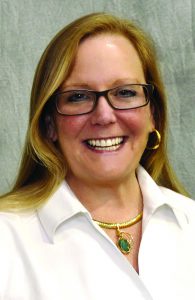 The Lake George Regional Chamber of Commerce announced the appointment of Gina Mintzer, CMP, as its new executive director, replacing Michael Consuelo, who is retiring.
Mintzer began her new role under the tutelage of Consuelo on Sept. 11. Consuelo announced in April that he was retiring at the end of September.
Mintzer has served as the director of sales for the Albany County Convention & Visitors Bureau (ACCVB) for 19 years. In this role, she assisted in the stabilization, expansion, and evolution of Albany as a visitor destination despite economic and national conditions throughout the last two decades.
She managed a team of six convention sales and services professionals dedicated to quality client, colleague, and community customer service, officials said. She was the information resource for meeting and sports event planners working closely with the Times Union Center, Empire State Plaza Convention Center and all the Albany County hotels on client events ranging from the NCAA tournament to the Maccabi Games.
Mintzer also assisted efforts to ensure strong business for the new Albany Capital Center.
She managed programs, activities, and connections to build and sustain a healthy meetings and convention visitor industry.
"When it comes to tourism, meetings, and events, she knows the marketplace, organization and brings years of education and experience," said Fred Vogel Jr., Chamber board of directors president "She loves Lake George and wants to help show it off to our target markets. She has my complete confidence,."
"Gina is the right person for this job. I've witnessed her expertise managing collaborative statewide sales efforts as well as her savvy as a competitor in the regional tourism effort," said Consuelo. "She has years of experience in all aspects of the job description that we put forth when searching for the right candidate to lead the efforts on behalf of the Chamber."
Mintzer is involved in organizations including the Empire State Society of Association Executives and the National Association of Sports Commissions, as well as the hospitality programs at Schenectady County Community College and SUNY Delhi among others.
"While I am beyond thrilled and excited at the prospect of working in Lake George to grow their tourism visitor economy, I am very grateful for all the ways the ACCVB and, particularly Michele Vennard, president/CEO invested in me, my career, and my family over the years," said Mintzer.
Mintzer worked for The Pyramid Companies marketing six different shopping centers throughout New York and Massachusetts including Crossgates Mall in Albany, Carousel Center (now Destiny USA) in Syracuse and Palisades Center in West Nyack, N.Y.