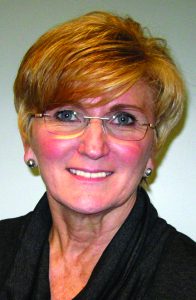 The Board of Directors of the Adirondack Regional Chamber of Commerce (ARCC) announced today that longtime area human resources, human services and workforce development professional Marti Burnley has been named interim president.
In August,  the Chamber announced that Tori J.E. Riley decided to leave her position. As of Sept. 11, Riley returned to a job she held previously, taking the position of vice president with the Saratoga Economic Development Corp.
Burnley, who retired from Hudson Headwaters Health Network in January after six years as vice president of human resources, has more than three decades of experience in leadership roles in both the private and public sectors.
"Marti brings an outstanding array of professional experience, leadership skills, and a tremendous knowledge and love of our region to her new role," said Dianne Shugrue, ARCC board chairwoman and president of Glens Falls Hospital.
"Her great familiarity with the Chamber and the regional business community allow her to hit the ground running and keep the organization moving forward as we prepare for the next phase in the ARCC's history. We are fortunate that she was willing to take a hiatus from her well-deserved and short-lived retirement to help us out," Shugrue said.
Burnley said she was surprised and humbled when she received the call asking her to consider the interim assignment, but knew right away that she wanted to accept.
"I'm a big believer in the important role the ARCC plays in helping businesses of all sizes across our region, whether it's providing educational opportunities, assisting with workforce development or helping grow future community leaders," Burnley said. "I look forward to working with the great team they have assembled here to ensure that the Chamber continues to meet the needs of its members in the weeks and months ahead."
Prior to joining Hudson Headwaters, she served as director of CAPTAIN Youth & Family Services in Clifton Park; vice president of human resources and employment programs at CWI in Glens Falls; senior technical advisor for the Welfare-to-Work Division of the state Department of Labor in Albany; and employment counselor at Warren County Employment & Training in Glens Falls.
A former Glens Falls resident who now lives in Gansevoort, Burnley has been involved with the ARCC on a volunteer basis for more than 15 years, most recently serving as a member of the board of directors. In 2001, she served on the executive planning committee of the Chamber's Quality of Life Expo, now known as the Business Expo. In 2002, she graduated from the Chamber's Leadership ADK program.
She is also a former member of the board of directors of EDC Warren County and the Saratoga/Warren/Washington County Workforce Investment Board and served most recently on the board of directors of Southern Adirondack Independent Living.
Shugrue said a nationwide search for a new leader will begin after the board completes its evaluation. No timetable has been established at this time.