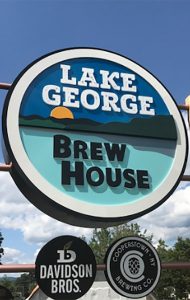 The brewery and taproom located at 1043 Route 9, between Northway exits 19 and 20, recently changed its name to Lake George Brew House.
Since the brewery was purchased in late 2016, it had been dubbed the Lake George Beer Hub. After some possible market confusion, brewery management decided to use the moniker "Brew House."
The 22,000 square-foot brewery features a spacious taproom to sample the beers (and soda and cold-brewed coffee) crafted on premises. All the beers served in the taproom are brewed in-house, hence the new name, according to ownership.
Currently, Lake George Brew House brews beers for Cooperstown Brewing Co., Harlem Brewing Co., Davidson Brothers Brewing Co., and more. 
The Lake George Brew House team is also installing a three-barrel pilot system to develop new craft beers for its own house brand. The house beers are scheduled to be on tap at the brewery in October. 
Bottle and can release dates will be scheduled at a later date.  The beers from the smaller pilot system will be experimental, the owners said 
This year has already seen the addition of new equipment, including a canning line and lager tanks. The I-87 IPA and I-87 Northway Nectar have both been released in cans, and are a stylistic departure from previous styles produced at the location. 
The taproom will be renovated in steps, so patrons can look forward to seeing improvements with every visit.  Music, trivia, and other events are planned. 
Visitors to the Brew House can also visit the mezzanine for a view of the brewing process.  The tours are self-guided, but guided tours are available by appointment.