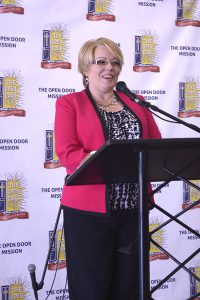 The first phase of the Open Door Mission's construction and renovation project is underway.
The board and staff of the mission recently welcomed community leaders, donors, and guests at an official groundbreaking.
This mission has received grants, gifts, and pledges that enabled it to begin the first phase of renovation at the property they acquired last December at 226 Warren St.
Phase I will provide the foundational infrastructure and the accompanying build-out to accommodate men and women so that Code Blue can operate for the first time under its own roof this winter.  It will also provide for the day room, a classroom and the Open Door offices.
"We are privileged and honored to be part of this project, and we're pleased that other individuals and organizations are too," said Paul McPhillips of the Glens Falls Foundation.  "When our board considered the campaign grant, many said 'If not the Open Door, then who?"' We found it compelling, compassionate and deserving of capital."
Once Phase I is completed in 2018, Phase II fundraising. That will include building a  chapel, a dining room for 100 people, a food pantry and a welcoming and secure new entrance for guests.
Officials said completion of Phase I and II will position the Open Door to receive national grants of up to $1.5 million, for which they have pre-qualified.  Phase III will make possible the men's emergency shelter and comprehensive support facilities.  Similar funding in Phase IV will provide for the men's recovery program floor, a one-year program to focus on core issues like job skills, drug addiction and mental health.  A
"If the community comes around us to ensure full funding of Phase I and II, the rest will become a reality.  We've pared this initial $800,000 Phase back to $600,000, but we'd like to see it funded as fully envisioned," said Kim Cook, Open Door president and CEO.
Tom Albrecht, Sr. of Hilltop Construction in Hudson Falls introduced the local team that will be responsible for each element of the Phase I construction and renovation.
"It's a pleasure to be partnering with the Open Door, and to bring such a wonderful project to our community.  Now it's real.  It's really happening.  It's exciting," he said.
Andy Cruikshank from the Adirondack Health Institute said that awarding Open Door the $250,000 AHI Innovation Grant "just made sense.  It's something the community needs and is intractably linked with health care.  We think this project is absolutely fitting. We're very excited to see it come to fruition and the impact it's going to have on the community and the community's health care."
To schedule a tour, consider a pledge, or to volunteer to help meet campaign goals, contact the office or visit  www.opendoor-ny.org/pathwayhome