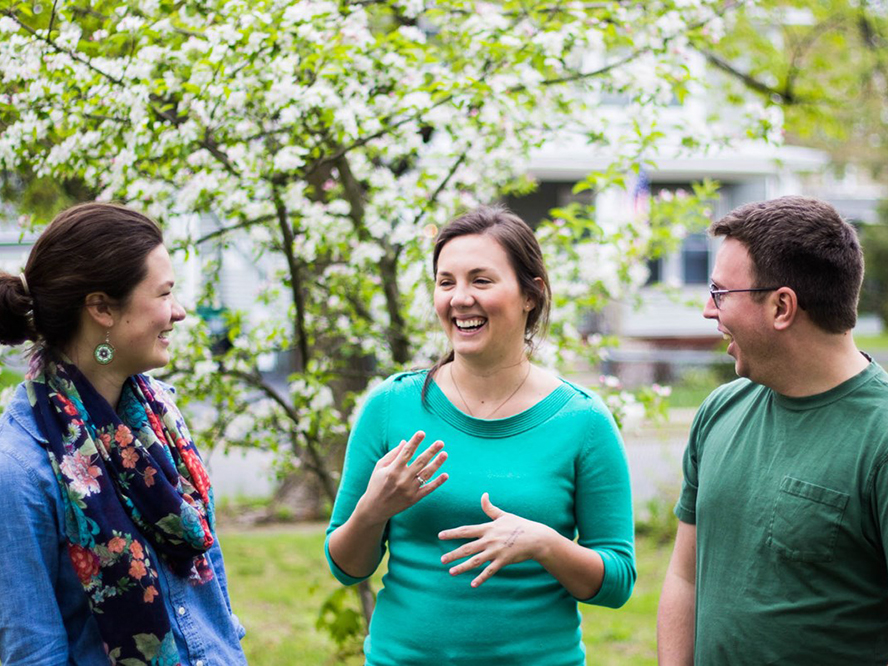 By Jill Nagy
Three former advertising agency colleagues joined forces to to create Sidekick Creative, a graphic arts and branding company in downtown Glens Falls.
The company operates out of shared space with Behan Communications.
The three partners—Will Fowler, Kelli Germain and Cara Greenslade—grew up in Glens Falls.
"Over the past 10 years, we've seen so many great businesses open their doors here and really revitalize the city. Now we're excited to be one of those businesses and we hope we can have an impact on the city like so many others already have," Greenslade said.
Sidekick also produces a line of products including greeting cards, tote bags and prints. They have been selling those online and also at craft fairs and stores, including some retailers in downtown Glens Falls.
The company's main business, however, is helping other enterprises get their names out in front and build their brands. Sidekick designs logos, signs, shopping bags and more to help their clients identify themselves in the marketplace. A new juice bar in Pensacola, Fla., is about to open with signs and logo by Sidekick. A 13-year-old retail clothing store in Bolton Landing got a Sidekick makeover from shopping bags to signs.
Greenslade handles most of the business, production and media duties while Fowler and Germaine do most of the designing. There are not yet any other employees.  They use local printers to create the merchandise they design.
She said they were pleased when Behan Communications offered them space for their new company.
"We are very excited to be working out of Behan Communications office … Working alongside their experienced team of professionals will be invaluable to our development in this early stage in our business. We are so grateful for their support and willingness to cultivate local enterprise," Fowler said.
For the near future, Sidekick plans to continue both the retail side of their business and the branding and collateral work for clients and see the two as complementing each other.
"By creating our own unique artwork and attending larger craft and stationery shows, we hope to get exposure and connect with national retailers," Germain said.
Sidekick Creative can be reached at (518) 615-4702. Its website is www.sidekickcreative.us.