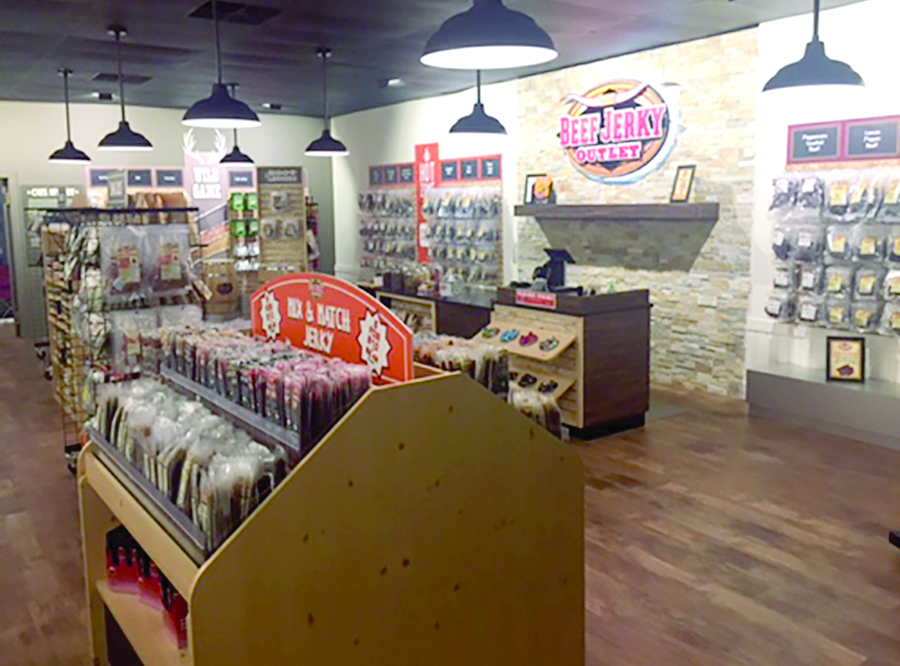 The Beef Jerky Outlet in Lake George held its official grand opening in September. It is home to more than 100 varieties of premium jerky including favorites like prime rib, teriyaki and cherry maple.
"We are very excited to see the community's reaction. Our store is a unique experience that provides an entirely new perspective when it comes to beef jerky," said co-owner Ralph Rimualdo.
The 1,500-square-foot location also offers a wide variety of hot sauces, barbecue sauces, flavored peanut butters and popcorns, rubs, candy and more.
"We rarely see anyone leaving without adding something new to their palate," said Ralph's wife, co-owner Alissa Rimualdo. "Many of the products we offer are difficult to find in traditional stores."
Beef Jerky Outlet also offers exotic jerkies such as alligator, venison, elk, bison and even kangaroo. With a "try before you buy" policy, customers are invited to stop in for a free sample before deciding which jerky to take home.
The Beef Jerky Outlet opened in the summer at the Outlets of Lake George East, next to Bass, in the Ralph Lauren and Coach section. When considering a new business, the Rimualdos wanted to bring a fun business to the  community and that would support efforts to make Lake George a 365-day-a-year destination.
"We were looking to diversify and wanted to find a business that was unique and fun. While in Orlando we were approached by a friend about Beef Jerky Outlets and after visiting a few locations, once inside, we knew it would be a great business to bring to our area," said Ralph.
He is a long-time area businessman and owner of Servpro of Southern Saratoga County. He also serves on board of directors for the Adirondack Regional Chamber of Commerce and the Adirondack Theater Festival.
Beef Jerky Outlet is a leading retailer in premium jerky. Since its founding in 2010, Beef Jerky Outlet has expanded to over 100 stores nationwide.
According to IRI, a Chicago-based market research firm, sales of jerky jumped 46 percent from 2009- 2015, making it a $1.24 billion industry. In 2015 alone, Americans spent $2.8 billion on beef jerky
"We are thrilled at the success that the Lake George Beef Jerky Outlet has shown since its soft opening in July," said Kathy Raines, COO of Beef Jerky Outlet. "We work hard every day to provide the best possible experience for our customers, because they are what drive our company and our growth. To satiate our hungry customers, we are constantly working to produce the tastiest jerky out there. We love coming up with new flavors and varieties, and we hope to see our customer base continue to grow as we expand our jerky variety even more."
The Beef Jerky Outlet was founded in 2010 and is the country's first national jerky franchise. The company is headquartered in Kodak, Tenn.
It is open Monday through Saturday, 10 a.m. to 9 p.m. and Sunday 10 a.m. to 7 p.m. Its address is 1424 Route 9, Lake George and the phone number is (518) 409-4980.
For more information, visit www.LakeGeorgeJerky.com.