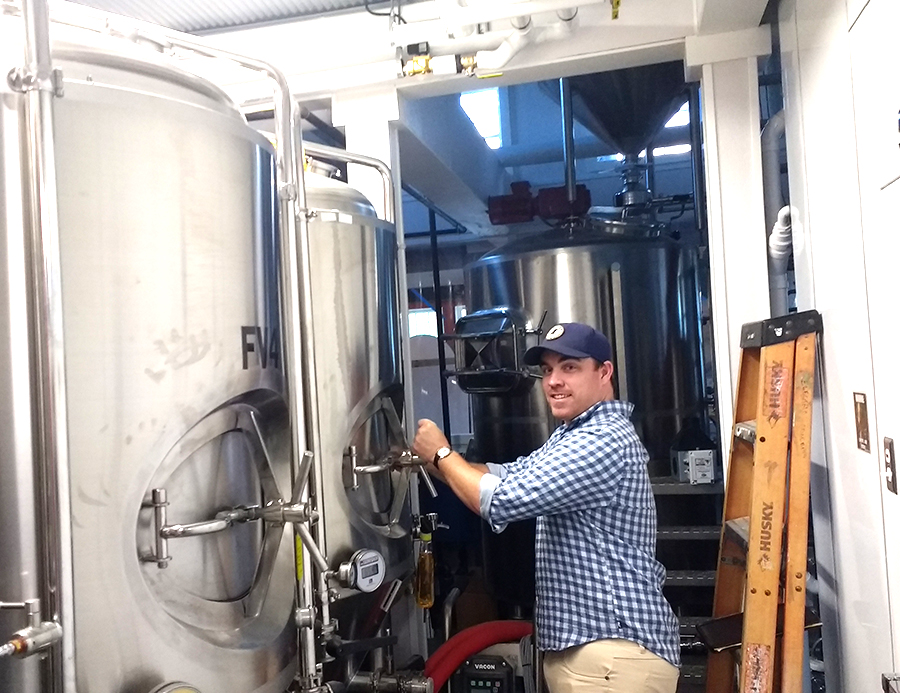 By Maureen Werther
Brendan Murnane started dreaming of ways to live and work in Bolton Landing ever since he was a kid. With the pending opening of Bolton Landing Brewing Co., his childhood dream is about to come true.
The company expects to open at the end of October at 4933 Lakeshore Drive, across from Rogers Park and Lakeside Lodge Grille. The property is centrally located in the middle of the village of Bolton. Murnane has made significant renovations since purchasing the building in December.
"We looked at a lot of places in town and fell in love with this place," said Murnane.
Renovation began in May.
"We gutted the entire building, leaving only the shell," said Murnane. They opened up the second floor to create a large open space. What was originally the kitchen is now a combined kitchen and bar.
Murnane said the renovations were not without their hurdles. The foundation was not where they thought it was and they had to make some changes to the brewing equipment itself. Just getting the tanks inside the building was a big challenge.
Murnane hired Paone Architecture from Saratoga Springs and Munter Enterprises from Middle Grove as contractors. Both firms have experience in designing and building breweries and they were able to work around the challenges of putting a brewery in an 1890s-era home.
"I wanted to go with people who'd done this sort of thing before," said Murnane.
Murnane's background is in history and communications, but he became interested in brewing. Working as a personal aide to Westchester County Executive Rob Astorino, he did a lot of traveling around the region and met a lot of the brewers across the state. He began to put a plan together about three years ago for a brewery in the Lake George region. He and his father, John Murnane, formed a business partnership.
Murnane has hired a brewer from Buffalo, Shawn Kerr, to take over the brewing responsibilities at Bolton Landing Brewing Co.
In addition to an assortment of seasonal beers ranging from lighter summertime beer to ports and stouts, Murnane said they will pay attention to what people are asking for and they will also be staying on top of trends. He said their brewing system allows them to make changes as they go. They will have eight taps and at least that many beers available when they open.
He plans to run the brew pub as a year-round operation and he expects to employ between five and 10 employees. Hours of operation will be from noon to 11 p.m., seven days a week in the summer months. It will cut back to five days a week in the other three seasons.