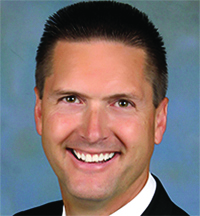 Glens Falls National Bank and Trust Co. promoted Andrew J. Wise to executive vice president and chief operating officer.
In the newly created role, Wise will report to the CEO and be responsible for the overall management of the company's internal administration, including operations and strategic planning.
He joined the bank in 2016 and was most recently the chief administrative officer. He has more than 25 years of operational and information technology management experience.
Wise has a bachelor's degree from Boston University's School of Management and is a state-licensed insurance broker. Active in the community, he serves on the board of the Wesley Community and is a member of the Saratoga Springs Lions Club.
***
C.T. Male Associates Engineering, Surveying, Architecture & Landscape Architecture DPC recently hired a project environmental engineer and three geologists.
Rosaura Andújar-McNeil was hired as the project environmental engineer in the Environmental Services division. She will be responsible for overseeing remediation projects and expanding services in the lower Hudson Valley region.
Andújar-McNeil earned a Bachelor of Science degree in environmental engineering from Rensselaer Polytechnic Institute. She is a licensed professional engineer in New York state and is a member of the National Groundwater Association and Air and Waste Management Association.
Robert Koslosky, PG., was hired as a Project Geologist; Cliff Bondi as a field geologist; and Daniel King as a geologist in the Environmental Services division.
Koslosky will be responsible for managing a wide variety of environmental projects. Bondi and King will be responsible for performing subsurface investigations and monitoring well installations, collecting and classifying soil samples and preparing geologic reports and maps.
Koslosky earned a Master of Geologic Sciences from SUNY at Buffalo and a Bachelor of Science degree in geologic sciences from Rutgers College and is a licensed professional geologist in Pennsylvania. King earned a Bachelor of Science degree in geology from SUNY at Oneonta and Mr. Bondi earned a Bachelor of Science degree in geology from SUNY at Potsdam.
***
Teal, Becker & Chiaramonte CPAs, PC (TBC) announced the promotion of two audit managers to partners.
Also, several employees were elevated from positions of staff accountant to senior accountant, senior accountants to supervisors, and supervisor to manager.
In addition, Katie Farrow, formerly the marketing manager, was promoted to director of marketing and given further responsibilities in the areas of growth and business development.
Joining the ranks of partner are Michael D. Cesternino, CPA, and Ryan McEvoy, CPA. Both partners will be directly responsible for client account management.
Cesternino joined the firm in 2006 and McEvoy has been with the firm since 2009.
Cesternino's main responsibilities include managing and supervising a large client base, which includes commercial entities, including automotive dealerships, wholesalers, as well as not-for-profit organizations and governmental units including colleges.
He has a master of science in taxation from the University at Albany bachelor's degree in accounting from SUNY Oneonta.
McEvoy joined TBC after working for an international accounting firm and works with clients in a wide range of commercial industries including manufacturing, distribution, construction, retail, healthcare, and technology.
He is an active member of the Eastern New York Chapter of the Society of Financial Service Professionals. A graduate of Siena College, McEvoy graduated with a bachelor's degree in business administration.
Of the six accountants promoted, Mark Sagan, CPA, is joining the firm's group of managers.
Sagan, who began his career in public accounting at TBC in 2008, provides a wide range of clients with accounting, auditing, and tax services while specializing in employee benefit plan audits and audits of large automotive dealership.
He graduated from Siena College with a Bachelor of Science in accounting.
Four senior accountants promoted to supervisor include: Leah Gillham, CPA; Ben Henderson, CPA; AJ Zarrelli, CPA; and Nathan Pannucci.
Gillham and Henderson, who both joined TBC in 2015 after stints at international public accounting firms, are specialists in the firm's internal tax department.
Zarrelli, a TBC senior accountant since coming on board in 2013 from a large international CPA firm, works with a range of clients including construction contractors, colleges, and technology firms.
Pannucci, who recently earned his CPA license and is pending notification of his permanent status, joined TBC in 2010 and services a number of clients with accounting and tax services, including school districts, construction contractors and real estate developers among others.
All four earned either their bachelor, masters or both degrees at the University at Albany. Henderson received his undergraduate degree from Marist College before earning his master of tax from the University at Albany. Gilham and Zarrelli each earned undergraduate and graduate degrees from the University at Albany and Pannucci earned a bachelor's degree from the University at Albany.
Cassandra Hope was promoted from staff accountant to senior accountant.
Hope is a graduate of Siena College where she received bachelor's and master's degrees in accounting. She has been with the firm since 2015.
Farrow is a graduate of Saint Michael's College in Vermont where she earned a bachelor's degree in journalism and mass communication. She joined TBC in 2010 as the firm's first marketing manager.