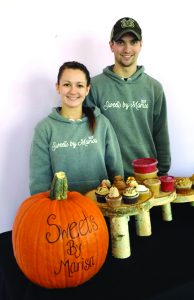 By Liz Witbeck
For Marisa Allen-Fountain, owning a business has turned out to be every bit as sweet as she hoped for. In just a few months, her company Sweets by Marisa has turned into a local favorite.
Allen-Fountain grew up in the Glens Falls area and attended Queensbury High School. She received degrees in business from SUNY Adirondack and SUNY Plattsburgh.
Although she was not formally trained in culinary arts, the field had been a hobby of hers for many years.
"My dad and I always talked about opening a sweets shop," she said.
She started creating cakes, cupcakes and other treats for friends and family. In 2016, her husband Josh surprised her when he signed her services up with a local wedding association. She did her first wedding show last year through the association, which gave her publicity.
"I was fully booked for the entire year because of that show," she said.
Allen-Fountain decided it was time to move from making cakes for just family to opening up a professional storefront. One of her requirements was that it must have plenty of parking, something she said proved difficult to find.
"Most of our orders are pickups—people who are stopping in to pick up cakes and then leaving—so to have a walk-up store wouldn't have worked," she said.
Sweets by Marisa opened at 217 Dix Ave. in Glens Falls, in the East Field Plaza, on Memorial Day weekend.
The most popular item, she said, is the cupcakes. There are many different flavors to choose. Her chocolate peanut butter cupcakes have proven popular and many customers eventually ask for a full-size chocolate peanut butter cake.
"I'm baking five or six chocolate peanut butter cakes a week now," said Allen-Fountain.
Another popular item at Sweets by Marisa is the edible cookie dough. The cookie dough comes in a variety of fun flavors such as chocolate chip and M&M.
Sweets by Marisa recently participated in Taste of the North Country, a food festival with dozens of area restaurants. Allen-Fountain mentioned that by 2 p.m. that day their products were sold out.
"Everybody wanted to try the cookie dough," she said. "My husband Josh said he would go back to the bakery to get some more. Everybody stood in line to wait until he got back with the cookie dough.'"
Other products available at Sweets by Marisa include muffins, cookies, fudge, cannoli, pies and more.
Allen-Fountain switches her menu to maintain seasonal flavors. Some of her cupcake flavors include pumpkin spice latte, apple pie, maple brown sugar and banana with caramel. As the holiday season approaches she plans to incorporate sugar cookies and other winter treats.
Sweets by Marisa is also available to do holiday platters for the upcoming season. Cookies, cupcakes, cannoli and more are available.
One of the cornerstones of the business is providing sweets for special events like weddings, birthday parties and graduations.
"I love doing kids birthday cakes," she said. "Kids are so imaginative and open to ideas." She said the process often involves a child coming in with their parents and talking about their favorite colors, TV shows, foods, and more.
"The kids are always so excited when they see the cakes," she said.
"Weddings are wonderful because it's a great, happy time in their lives," she said. "It's something people dream about for years. They trust us to make their vision come true."
Allen-Fountain does all of the baking. Her husband assists her with running the business. Her family also occasionally helps out.
"Our friends and family are so supportive and we wouldn't be able to do this without them" she said."We have had so much support from the community, it's amazing. We didn't expect we would be so busy right away. We already have regular customers."
The store is open Tuesdays through Fridays from 8 a.m. to 6 p.m.; Saturday's from 8 a.m. to 3 p.m.; and Sundays 9 a.m. to noon. It is closed Mondays.
For more information, call 518-741-7411.