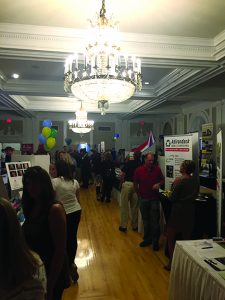 The 2017 Adirondack Regional Chamber of Commerce Business Expo saw 62 regional businesses exhibiting and strong crowds, Chamber officials said.
Held on Sept. 21 at The Queensbury Hotel, the event provided area businesses a chance to gather, network and connect in an exhibit-style setting. It gives members an opportunity to showcase their businesses and services that they provide.
Complimentary food samples and various door prizes were also part of the event at the hotel.
"We have received a lot of positive feedback on the event," says Marti Burnley, ARCC interim president. "It was great to see some familiar faces and a lot of new ones as well. Plus, the Queensbury Hotel did an amazing job. I think everyone really enjoyed it."
The premier sponsor was Capital Financial Group Inc. Presenting sponsor was Glens Falls National Bank and Glen Street Associates was the Photo sponsor.
Gold sponsors were Hilltop Construction, ADKtechs, the Adirondack Trust Co., EmpireTech, Homestead Funding Corp., IMC Interactive Media Consulting LLC, Keena Staffing and the Sagamore Resort.
The ARCC is a 501c6 nonprofit corporation governed by a 27-member volunteer board of directors and does not receive any funding from local, county or state governments.
For more information on the ARCC and other events, visit www.adirondackchamber.org.