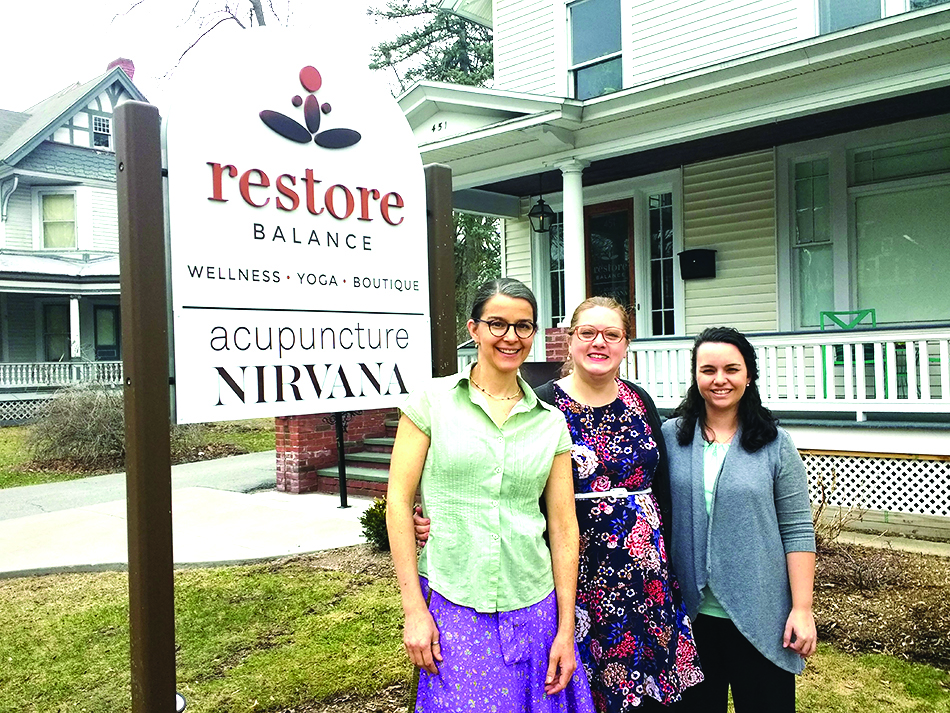 By Maureen Werther
Acupuncture is the insertion of a fine sterile needle into specific points on the body that achieves not just pain relief but an overall natural balance for the body.
It has become a common practice in the U.S., including the local region.
For Warren MacNaughton of Adirondack Community Acupuncture in Queensbury, his journey to acupuncture came about in an effort to find relief from temporomandibular joint syndrome, or TMJ (pain in the jaw joint that can be caused by a variety of medical problems), that was making him miserable.
MacNaughton was very receptive to trying acupuncture to help alleviate his symptoms.
"I had gone to doctors and dentists and I didn't like the options they were offering me," he said.
For Katherine "Kat" MacKenzie of Acupuncture Nirvana in Glens Falls, her journey to become a practitioner of acupuncture was  different. She had a career on Wall Street, working as a marketing manager for Citigroup. But, she said, there was something missing from her life, a lack of balance and an absence of passion for her work.
 The daughter of a physician, MacKenzie was interested in holistic medicine. When she decided she needed to make a career change, she was naturally drawn to investigating different holistic practices. After having several acupunctures treatments herself, she decided to return to school and earn her degree in acupuncture.
The Chinese, originators of the practice,  believed that the human body contains an energy, which they call 'q' (pronounced "chi"). If this energy is out of balance, the person experiences "dis-ease," illness and pain. The belief is that the energy system is a driving force behind all physiological processes of the body, such as digestion and metabolic energy. An interruption of the flow of energy can be caused by a number of different environmental and internal factors.
Practitioners of acupuncture use the fine needles to stimulate the pathways of energy, which run beneath the surface of the skin. The needles stimulate the body's healing response and help restore the body's balance of energy. As a result, patients can experience a change in physical symptoms and an overall sense of well-being.
"From my first treatment, I became totally intrigued. My entire body felt different than what I'd ever experienced," said MacNaughton.
He decided to pursue acupuncture as a practitioner and earned a degree from the Southwest Acupuncture College in Santa Fe, N.M. He is also a graduate of chakra Traditional Thai Massage School in Hadrin, Thailand. MacNaughton spent time as an apprentice in Chengdu, China, and he has informally studied with Tibetan monks. He has been practicing acupuncture since 1999 and he has been in the Glens Falls area since 2008.
McNaughton said that in western cultures, people say they have a headache. Chinese medicine does not like to apply a specific label and instead focuses on the imbalance that is creating the symptom.
"In the West, the goal is to mask the symptom. In the East, the question is, 'What is the energetic imbalance?'" The needles are used to re-establish that balance, said MacNaughton, by "hitting the reset button on your body." Acupuncture brings the person back to their center and that is when symptoms start to disappear.
MacKenzie attended the Pacific College of Oriental Medicine in New York City while she was still working on Wall Street. She completed her education at Tri-State College of Acupuncture (as did her staff acupuncturist Alyx Soesman), where she earned a master's degree. After operating a practice in New York City, she relocated to the Glens Falls region. She wanted to focus on "quality over quantity." After living in the city for so long, she was attracted to the beauty of the region.
MacKenzie recalled someone telling her that nobody in this area would be interested in acupuncture. "Boy, was he wrong," she said.
 MacKenzie sees patients who suffer from migraine, menopausal symptoms and joint pain, as well as allergies, asthma and anxiety. Her goal is to educate people about the treatment and she said that it can take several treatments before people begin to experience a "shifting forward," which she said is a change in the body's balance.
Most of MacKenzie's patients are surprised to learn that much acupuncture treatment is covered by their insurance, which makes it a more accessible treatment for patients.
MacNaughton's practice does not accept health insurance, but he is willing to help patients submit their own claims. He said it is important to make acupuncture an accessible part of a person's health and wellness lifestyle. In fact, the majority of his practice is wellness-based.
In order to make regular treatment affordable, MacNaughton employs a sliding cost. He said he would need to charge a higher rate just to afford to hire a person to handle the insurance. By keeping his treatment fees low, patients can returnon a regular basis. He said it is the frequency and consistency of treatment that achieves the best results. His goal is to educate people in the efficacy of acupuncture as a wellness therapy, rather than a suppression of symptoms.