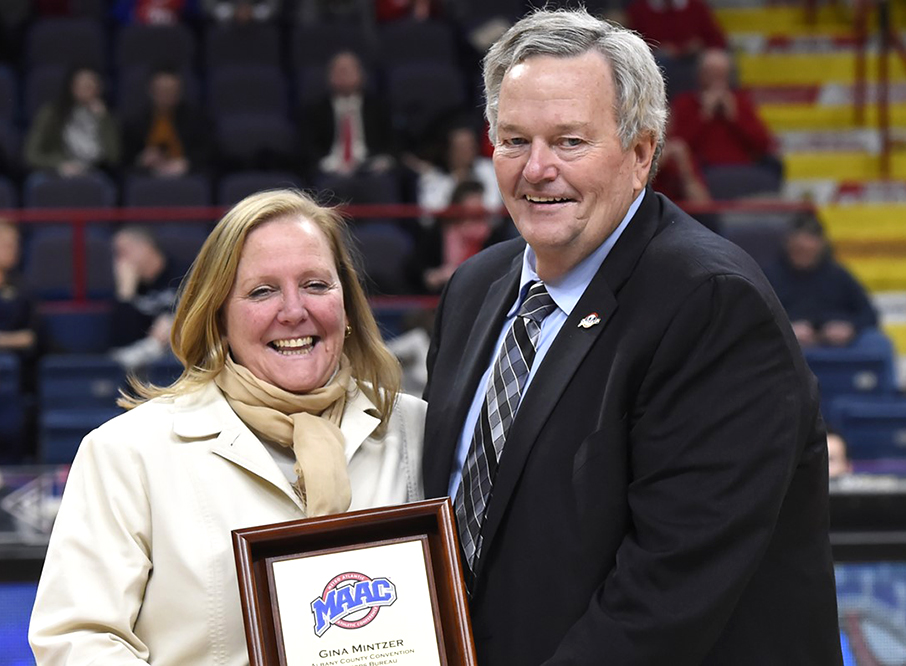 Gina Mintzer, executive director of the Lake George Regional Chamber of Commerce, was recently honored during the Metro Atlantic Athletic Conference (MAAC) basketball championships at the Times Union Center in Albany.
MAAC Commissioner Rich Ensor presented Mintzer with a plaque "in recognition of her many contributions to the Metro Atlantic Athletic Conference and its member schools and student-athletes as host hospitality, hotel and event coordinator for MAAC championships and a key Local Organizing Committee contributor for NCAA Championships bidding and hosting."  
Mintzer worked on MAAC and NCAA events from 2000 to 2017 during her tenure as the director of sales for the Albany County Convention & Visitors Bureau.  
Mintzer, who lives in Queensbury, began her position at the Chamber in September.
She worked on 11 MAAC basketball Championships and three NCAA events hosted by the MAAC the 2002 Division I wrestling championships, 2003 DI Men's Basketball Regionals and the 2015 Division I Women's Basketball Regionals and bids that were awarded to MAAC and Albany, including the 2018 NCAA Division I Women's Basketball Regionals, 2019 Division I Women's Basketball Regionals, 2020 Division I Men's Basketball first/second rounds. 
 "Working on events that impact hundreds of student-athletes and thousands of fans and visitors, involves a team effort to execute the myriad of tasks for great success," said Mintzer. "I feel privileged to have worked on these events honing my leadership and planning skills, learning from the best of the MAAC staff.  As a conference event host, the MAAC is very successful and continues to be awarded NCAA events." 
In its 37th year, the MAAC included Canisius College, Fairfield University, Iona College, Manhattan College, Marist College, Monmouth University, Niagara University, Quinnipiac University, Rider University, Saint Peter's University and Siena College. 
Founded in 1952, the Chamber is a member-driven, nonprofit corporation. Celebrating its 65th year, it comprises more than 425 members in various sectors of the business community. The Chamber staffs the Visitor Center on the corner of Beach Road and Canada Street in the village of Lake George and the Information Center on the Northway between Exits 17 and 18. In 2017, officials said more than 105,000 visitors visited those two centers seeking information about the area.