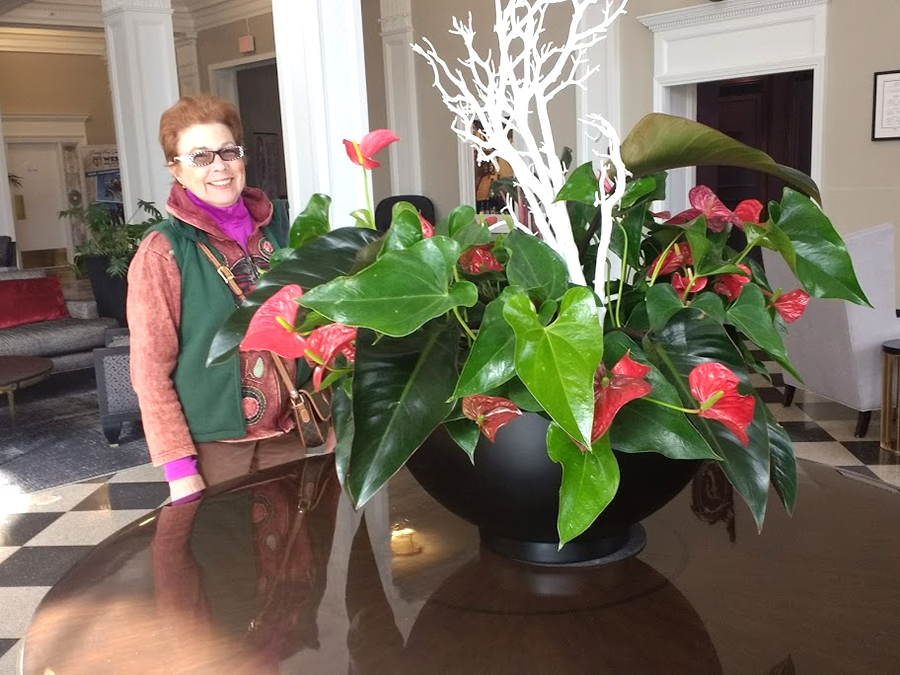 By Maureen Werther
With the onset of spring, Landscaping companies are gearing up for what usually is a busy work season.
Jim O'Keeffe, owner of Pure Perfection Landscaping and Services in Hudson Falls, is focusing on spring cleanup, lawn de-thatching and core aeration, clearing out debris left by winter winds and storms, and generally preparing lawns and garden areas for the warmer weather. 
O'Keeffe said his main focus is residential properties and he works with both homeowners and developers to create outdoor landscaping that enhances the look of the property and expands the living space for homeowners during the warmer months.
Lanette Akerson, owner of the Plant Doctor in Queensbury, focuses mainly on "interiorscaping." Akerson enhances interiors through the artful use of plants and flowers. Her customer base is mainly commercial, and her goal is to create a healthier and more inviting environment for office workers and for customers in professional or retail spaces.
Akerson said the big trend in her corner of the industry is the use of "unusual" containers for holding plants. On a recent trip to a high-end floral show in Denver, Akerson said she saw some artistic and creative uses of things like old tools, whisky barrels, bicycle parts, kitchen utensils and old machine parts to hold and display planting arrangements. "
You have to be open to creativity and allow it to run wild," she said.
O'Keeffe said that business is brisk in Warren and Saratoga counties and he added that the biggest trend is in "outdoor lifestyles," the addition of "hardscapes," custom walkways, retaining walls, patios, ponds and fireplaces and fire pits to create beautiful outdoor areas for entertaining, dining and relaxing.
O'Keeffe said adding landscaping and hardscaping to a home adds significant curb appeal to a property and increases a home's value. While the bulk of the landscaping work happens in spring and summer, O'Keeffe said that the "hardscaping" work is done mainly in the fall. 
The cost of enhancements to landscaping can vary, according to O'Keeffe, with people paying anywhere from $1,000 to $3,500 to refresh and upgrade their existing landscape design.
 "We will trim and reshape existing plants, trees and shrubs and add additional plants and flowers to give the home a new look and flow," he said.
He said focus for some homeowners is to achieve a great look without the high maintenance associated with extensive landscaping or gardens. Perennials are a good option for people who don't have a lot of time to spend on caring for the more colorful, but higher-maintenance annuals. But, it is ultimately up to the personal preference of the homeowner.
For bigger outdoor projects, costs can vary drastically, from a few thousand for smaller patios or retaining walls, to several thousands of dollars for more expansive outdoor environments, he noted.
When working on new homes, O'Keeffe said that the keyword for contractors is "shoestring," and it is ultimately up to the homeowner to customize the landscape around their home. 
"We can meet with the homeowner and give them some options and new ideas," said O'Keeffe, adding that a lot of his new residential business comes from working with people who have just moved into a new home. 
While it hasn't yet caught on as much as in other parts of the country, he is beginning to see more "green" landscaping techniques, particularly on lakefront properties. Things like rain gardens and water management, or retention ponds with native grasses that naturally filter water, are cropping up in the region.
Pure Perfection has been working in the area since 1999 and their services range from lawn care and landscaping to heavy excavation and design and build of exterior living spaces. 
Akerson first started the Plant Doctor out of her apartment in Warrensburg in 1983. She sold the company several years later to enter the Peace Corps for two years. 
When she re-founded the company in 1999, she said it was as if she had never left. Business is a busy as it has ever been for Akerson, with customers looking for indoor landscaping alternatives that are not labor intensive and that enrich the environment.
Akerson is particularly proud of an installation she designed and built in the entryway of the Queensbury Hotel. In the past, the hotel had used floral arrangements, "which looked great on day one, but by day five, they would be ugly and shedding," said Akerson.
Working with a total of eight different plants and mosses, she created a stunning display that only requires watering once a week —another service the Plant Doctor provides her customers.
"It lasts all week and has more 'splash' and saves the hotels money in the long run," said Akerson, adding that the hotel has received many compliments on the display since its installation.