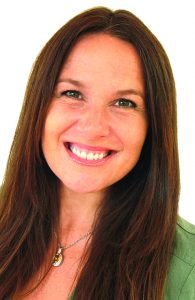 By Rachel Phillips
Warren County is facing a shortage of inventory in real estate, local agents say. 
Despite that, agents said the markets for both residential and commercial real estate are strong and buyers and sellers alike have a positive outlook.
Nicholas Ketter of Levack Real Estate in Glens Falls said the commercial market is strong, but while some aspects of the market are trending nicely, others have remained flat.
"There is strong interest to invest in the apartment market right now," said Ketter. 
Large brick-and-mortar stores, such as Toys-R-Us, are struggling as well due to competition from the internet. In response to this, Ketter's advice to business owners is to "look for more experience-driven concepts in the future that supplement logistical offerings such as Amazon." 
 "What the area needs are two things: lower city taxes to continue to drive development in Glens Falls, and luring in a large corporation to the area. Any tangible increase in demographics will drive commercial real estate in Warren County."
Bob Sears, of Berkshire Hathaway Home Services in Queensbury, specializes in commercial real estate, and believes the momentum in the market is due in part to people's faith in the local economy. 
"A lot of people have a very positive attitude about the economy in this area, so they're ready to make decisions on whether or not they want to buy another property or lease additional property to help further their business," said Sears.
He said there is a diverse stock of commercial properties for sale, but there isn't enough industrial space available for purchase, meaning manufacturing and warehousing facilities. 
Sears said the service and restaurant industries are doing very well in the area. Though retail and office spaces are still in demand, he's found that demand to be diminished. Sears attributes that to the internet and its impact on brick-and-mortar businesses. 
"Across the board, people are aware of the increased presence of the Web, and how it's affecting their lives commercially … This will dictate whether they need brick-and-mortar, or whether they can get by without it."
Overall, Sears remains positive about the commercial real estate market in the area.
"People are investing in property and buildings, and when people have a positive outlook of the future, they feel secure in their investment," he said. "Business seems to be on a good, healthy path right now."
Howard Denison of Van Aernem Realty and Associates in Hudson Falls, agreed there positive outlook for commercial real estate. Not only did Denison described it as "the best it's been in years."
Denison said Hudson Falls, Kingsbury, Glens Falls and Queensbury are the areas he's most noticed people looking to purchase. As for the types of properties in demand, he said office, investment, retail and medical industry properties are what's hot in the market. 
He said there is a shortage of inventory for residential properties. Single-family homes are popular, with Baby Boomers seeking out small ranch-style homes and new families seeking larger, two-story homes. 
"Glens Falls is a happening place. Downtown is alive and well. People like all it has to offer," he said.
Angela Cugini-Gerard of the Howard Hanna Firm, said retail, restaurants and offices are all industries where property is in demand. However, she hasn't noticed as much demand for warehouses. Additionally, while many businesses are currently leasing, there has been a push toward purchasing property, as it's more cost effective.
As for residential, Cugini-Gerard noted there isn't enough inventory. 
She noted, "residential re-sale is moving very quickly, and new construction inventory is picking up as a result of the low inventory."
She said that due to the low inventory, even homes in more rural areas are selling quickly.
Cugini-Gerard said single-story living has become more popular and people are seeking homes that they can lock up and leave for months at a time. 
"People who are looking at Glens Falls, are looking there because of the characteristics the city has to offer," she said. "The cost of living is cheaper, the schools are very good. The further north you come, you get more bang for your buck."
"Typically, an influx of homes comes available in late April or early March," said Susan Kassal of All-American Properties in Glens Falls. "Sellers wait for their lawns to turn green, flowers to start growing, and the opportunity to spruce up the exterior of their home without the challenge of the winter weather.  In 2017 however, that spring inventory just never came." 
While some signs are pointing toward an increase in inventory for the season, overall, she still believes it is very much a seller's market. 
Kassal noted that buyer preferences are highly driven by property tax rates and prices, which can fluctuate drastically across the area. However, well-kept and updated three-bedroom homes are in high demand. Fixer-uppers are also popular, though mostly for house flippers. People seeking to move in to a home tend to want something move-in ready.
"I do feel an upbeat and positive vibe from my clientele lately which is fantastic," Kassal said.